Red Sonja, Lada Lyumos cosplay is sharp as a sword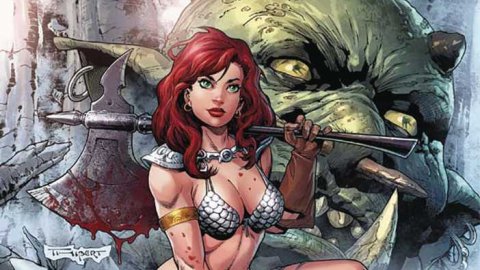 Red Sonja
Red Sonja relives in the enchanting cosplay made by Lada Lyumos, which definitely does justice to the
Marvel
character created by Roy Thomas and Barry Windsor-Smith on the pages of Conan the Barbarian.
Sonja's armor is obviously ideal for highlighting the extraordinary physique of the Russian model, which we were able to admire recently also in her new interpretation of 2B from NieR: Automata.
Belonging to the host of "wild" heroes of the house of ideas, Red Sonja made her debut in the early 1970s and immediately presented herself as an experienced and courageous warrior, a master in the use of the sword.
To date this trend has not yet been explored in the
Marvel Cinematic Universe
, but it could also be the next since the authors have already addressed the cosmic and supernatural issues of the various Doctor Strange and Eternals.
Source Have you noticed any errors?
---
Comic Book Preview – Invincible Red Sonja #9
Dynamite Entertainment releases Invincible Red Sonja #9 this Wednesday; check out the official preview of the issue here…
Sonja, Zaria, and Edward make the final run for the coast to return the Princess back to her homeland, but can they escape an army of killers, a stampede of monsters, and a bounty hunter bent on delivering Sonja's head for a promise of wealth?
Invincible Red Sonja #9 goes on sale on June 8th, priced $3.99.
]]>]]>