Final Fantasy 7 25th Anniversary Celebration Broadcast, all announcements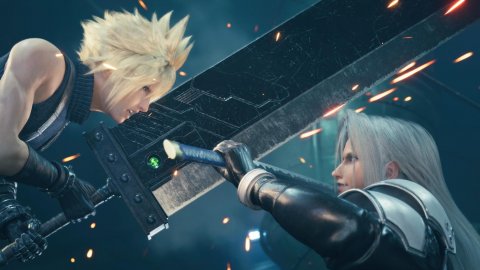 Final Fantasy 7 25th Anniversary Celebration Broadcast
The party for the twenty-five years of Final Fantasy VII, in fact a stream of just over ten minutes, will make a lot of talk about itself, for better or for worse. Good, because in a few minutes Square Enix has made several important announcements on the games of the Compilation of Final Fantasy VII - if we can still call it that - which will arrive from here to the end of 2023, and hopefully not later. Bad, because the controversial finale of Final Fantasy VII Remake and the not-so-brilliant reputation of director / screenwriter Tetsuya Nomura, will transform the months that separate us from Final Fantasy VII Rebirth into an endless series of discussions, controversies and quarrels. This will, in fact, be the title of the second part of the ambitious project begun years ago and which we now know to be in three chapters. And while we count the days that separate us from the alleged release date, all that remains is to take a look at everything that was presented during the Final Fantasy VII 25th Anniversary Celebration Broadcast.
Final Fantasy VII Remake Intergrade
Final Fantay VII Remake Intergrade, also arrives on Steam Probably the weakest announcement of the broadcast, and in fact the first in chronological order, was also one of the most predictable. Final Fantasy VII Remake Intergrade, already on
PlayStation
5 and
Epic Games Store
, will in fact also be available on Steam starting from 17 June and will be compatible with Steam Deck: this means that you can play it in portability, which for many users could be an important value added.
For those who don't know what we're talking about, Intergrade is a kind of update that improves Final Fantasy VII Remake both from a technical and content point of view, and makes it compatible with the pleasant DLC entitled Episode INTERmission that introduces Yuffie Kisaragi in the Remake universe. Virtually the best playable version on the market.
Final Fantasy VII: The First SOLDIER
Crisis Core: The First SOLDIER, a gameplay scene The second announcement of the roundup was the one that probably no one needed. Final Fantasy VII The First SOLDIER is a disappointing battle royal for iOS and Android mobile systems that raised more hilarity than controversy upon its release last year, but which somehow managed to drag on into the third season just presented. The new update will introduce a new map, which is called Midgar Plateside, and a new weapon, the Serpent Launcher, as well as a new fighting style that recalls the iconic Job of the Machinist. Let's say we can continue without thinking too much.
Final Fantasy VII: Ever Crisis
Final Fantay VII Ever Crisis,
for those who want
to know the whole story "Another possibility for a Remake ": with these words begins the trailer of the third game in the roundup, a title in the works at the developer Applibot for a long time that had been announced even at the beginning of 2021. Now there is talk of a Closed Beta Test by the end of 2022, which will be worth following because Final Fantasy VII: Ever Crisis may be a lot less mundane than it seems. The idea is to propose, in an episodic and free to play form, the entire Final Fantasy VII Compilation: from Crisis Core to Advent Children, through Dirge of Cerberus and even Before Crisis, which in the West has remained unreleased so far. In this way, players will have the entire universe of Final Fantasy VII in the palm of their hand and can choose which episodes to live or relive with a mix of old school graphics and traditional gameplay with turn-based combat.
Crisis Core: Final Fantasy VII Reunion
Crisis Core: Final Fantasy VII Reunion, a close-up of Zack The penultimate announcement of the Celebration Broadcast was in the air for a variety of reasons, but we were pleased to hear that one of the best titles for
Sony
PSP will arrive on all platforms - PlayStation,
Xbox
, Switch and PC - in the winter. For the uninitiated, Crisis Core: Final Fantasy VII, now subtitled Reunion, is a prequel that tells
the story of
Zack Fair, the all-important SOLDIER from Final Fantasy VII. It is also the game that introduces controversial characters such as Genesis Rhapsodos to the imaginary of the series, but other than that it is an excellent title: a third-person action RPG with a hybrid combat system that mixes strategy and real-time gameplay.
Reunion is a remastered version of the original title that dates back to 2007: it will boast a new resolution and improved textures, but we don't know yet if
there will be
new content that, perhaps, could establish an important link with the Remake.
Final Fantasy VII Rebirth
The most important
announcement of the Celebration Broadcast, the one we hoped for from the beginning: Square Enix satisfied us, unveiling the first
teaser trailer of
Final Fantasy VII Rebirth. For an in-depth analysis, we refer you to our dedicated special, but here we can say that in the trailer there were no combat scenes, but only cinematics and exploration sequences which, however, confirmed the famous Nibleheim flashback and a potential interaction between the two timelines that were generated at the end of Final Fantasy VII Remake.
It is in fact the dialogues that suggest more than necessary on this second part of the Remake operation: "Is it reality? Is it imagination?", reads the trailer at one point, and this makes us think that the Remake trilogy is developing unexpectedly, abandoning the original plot to tell a whole new story.
We said trilogy because Yoshinori Kitase himself has revealed a very important information: Final Fantasy VII Remake will be a three-part project, with Rebirth in second place with a release scheduled for winter 2023 only on PlayStation 5. Do not hold your breath, in short, and cross your fingers that Square Enix fulfills its promise.
Have you noticed any errors?