Commander Legends: Battle for Baldur's Gate is available today
Commander Legends
Wizards of the Coast released Commander Legends: Battle for Baldur's Gate, the latest expansion to the trading card game Magic: The Gathering, on the market today.
Building on what has already been done with the 2020 Legends of Commander set, Battle for Baldur's Gate further renews the Limited format by adding iconic characters and compelling mechanics from the popular RPG Dungeons & Dragons, featuring a total of 361 cards within the entire set.
Baldur's Gate is the most influential metropolis of all the Forgotten Realms, attracting wealth-seeking merchants, penniless refugees and other characters from all over Faerûn seeking opportunities within its massive walls . Featuring iconic D&D characters like Tasha the Witch Queen or fan-favorite duo Minsc and Boo, Battle for Baldur's Gate will allow players to weave a story of power and intrigue as they battle with their friends in Magic's most popular multiplayer format. br>
Unlike Commander's Legends, this new expansion will offer players much more freedom in building their decks: in addition to being specially designed to be drafted, Battle for Baldur's Gate breaks the "one copy per card" rule. in the deck ", typical of the Commander format and allowing you to include two or more copies of the same card.| ); } Like every new expansion, this one will also feature innovative and new mechanics, starting with the presence of Legendary Spells called Backgrounds. these will be able to give bonuses to their commander and most often they will be acquired skills or an increase in his power and / or toughness.
D&D veterans know how important the Initiative, so much so that even in Battle for Baldur's Gate there will be an ability called just that. This activates three significant bonuses: first of all, every time a player takes the initiative, he ventures into Undercity (a new dungeon card). Later, the Initiative player ventures back into the dungeon at the start of his upkeep. Finally, many cards in the set improve
if you have
the initiative.
Adventure, on the other hand, will be a type of spell and will divide the card into two parts, allowing you to play the cost of the ability before putting it on the field and exiling it after its use (although it can then be summoned by the exile itself)
In keeping with the tradition of Baldur's Gate, the second set of Commander's Legends sees the return of the Rulebook Frames, a frame designed with the look and feel of the Manual of Monsters of Dungeons & Dragons, evoking the classic rulebook aesthetic loved by board game fans.
Commander Legends: Battle for Baldur's Gate is available in classic Booster Draft, Set Boosters and Collector Boosters, as well as pre-built Commander decks, Pre-Release packs and the special Bundle containing an Oversized 20-sided die. If you want to immerse yourself in the atmosphere of Commander Legends: Battle for Baldur's Gate, we recommend the latter, which also contains 8 Set Boosters, 20 Basic Earths FOIL, 20 Basic Earths regular, 1 FOIL promo Rare Card (Wand of Wonders) and 1 Collection box. You can buy it simply by clicking on this link.
---
Unboxing Magic: The Gathering Commander Legends: Battle for Baldur's Gate Media Bundle
With Magic: The Gathering Commander Legends: Battle for Baldur's Gate, it's time to head on back to the Forgotten Realms. It's been a few expansions since we saw the popular release hit the street priming us to try the Commander format!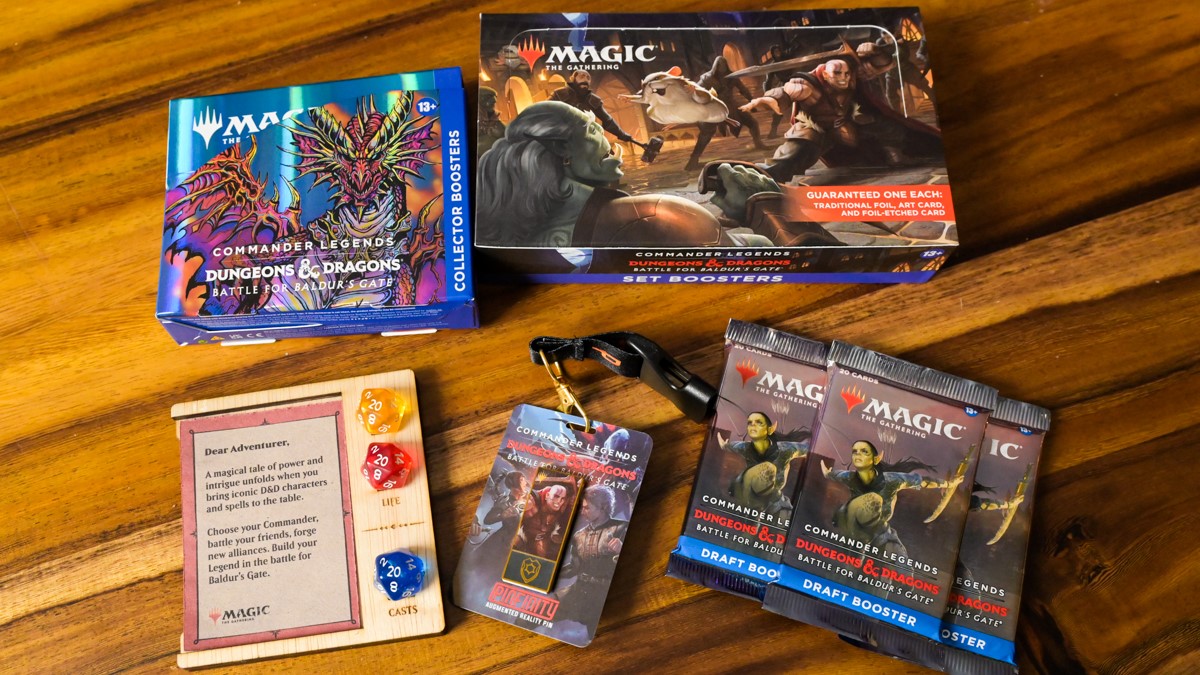 Compared to the past, this release does have a limited audience considering that all the cards cannot be used in the standard format. But that hasn't stopped Wizards from releasing a full suite of options for fans to get hold of.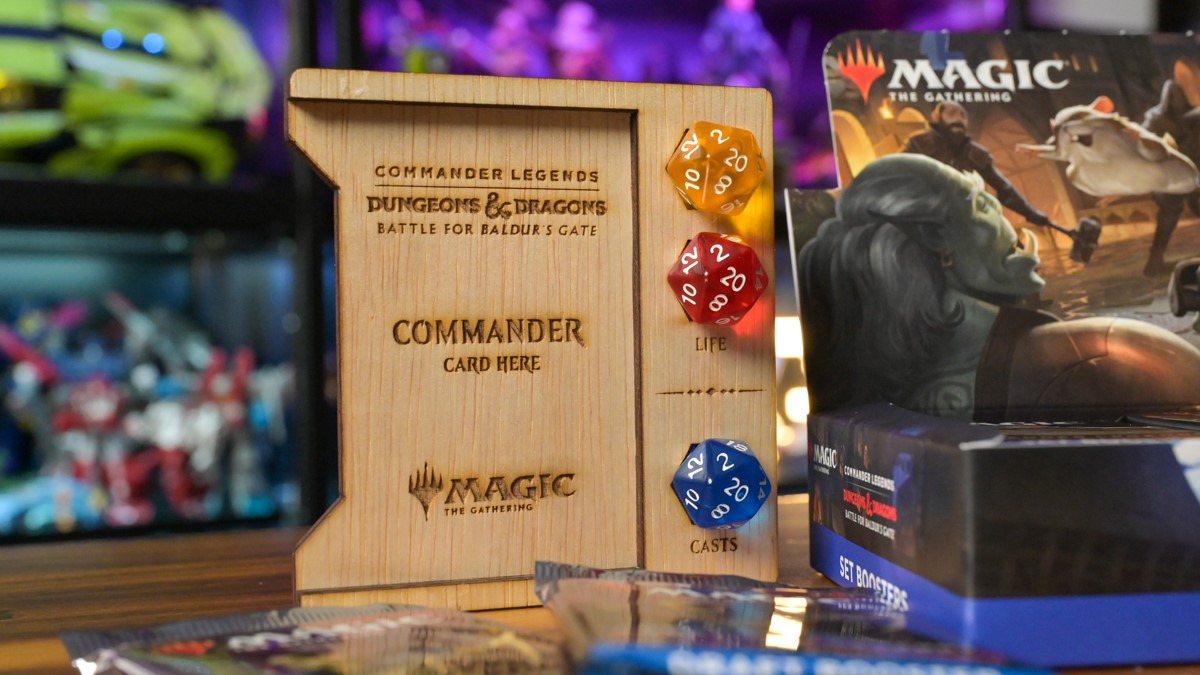 One of the highlights of this drop is a nice component to house your preferred commander. It's a nice touch with the life counters and cast tracker placed at the side. In case your table has even more space to house more components, this is yet another item to place on the battlefield.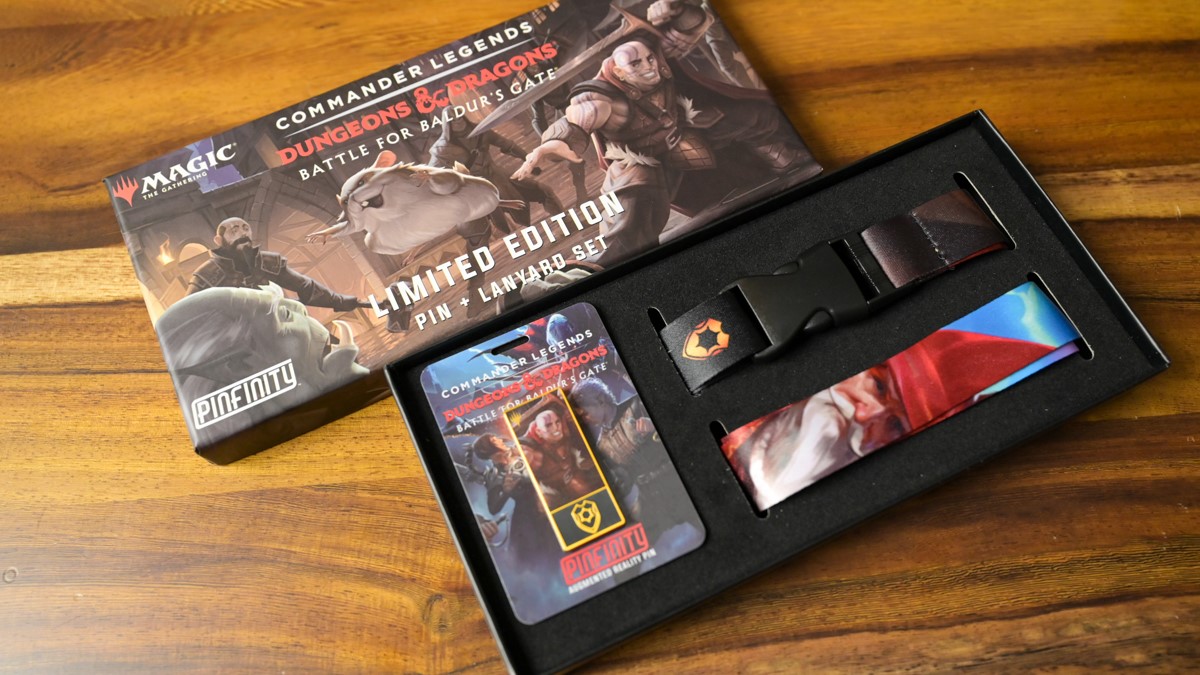 Outside of the booster boxes, there's new merch included with Magic: The Gathering Commander Legends: Battle for Baldur's Gate as well. These Pinfinity AR pins come to life with the companion app just in case you'd love to see your cards elevate their status.
If you're a fan of Minsc and Boo, here's your chance to pick up this collectible. After all, the duo comes in the form of both Planeswalker and Legendary creature forms in this expansion. We had a good run with our pulls with the Collector's Boosters and Set Boosters, do check out the video below –
One of the cooler cards that collectors would be aiming for would be the various ancient dragons in the set. It seems that they are not easy to come by but we rounded by the unboxing with pretty decent pulls.
If you've been staving off and resisting jumping into Magic: The Gathering even with this Dungeons & Dragons crossover event, Magic: The Gathering Commander Legends: Battle for Baldur's Gate is generally lighter on the wallet. With the commander format being a bit saner in terms of having to work only with singles, we've a handy guide to figure out how best to get started in no time!
Gerald currently straddles between his love of video games and board gaming. There's nothing that interests him more than trying out the newest and fanciest gadget in town as well. He dreams of publishing a board game sometime in the future!
Drop a Facebook comment below!