WhatsApp, how to send self-destructing photos and videos
WhatsApp
It's official, Facebook has finally introduced a feature typical of Instagram's private messages on WhatsApp: photos and videos "with expiration".
Thanks to this new function it is possible to send photos and videos that will self-destruct once opened from the recipient, forever erasing all traces from both smartphones. How do I send multimedia contents "view once" to WhatsApp?
The benefits of multimedia messaging of this type are manifold. For example, the images or videos will be automatically deleted from the memory of the smartphones that have received them, not wasting useless storage space with photos that will never be seen again. It is obviously a handy function to prevent the recipient from saving the files for their own gain or to share them with other people.
As WhatsApp points out on its blog, there are rules on how ephemeral multimedia messages work that you should keep always in mind:
Media files will not be saved in the recipient's Photos or Gallery When you send a photo or video that can only be viewed once, you will not be able to review it yourself You cannot forward, save, rate or share photos sent or received with the "view once" option enabled You can only see if a recipient has opened a photo or video with the "view once" option if they have read receipts active If you do not open the photo or video within 14 days of sending, the availability of the multimedia file in the chat will expire Whenever you want to send a photo or video set for one view only, you must select the option "view once" manually The media files with the option displays once can be restored from the backup if the message has not yet been opened when the backup is performed. If the photo or video has already been opened, the multimedia file will not be included in the backup and cannot be restored. However, remember that this option of automatic
deletion of
sent photos and videos does not completely protect you from cunning or malicious people. Those who receive this kind of file will always be able to capture a screenshot or record the screen of their smartphone, saving what they received accordingly. Always pay close attention to "who" you send "what"!
How to send self-destructing photos and videos to WhatsApp
Go to the chat where you want to send the multimedia file Take a photo, record a video or select a file from the gallery as you normally would but do not send it yet In the text box at the bottom, the one where you can usually enter a message to attach to the file, press the "1" key as shown in the images below A message will confirm the activation of the sending mode "View once"
That's it! It will be possible to know if the recipient has opened the attachment only if he has the read receipts (the famous blue ticks) activated.
Did you already know this convenient option and do you use it often?
For those
looking for
a fluid smartphone and don't like curved edges, you can find the excellent
OnePlus Nord
5G on Amazon !
---
WhatsApp to Soon Show Preview of Links Shared as Status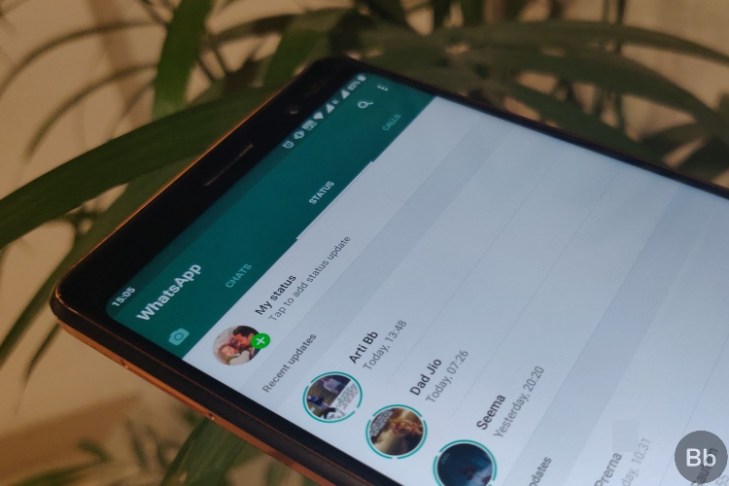 WhatsApp is prepping up a new addition for its Status feature after the rumored ability to react to Status with emojis reactions and Status updates in the chat list. The new rumored feature will show you rich previews of links shared as a text status. Here's a look at what this will look like.
A recent report by WABetaInfo reveals that WhatsApp is in the development stages of Rich Link Preview for text Statuses. This essentially means while sharing a link as a WhatsApp Status, users will be able to see the preview of the link with more details, much like it can be viewed when a link is shared in messages.
Currently, any link posted as a Status will simply show up as a link and a preview is only provided when a link is tapped. Here's a look at the difference between what appears now and what you may see in the near future.
The screenshot is said to be of a WhatsApp Status update on iOS, but it is expected to reach Android as well as desktop users. However, you should know that it is still under development and will eventually reach WhatsApp beta testers. There's no word on when it will be available for the general audience.
As mentioned earlier, WhatsApp is also expected to introduce the ability to react to a Status update with emojis, much like on Instagram after recently introducing message reactions. Another feature to be copied from Instagram will be the ability to view Status updates in chat lists or when a person is searched. This will be indicated via a green ring around a person's DP. Currently, a new Status can only be viewed from its dedicated section within the app.
In addition, the Meta-owned messaging app might soon add advanced search filter options for Android, iOS, and Desktop. This feature is already available for Business users and will soon reach general users to search for unread chats, contacts, non-contacts, and groups with ease. This feature is also under development, but there's no word on its availability as of now. So, what do you think about the new rich link previews on WhatsApp Status? Let us know your thoughts in the comments below.
Leave a comment