UZ Awards: unveiled all the nominations, including cinema, TV series and video games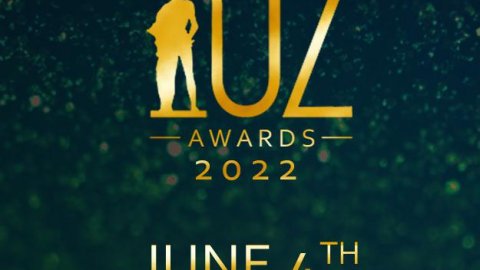 UZ Awards
Nominations for the UZ Awards have been announced, an event linked to Etna Comics which reaches its second edition this year, for a unique event in Italy. As for the first edition, the prizes range from the world of cinema, to that
of TV series
, up to that
of video games
.
The cover of the UZ Awards Best Picture (Best Film)
FREAKS OUT DIABOLIK MALE SINGULAR IT WAS THE HAND OF GOD HERE I LAUGH HERE
Best TV Series / Show ( Best Series or TV Show)
NUDES ASTROLOGICAL GUIDE FOR BREAKING HEARTS DOMINATES THE HUNTER DRAG RACE ITALY
Best Video Game (Best Video Game)
RETURNAL IT TAKES TWO RATCHET & CLANK : RIFT APART DEATHLOOP
Best Achievement in Directing (Best Director)
GABRIELE MAINETTI (FREAKS OUT) MANETTI BROS (DIABOLIK) PAOLO SORRENTINO (IT WAS THE HAND OF GOD) JONAS POHER RASMUSSEN ( FLEE) JOSEF FARES (IT TAKES TWO) - Best Achievement in Writing (Best Screenplay)
GABRIELE MAINETTI, NICOLA GUAGLIANONE (FREAKS OUT) JONAS POHER RASMUSSEN, AMIN (FLEE) SONI JORGENSEN, JOSEF FARES (IT TAKES TWO) ALESSANDRO GUIDA, MATTEO PILATI, GIUSEPPE PATERNO 'RADDUSA (SINGLE MEN) PAOLO SORRENTINO (IT WAS THE HAND OF GOD)
Best Performance in a Motion P icture (Best Performance in a Film)
EDUARDO SCARPETTA (HERE I laugh) GIANCARLO COMMARE (MALE SINGULAR) AURORA GIOVINAZZO (FREAKS OUT) MATILDE GIOLI (THAT'S OK) TONI SERVILLO (HERE I laugh)
Best Performance in a TV Series (Best Performance in a TV Series)
KASIA SMUTNIAK (DOMINA) MICHELE ROSIELLO (ASTROLOGICAL GUIDE FOR BROKEN HEARTS) NICOLAS MAUPAS (NUDES) FRANCESCO MONTANARI (THE HUNTER)
Best High Social Impact Entertainment
DRAG RACE ITALY FLEE IT TAKES TWO MALE SINGULAR
SPECIAL AWARDS
Icon Award (Icon Award)
MATT DILLON
Honorary Award (Lifetime Achievement Award)
ENRICO VANZINA
Best Original Soundtrack (Best Original Soundtrack)
JOSEPH BISHARA (MALIGNANT)
Best Documentary Feature
ENNIO
Best Cross-Media Artist
- THE WINNER WILL BE REVEALED DURING THE CEREMONY THAT IT WILL BE HELD ON JUNE 4th -
Let's read other details taken from the official press release:
Paladins of a constantly evolving sector, brave to take on ever more ambitious challenges and give new prestige to arts industry in general. Just like Uzeta, who according to the popular Catania tradition embodies the emblem of the humble hero to conquer the great.
Companies, works and people with an international high profile will be celebrated. They will come from all over the world, from Hollywood to the Rising Sun, and will parade on a magnificent red carpet set up at Le Ciminiere.
"Best Picture", "Best Tv Series / Show", "Best Animation", "Best Video Game" and more. The Olympus of new media and entertainment in the splendid setting of the Catania area.
An unprecedented event, embellished not only by a parterre of guests of absolute depth, among which the names of the Oscar nominee Matt Dillon, the acclaimed director Gabriele Mainetti (Called him Jeeg Robot, Freaks Out ), but also by an exceptional jury made up of representatives of the specialized press and professionals of the sector, carefully selected and coordinated by the president of the jury and director and founder of the award, Chris Darril, Catania's pride in the world, acclaimed director, artist and screenwriter, but also game designer (Remothered, Bye Sweet Carole, Forgotten Memories), symbol of cross-media and already a member and juror at the BAFTA Awards and NYX Games Awards.
Have you noticed any errors?
---
Travis Scott performing at Billboard Awards in most public post-Astroworld appearance yet
Travis Scott was set to make his most public post-Astroworld appearance yet, performing onstage and for broadcast audiences at the Billboard Awards on Sunday.
The rapper has slowly been easing back into the public spotlight in the wake of the music-festival tragedy last November in which 10 people died during his set at NRG Park in Houston after the crowd surged, crushing concertgoers.
Advertisement
Earlier this year he performed briefly at a pre-Oscars party and then at a Coachella afterparty a few weeks later. Last week he gave his first public performance, for about 45 minutes at the E11EVEN nightclub in Miami.
Scott had said he didn't realize what was going on just below him during the concert. He offered to pay funeral costs and refund tickets for all 50,000 festivalgoers. But that didn't stop victims' families from suing, most recently a couple who said the Astroworld tragedy caused a woman to miscarry.
Advertisement
Executive producer and host of this year's Billboard Music Awards Sean "Diddy" Combs said he was determined to resurrect Scott's image.
"I am uncanceling the canceled," he said, according to CNN.
"I made a request. I made a demand," he said on Instagram. "I said, 'My brother Travis Scott has to perform. Diddy is hosting the show. I'm executive producing. He has to perform,' and NBC said 'yes.' It's going down. Sunday, Travis Scott will be performing. Let's go."
Others performing at the MGM Grand Garden Arena in Las Vegas include Silk Sonic, Megan Thee Stallion and Mary J. Blige.
Among the early winners were Drake, named top artist, male artist, rap artist, rap male artist and rap album for "Certified Lover Boy," extending his record as the most decorated in the history of the awards show, with 34 wins.
With News Wire Services