Prehistoric Kingdom, the tried and true of a management software that directly challenges Jurassic World Evolution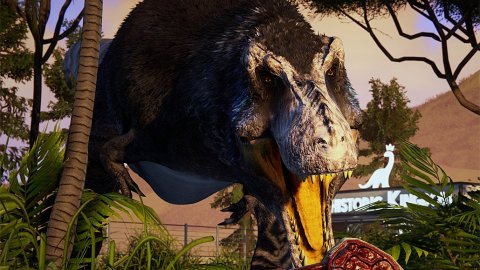 Prehistoric Kingdom
After the success on Kickstarter, which (partially) provided the Blue Meridian team with development resources, Prehistoric Kingdom has finally been published, precisely in the Early Access version. The complete development, according to the developers, will take between 18 and 24 months, but in the meantime, players can begin to try the fundamental components of this prehistoric-themed management software.
As is obvious, Prehistoric Kingdom directly challenges Jurassic World Evolution, trying to propose something slightly different. At the same time, the current one is not the final state of the game and, as we shall see, it may still be too early to proceed with the purchase, for some players.
Let's see the details in our Prehistoric Kingdom trial.
Micro and macro
In Prehistoric Kingdom it is possible to check the status of each creature One of the first features that players will discover in Prehistoric Kingdom is the ability to manage a modular creation system. It is in fact possible to manually create, through small pieces, environmental elements to create the perfect park. You can rotate,
zoom
in or out, change the colors and materials of many elements, including ready-to-use objects.
Don't worry, if you prefer not to waste time with micromanagement, you can simply rely on buildings ready to create the perfect park. Unfortunately, there is no grid or path tracking system that can simplify placement. Furthermore, some elements tend to interpenetrate with the ground or to position themselves inaccurately in terms of vertical height, creating some aesthetic ugliness that could make the most attentive to details turn up their noses. There is therefore still some work to be done in this regard.
Environmental management is not linked only to buildings, but also to the land. It is possible to terraform the entire park area, deciding the height of the ground or the depth of the water or the types of trees and bushes that you want to insert.
Habitat management
There will be a lot to customize in Prehistoric Kingdom Terraforming is not only important in deciding the appearance of the park, but also in creating the right biomes for the various creatures of Prehistoric Kingdom. Our "guests" need an area suitable for their needs. It will therefore be important to create a large enough space, not too crowded with animals, with the right foods and trees in the biome, as well as a certain amount of water.
If the quality of the environment is high, the specific exhibition gets a good score and, consequently, the public will donate more money, which will add to the entrance fee. The management of habitat creation is fast and precise at the same time, with the right tools to delete or insert only the trees of our interest.
It is a simple and quick process to complete, but for the moment does not have too great an impact. The management of the park is in fact limited as the animals cannot yet get sick or die.
Overall, various options are lacking such as taking loans, deciding the entrance price and generally managing the side more specifically park business. These are features that will be added in the future, so for now many may want to wait for new updates before purchasing to play with a larger product.
Tutorials and modes
You can precisely create various environmental elements in Prehistoric Kingdom. There are also many shortcomings in terms of modalities. Prehistoric Kingdom includes for now only a basic tutorial that teaches the basic commands and rules to manage the park. However, for newbies, more tutorials that address specific functions would be needed: even in this case, we assume that they are elements coming soon.
In case you are an expert in the genre and don't have too much interest in tutorials, know however all that is available is a classic mode with no objectives. You can decide the difficulty, which mainly determines the money and the dinosaur species we have at the beginning, but there is not much more. There are no special missions with parks already running to manage.
In addition, unlocking new dinosaurs is not particularly complex:
if you have
enough points, accumulated by playing, you can unlock new creatures, which can then be immediately incubated and released in the park.
Dinosaurs but not only
There are not only dinosaurs in Prehistoric Kingdom One of the strengths of Prehistoric Kingdom is that, despite being a developed game from
a team of
only 14 people, it aims at realistic graphics and proposes dinosaurs made in a way that is faithful to scientific discoveries, with also variants of each species.
Also do not expect only dinosaurs and the like,
because there are
also mammals prehistoric. For the time being, there are mammoths, woolly rhinos and saber-toothed tigers. In Jurassic World Evolution there are no these animals, so Prehistoric Kingdom is already able to offer something different now.
Obviously, also in this category we note that we are in Early Access, as some species are missing a lot. Note. All the shortcomings, however, are only the result of the current version and there will be time to expand them.
One of the frightening creatures of Prehistoric Kingdom Furthermore, it is confirmed that support for Steam Workshop will arrive, a function that will certainly be appreciated by lots of players.
Prehistoric Kingdom is a project still far from completion. It is a game with several good ideas, but it needs to expand to be really interesting. Buying Early Access is not recommended if you
want to have
a game ready to play for months on end. If, on the other hand, you want to support the developers and wait unhurriedly for the arrival of news, trying them as they are proposed, then we can say that what we have seen so far is promising.
CERTAINTIES
Pleasant micromanagement The creatures are well crafted DOUBTS A lot of content is still missing Have you noticed any errors?