NIS America, the 2022 lineup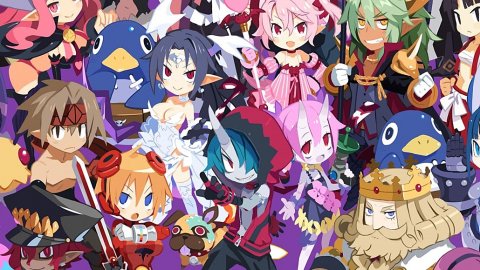 NIS America
The last two years has been difficult for many publishers and developers, so much so that even teams accustomed to triple A productions have had very serious production problems. In an era of postponements and blockbuster flops far below expectations, NIS America seems to have decided to play a quieter and more thoughtful game than most of its competitors. In fact, we have recently seen the house's 2022 lineup and, apart from a couple of interesting news, there is a rather conservative tendency to propose titles belonging almost always to the same genre, or collections of old classics.
Not necessarily a bad thing, however, because in the group of games presented to us there are a couple of titles that have teased us to say the least, not to mention that lovers of turn-based tactical RPGs will have something to lick their lips (especially those who love them). past glories).
Here's what we saw, in a quick and convenient summary of the event.
The two "bigs": Disgaea 6 and Yuru Kill
Disgaea 6: a chapter which made the fans talk a lot The first "big" arrival is that of Disgaea 6: Complete Edition on PC,
PS5
, and
PS4
. Of course, it is not a real novelty, being a game of 2021, but it marks the arrival on
PlayStation
5 of the historic Nippon Ichi saga, in a version (at a curiously full price) containing all the DLCs released so far. Disgaea 6: Defiance of Destiny has been received in a fluctuating way by the fanbase: on the one hand it is full of fanservice and allows you to use practically all
the most famous
characters of the saga in some way, on the other hand it is also considered the most simplified chapter in as for mechanics, so much so that it has displeased a good number of historical fans (especially if you consider that they love a brand known mainly for its follies in systems).| has not given us answers to that effect. It remains a solid and appreciable turn-based strategy.
Yuru Kill is instead a videogame of a completely different type and, in all probability, also
the most interesting
work shown during the event. With a plot written by the manga author Kakegurui, the game is in fact a strange mix between a sort of "investigative quiz" and a bullet hell aboard a spaceship. As you can imagine, the plot does some decent flips to justify this type of merger, but suffice it to say that you will face it all as a prisoner in a mysterious amusement park, busy proving his innocence in a case of multiple murders in force of confrontations with the accusers and scrolling shootings.
Yuru Kill's is a completely crazy concept and we are seriously curious to see where he will go. The gameplay, however, seemed more than valid to us; on the other hand, there are G.Rev, specialists in the creation of titles of this type, in development. It will arrive in Europe on July 8th.
Back to the past
NIS Classics Vol 2: The collection contains a couple of valuable titles for fans of turn-based strategy The rest of the presentation of NIS, as mentioned, was more contained and predictable, also due to the presence of two chapters of the NIS Classics: collections (so to speak, since they are games in pairs) of old works of the house, and for the practically always exactness of turn-based strategy. The Volume 2 collection seemed particularly worthy of attention, due to the presence of Zettai Hero Project, an old PSP title that blends turn-based strategy with marked roguelite elements, and is considered by many to be a small gem in the genre known by very few. The second game, Makai Kingdom, is even older - dates back to 2005 - and has a mass of characteristics in common with Disgaea (including certain characters ...), however it maintains some unique systems, capable of distinguishing it from that series. This collection will arrive at us on May 13th.
Volume 3 does not mess too much, and contains La Pucelle Ragnarok and Rhapsody: a Musical Adventure. And here we are talking about games that in some ways represent the mold then used to shape Disgaea and the other NIS turn-based tactical RPGs, even if Rhapsody is practically unknown to us (in Japan it was a cult vehicle, with excellent sales and followed). The age of the games makes them attractive mainly for lovers of the genre, although Ragnarok is very interesting as a re-edition of the original La Pucelle Tactics with several new contents, a new scenario, and many changes to the interface and mechanics to modernize the experience. . These two games will appear with us on September 2nd.
Trails from Zero: finally localized and in the West this piece of the saga too There is also another illustrious return, but this time in the form of a single remaster. In fact, September 30 arrives on Switch and PC Trails from Zero: one of the titles of the JRPG series known as
The Legend of
Heroes, and another JRPG from PSP not particularly known due to the lack of localization in our part. The Legend of Heroes series is very popular with a niche of Japanese RPG fans, and Trails from Zero is a missing piece that they will almost certainly want to play.
Fallen Legion We close the list with another collection of sort, containing two chapters of the Fallen Legion series, more precisely Revenants and Rise to Glory. These are two Indonesian JRPGs, also far from mainstream, but made interesting by a combat system reminiscent of the Valkyrie Profile. The inclusion of new systems in this re-release could raise the already more than worthy mechanics, and represent a leap in quality for two titles that are not really considered masterpieces. Who knows that this edition will not earn the saga some additional fans in the West. They are scheduled for us on August 26.
That's it. Not a lineup able to leave you speechless, but at least a good opportunity to rediscover
the history of
Nippon Ichi and recover some valuable titles that we little known. Also, Yuru Kill seems like a project with potential for shoot em up lovers.
Have you noticed any errors?