Eiyuden Chronicle, the interview with Yoshitaka Murayama, the creator of the series and Suikoden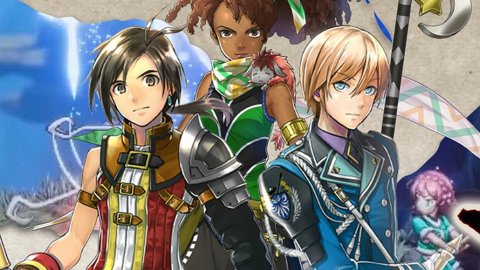 Eiyuden Chronicle
Suikoden is practically a legendary series if you chew JRPG, and while it enjoys boundless esteem in the environment, it's also one of those series that Konami at one point simply stopped supporting, until it fell into oblivion. Its creator, Yoshitaka Murayama, left Konami practically a month before the release of Suikoden III in 2002, to take the path of freelance, first founding Blue Moon Studio, and then moving on to Rabbit & Bear Studio where he joined forces with his former collaborators for a new JRPG that is intended to be a spiritual sequel to Suikoden.
Eiyuden Chronicle: Hundred Heroes, on Kickstarter, reached its first goal in less than three hours and, in the space of a few weeks, surpassed every stretch goal, including the financing of a prequel to be released every day , Eiyuden Chronicle: Rising.
We had the opportunity to interview Eiyuden Chronicle boss Yoshitaka Murayama in person, and ask him for some information about this new franchise, which will be resolved with the main release only in 2023, and about his relationship with the JRPG series that made him famous.
Speaks Yoshitaka Murayama
Eiyuden Chronicle: Hundred Heroes, an intermission scene From where the idea to develop a new JRPG in the style of Suikoden right now, and why?
The Eiyuden Chronicle project started on Kickstarter in 2020, but for years we had received tons of messages from Suikoden fans who had continued to follow our work even after I had left the series. So we brought together the cornerstones of Rabbit & Bear Studio and, after discussing them, we decided it was time to go back to the game that started it all, and that we still love very much today.
Suikoden is a beloved series that has slowly disappeared from radar. We seem to understand that Eiyuden Chronicle is a kind of spiritual successor ...
Several people who had created Suikoden are working on this title; however, our goal is to create an entirely new JRPG. Eiyuden Chronicle is not an actual sequel, but it incorporates some elements of Suikoden that I loved, and therefore, in a way, we can say that they are very similar.
So what is the feature that makes Eiyuden Chronicle: Hundred Heroes so special, compared to many other JRPGs like Suikoden?
We are developing Eiyuden Chronicle as a JRPG packed with fun features for all tastes. For example, we have invented an innovative game dynamics that will be a real challenge, but unfortunately I can't talk about it yet ...
JRPGs are nowadays turning more and more to real-time fighting. Why did you decide to develop a turn-based combat system?
One of the most important features of Eiyuden Chronicle: Hundred Heroes is that the player can choose his favorite fighters from a huge roster of characters, so we have decided to adopt a system that allows you to form
a team of
six characters plus an extra. This way players will
be able to
try out the weirdest combinations, which would not have been possible if we had simply added the real-time action.
Eiyuden Chronicle: Rising, a fight against a boss Let's talk about Eiyuden Chronicle : Rising. How did you come up with this idea?
First we must specify that the story of Rising takes place before that of Hundred Heroes. For this reason we have focused on a single frontier city, telling its development and history. Our idea was to establish a bond between players and these characters, which
is one of
the main characteristics of Hundred Heroes, and therefore we thought of a horizontal scrolling RPG in which three characters are used simultaneously in combat.
But is playing Rising so important to understand the general narrative of Eiyuden Chronicle?
Rising is set in the same world as Hundred Heroes, and in fact its protagonists also appear in the actual game. Despite this, the story of Rising is self-contained, but we thought we would include some references
that will make
you smile when you play Hundred Heroes too.
There is a specific reason behind the choice of HD-2D graphics. ?
We are carefully working on the expressiveness and animations of the 2D sprites: in our opinion they stand out better with this type of graphics technology, which we have not chosen only for a nostalgic factor.
Eiyuden Chronicle: Rising, the protagonists in a scene And so what are the most important features of Rising and Hundred Heroes that fans of the JRPG genre should absolutely keep an eye on?
We have developed Eiyuden Chronicle: Rising for even those players who are not quite the top in action titles to have fun, and we hope you enjoy this dynamic and spectacular yet super easy to control combat system. Eiyuden Chronicle: Hundred Heroes, on the other hand, is an RPG with many different characters. We are sure that every player will find their favorites, also because we are designing a system that will give them importance not only in combat, but also in the cutscenes of the story.
There is something special that we will be able to import from Rising in Hundred Heroes?
Yes, for example in Rising you will be able to name the weapons of the three protagonists, and those weapons will have the same names in Hundred Heroes as well. The same goes for the specialties of the city in which the story takes place: at some point you will be able to decide what to call them, and you will also find them in Hundred Heroes when it comes out in 2023.
Have you noticed any errors?