Acer ConceptD 5, 500 and 100: laptops and desktops with RTX, OLED and Intel 12gen CPU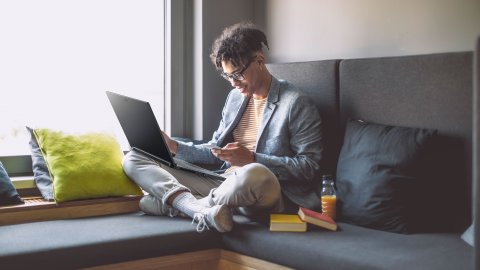 Acer ConceptD 5, 500 and 100
Acer presented the new ConceptD 5, ConceptD 500 and ConceptD 100: laptop and desktop PCs equipped with RTX GPUs, OLED displays and
12th generation
Intel processors.
Creator Concept D 5 and Concept D 5 laptops The Pros boast a little over 25mm thick and a metal chassis, but can handle heavy workloads with CAD and video editing with up to 6K resolution, 3D animation and livestreaming.
About the ino processors a 12th generation Intel Core i7 12700H and NVIDIA RTX GPUs: a
GeForce RTX
3070 Ti GPU is found in the CN516-73G models, while the more powerful NVIDIA RTX A5500 is present in the Pro configurations (CN516-73P). Up to 32 GB of LPDDR5 RAM and up to 2 TB of NVMe PCIe Gen 4 M.2 SSD storage complete the whole.
Acer ConceptD 5 Cool and quiet (less than 40 dBA), ConceptD 5 can mount a optional 400 nit WQUXGA (3840 x 2400 pixels) OLED display with 100% DCI-P3 coverage, Pantone Matching System and HDR for absolutely stunning color rendering, bright whites and deep blacks.
ConceptD 5 is equipped with the highest capacity battery Acer has ever included in a ConceptD laptop. It is a 99.98 Wh lithium polymer battery that powers the bright display and allows sustained use at maximum power to wirelessly browse the web, play videos and enjoy streaming content for up to 11 hours.
The ConceptD 5 series also includes numerous ports, which are essential for content creation. A full-size HDMI 2.1 and SD 7.0 card reader makes it easier to connect to peripherals and quickly transfer content, while Thunderbolt ™ 4 and USB Type-C ports allow you to charge devices and transfer files faster plus extend the display to multiple external monitors.
Amber backlit keyboard includes hard keys with 1.55mm travel for a responsive, comfortable and quiet typing experience. The Corning® Gorilla® Glass trackpad is 27%
larger than
the previous generation and a biometric fingerprint reader integrated directly into the upper left of the touchpad makes it easier to log in through
Windows
Hello.
Acer ConceptD 500 As far as desktop PCs are concerned, ConceptD 500 boasts a minimalist design, in white and with amber lighting with cases of just 20 liters in volume. Equipped with Windows 11, the latest models (CT500-53A) include the latest technologies from Intel and NVIDIA, including 12th Generation Intel Core i9 processors and a choice of NVIDIA RTX A4000 or GeForce RTX 3070 GPUs.
With up to 128GB of 3200Mhz DDR4 memory, up to 4TB of M.2 Gen 4 SSD storage, and one HDD up to 4TB, it offers all the performance and storage you need for 2D and 3D design applications that make intensive use of computing resources. ConceptD 500 is silent and is characterized by an excellent thermal balance; the front air intake optimizes cooling while the noise level is contained below 40 dbA, for a library silence.
On the back and front of the device, for easier access, there is a full range of ports to connect it to peripherals. Users can quickly transfer files with a USB Type-C (10Gbps) port or built-in SD card reader and quickly and securely connect to the Internet via the high-speed LAN connection with speeds up to 2.5Gbps.
Acer ConceptD 100 Finally we have the ConceptD 100,
designed for
SMEs, with a classic design and small size ideal for an office. It also features a minimalist design, featuring a white chassis with soft rounded edges, a wood-effect top panel, and an amber light strip along the front panel for an elegant, contemporary look.
Developed for content creators working in 2D and 3D, as well as small to medium-sized design studios, it features powerful components suitable for graphic design, lightweight 3D modeling and CAD workloads and BIM.
The latest models (CM100-53A) are equipped with 12th Generation Intel Core i5 or Core i7 processors and NVIDIA T400 or T10001 GPUs. Support up to 128GB of DDR4 3200Mhz memory, with 7200 RPM HDD up to 2TB and up to 2TB of M.2 PCI-e / Gen 4 SSD. connect to a wide range of peripherals allowing creators to quickly transfer files with a USB Type-C (10 Gbps) port or integrated SD card reader.
The device also includes a high-speed LAN connection with speeds up to 2.5 Gbps for a fast and reliable connection to the Internet. Additionally, an advanced cooling system keeps the device cool by keeping noise levels below 40 dbA.
Pricing and Availability
The ConceptD 5 laptop (CN516-73G) will be available in October starting at EUR 2,599. The ConceptD 5 Pro laptop (CN516-73P) will be available in October starting at EUR 2,799. The ConceptD 500 desktop PC will be available in September starting at EUR 2,199. The ConceptD 100 desktop PC will be available in September starting at EUR 1,399.
Have you noticed any errors?