Chrono Cross: remaster confirmed by a file of the crossover event of Another Eden?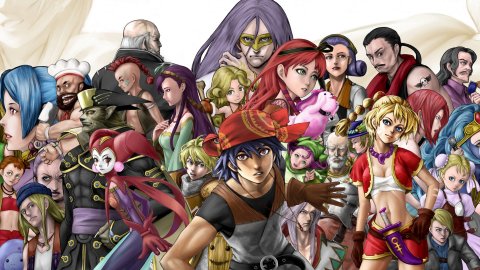 Chrono Cross
A clue hidden in the game files of the crossover event of Another Eden: The Cat Beyond Time and Space with Chrono Cross would seem to confirm the arrival of a remaster of the great classic of Square Enix.
A possible remake or remaster of Chrono Cross, the great classic of the JRPG genre that arrived on PSX back in 1999, has been the focus of numerous rumors in recent days, which have intensified further due to a possible crossover with Another Eden.
Well the Another Eden event: The Cat Beyond Time and Space X Chrono Cross was actually made official a few hours ago by Square Enix and WFS with a trailer, with launch date set for next December 9th.
For the occasion Serge, Kid and Harle from Chrono Cross will arrive on Another Eden and there will be a special story written by Masato Kato,
who is in
volved in the development of both games. The collaboration is also supervised by Yasunori Mitsuda and Nobuteru Yuuki, both key members of the Chrono Cross team.
Even before the official announcement, as reported on the ResetERA forums, some dataminers have thoroughly examined the files of game of Another Eden and have found a message that should be activated with the start of the event, or December 9, which would seem to confirm the arrival of Chrono Cross Remaster: "In honor of the release of the Chrono Cross remaster, it is about to be launched a special episode of Complex Dream ".
At this point, it is reasonable to expect the official announcement of the Chrono Cross remaster by Square Enix in the next few days, if not directly on December 9th, the day in which
the Game Awards 2021
. The event hosted by Geoff Keighley could be the perfect stage for such an announcement.
To know for
sure we just have to wait.
Have you noticed any errors?
---
If the Chrono Cross Remaster Is Real, Please Let it Look Like This
We don't know if the reported Chrono Cross Remake is real or not, but if it is, we sure hope it looks like the cinematic trailer for the Chrono Cross and Another Eden crossover event, Complex Dream.
Set to the nostalgic opening theme Time Scar, the trailer shows off Serge, Kit, Harle, and Lynx alongside various Another Eden characters in a tribute to Chrono Cross' original intro movie. It's full of references, including the iconic moment when the camera zooms in on Kid's eye (with Feinne from Another Eden standing in here) and Harle's shot against a full moon.
And dang, they all look good.
Chrono Cross' intro is the kind of video game opening that still impresses even in 2021, but these shiny, high-quality renditions of Serge and crew are an exciting portrait of what could be, especially if that Chrono Cross remaster is indeed real.
While their Another Eden in-game selves have been shrunk down to chibi form, the crossover also comes with new full character art of Serge, Kid, and Harle that's just to die for:
Have you played Another Eden?
YESNO
Chrono Cross x Another Eden Crossover Character Art
And finally, there's this new piece of promo art, adding a few more familiar faces like Starky, Glenn, and FATE:
Chrono Cross released in 1999 for the PlayStation, and while it's dated in a number of ways, so much of its art and music remain stunning to this day. The art and trailer made for the Another Eden crossover event give a glimpse of what could be, and it's no surprise given that Chrono Cross veterans Masato Kato, Yasunori Mitsuda, and character designer Nobuteru Yuuki were all involved.
Another Eden's Chrono Cross-over is out on December 9, and we spoke to game director Daisuke Takeshima ahead of the announcement about the four-year endeavor to bring Chrono Cross to the mobile JRPG. Only time scars will tell if this is just a teaser for more Chrono things to come.
Rebekah Valentine is a news reporter for IGN. You can find her on Twitter @duckvalentine.