Arcadegeddon, preview: alone or in company, the important thing is to hit the enemy!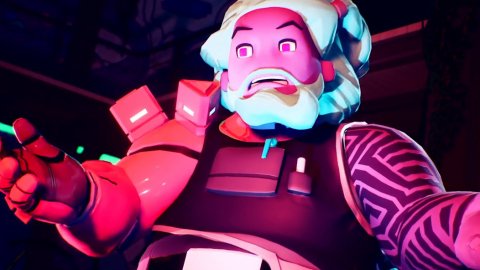 Arcadegeddon, preview
But what a strange game, this Arcadegeddon, as the genesis of the software house that is developing it is strange. Illfonic, in fact, was founded by three different people and among these Raphael Saadiq stands out who is not a game designer, not even a graphic designer, but an ace of music who sings, composes, plays any instrument you can think of and has produced songs for people like Stevie Wonder, D'Angelo, Erykha Badu, Whitney Houston
and many other
internationally renowned artists. Needless to say, the Arcadegeddon soundtrack pumps style and adrenaline like few other action games do ...
But this is not the only peculiarity of the game. Let's find out about the others in the preview of Arcadegeddon.
What's not?
Arcadegeddon: beware of mega mechanical spider in sight! You will surely have seen it for the first time during
Sony
's latest
State of Play
, but Arcadegeddon we have had the opportunity to observe it very closely, and exclusively, a few days ago, as it was played by three different members of the development team who , between one shooting and another, they told us in detail the secrets of its gameplay. We also tried it in its PC version for a short solo session.
Although it may seem like another co-op game among many co-op games, which is a bit the fashion of the moment, Arcadegeddon is not one of the many Left 4 Dead clones that crowded the different E3 showcases; neither is it an attempt to copy Borderlands, or to mimic the Evolve games that Illfonic still honored with its limping Friday the 13th and the most successful Predator: Hunting Grounds.
That's what it is!
Arcadegeddon: this biome is very reminiscent of the settings of the movie TRON. Meanwhile, Arcadegeddon is Illfonic's first self-produced game, and its particular structure is original enough to show off an intriguing temper and immediately catch our attention. Alone (but always online) or in the company of three other friends, this title puts users
in front of
a series of almost infinite and increasingly difficult challenges in a procedural context.
In practice, you choose the character, you customize it through the more than 700 objects and hairstyles already present, choose two of the different special skills unlocked and then start this non-stop battle that lasts practically until the inevitable game over. You don't even have to decide the difficulty because this will gradually increase over the course of the shootings, even if from time to time and with the money collected you can encounter and operate a kind of machinery that will activate a rich and challenging difficult mode for a shorter or longer period. But it is a choice, not an obligation.
A goal: to have fun
Arcadegeddon: the greenest setting of the three available is also the easiest to navigate. only one: to have fun, and we have to admit that it actually seems to do quite well. The graphics are well colored, the style enhances the desired lack in terms of detail, creating a constant iridescence that to an unwary eye could recall the popular Fortnite, while distancing itself from it through the more dry character design, but above all through its fascinating levels.
At the moment the game is in early access, there is still a lot to add, for example there are only three different biomes and two of those that we can define as end-of-level bosses ... even if it doesn't exist in bottom a fine level as their defeat will only push us forward again and again. Because in Arcadegeddon it always goes on, until all the characters in the game are dead and there is no one else around who can resurrect them.
Even the three biomes are random and always in motion, in a perennial mixture that will make us jump from one setting to another without continuity, if not our rifles ready to decimate the enemy hordes that will oppose the our high-score (there is also a mega classificona to compare with players from all over the world). When we have killed enough enemies to fill the appropriate gauge, we can decide to go face the boss on duty, one of which is represented by an imposing mechanical spider capable of launching lethal missile salvoes.
PVE VS PVP
Arcadegeddon: at the end of each arena we will be able to
find out who
was the best player. The weapons of Arcadegeddon are found on the playing field, the same thing as their ammunition, but between one challenge and the other we will be able to refresh ourselves and fill the magazines through the vending machines placed in these peculiar areas that will divide each arena. We call them arenas because basically the levels of the game look like just that: areas in which to face enemies and carry out simple missions such as defending a particular area, or occupying another while
more and more
enemies will rush to make us the skin.
In addition, among so much PVP, Arcadegeddon also thrusts us in the middle of the areas where we will have to face it against our own comrades, sometimes just like in a classic free-for-all deathmatch, or in a sort of sport where to win it will be necessary to shoot a ball to make it go into the opponent's goal. Both in the normal levels that will see us against enemies, and in these areas in which the challenge will be against friends, in the end we will be honored with a score that will allow us to understand who has been the best of the group.
As you can see, Arcadegeddon is absolutely not to be taken lightly, and being in early access, therefore still in development, there is no rush to buy a copy. What we can tell you is that, in any case, although the contents are not yet astounding in number, the fun is already guaranteed, especially if you have
a group of
friends who like to shoot a lot, and think relatively little. As early access, Arcadegeddon also has a rather friendly price, at least for the moment, and it is possible
to buy it
on the
PlayStation
Store for 19.99 euros and on the Epic Game Store for a little less, or 15.99 euros. Keep an eye on it!
CERTAINTIES
Very Fascinating Levels Fun weapons Always different DOUBTS They need to enrich the formula further AND add more variables, weapons and biomes Have you noticed any errors?