Next-gen games, why aren't new ones coming out?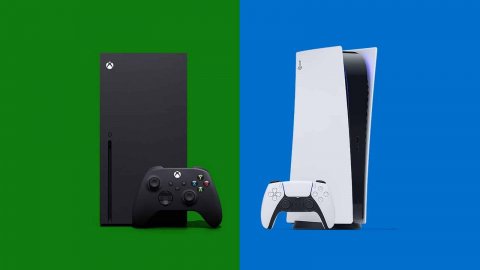 Next-gen games
2021 was supposed to be an explosive year for the video game market to say the least. Following the release of the new generation consoles, numerous thick video games would have to arrive to give the right momentum to
Playstation
5
and Xbox Series X
/ S. As we approach the end of the first quarter of the year, many promises made have already been denied. The delays and postponements announced are already many, certainly more than the very few confirmations and guarantees we have for the next few months. There are those who cry scandal, others who want to take to the streets in protest and in general the internet as a virtual meeting place is losing control. However, we are all fully aware of the situation in which we find ourselves, in fact twelve months have now passed struggling with this cursed pandemic. Today we want to try to take stock of the situation, trying to explain what is happening in the gaming world, why there are no next gen games and what we can expect in this 2021.
Uncertainty in video game development
Development studio dedicated to video games The first, almost banal consideration we can make is related to the development of video games. Over the past year, software houses have had to adapt to the restrictions related to the pandemic, like many others. This created various difficulties in the development phases and in general in the so-called workflow that previously marked the pace of production. Many studies have had to continue the work remotely with all the difficulties that clearly slowed down the schedule initially foreseen.
Obviously every development team is trying to give their best, even in these particular working conditions. We must not forget, given the recent events such as that of Cyberpunk 2077 or the decidedly worse situation of Anthem, that the development of video games is often a very complex process full of unexpected events and upheavals. Already in a period without pandemics or other internal problems, software houses are struggling to comply with the strict deadlines imposed by the demanding videogame market. The current situation could only worsen this situation, making all the roadmaps, deadlines and other internal objectives of the software houses increasingly uncertain. What is actually missing in this 2021 is precisely the certainty and guarantee on the release of video games, because it is extremely difficult to predict how the development of video games will proceed. Sony and Microsoft are therefore in the difficult situation of having to reschedule a release calendar, without having the guarantee that these titles can actually arrive ready within the established deadlines. There is uncertainty in each statement and the lack of scheduled events or any roadmap for the next few years further highlights the difficulty these two gaming giants are experiencing.
Electronics on the crest of the wave, but at the same time in crisis
The electronic revolution with the internet of things We have repeated it by now to exhaustion, but we want to emphasize once again that in the last year due to COVID many papers in table have changed dramatically. About two billion people are spending much more time in their homes due to the many restrictions due to COVID. This has led to major upheavals in both the hardware and software market, creating huge turmoil in plans even in the largest multinational companies. Having to spend much more time at home, the need to buy electronic entertainment devices (and more) has increased exponentially. The personal computer market, largely saturated in the last decade, has seen a 10% increase in sales in this period marked by the pandemic. Of course, consoles are also continuing to grind record sales around the world, as are numerous other electronic devices such as smartphones, tablets, smart fitness accessories and other consumer electronics.
This big demand in the world of electronics was completely unexpected and created many headaches for manufacturing companies. There is an obvious lack of silicon and other materials and micro-components needed to make electronic devices. At the same time, there is a gradual diffusion of electronics into numerous other devices and objects. In fact, smart products of all types are being born, such as refrigerators, sinks, cars, scooters, headphones
and many other
devices that require a certain very similar component. It is not easy to satisfy all this huge demand, especially in a year like the one just past, so the consequences have been felt more than expected.
Availability Playstation 5 and Xbox Series X / S
Xbox Series X and
Playstation 5 compared If we want to concentrate our focus on the next generation consoles, by now we all know how their availability is actually very poor (if not entirely absent). Don't think it's some kind of particular marketing, because both Sony and Microsoft would like to take advantage of this particular historical moment to be able to sell a gigantic quantity of consoles.
Nintendo
on the other hand is doing an excellent job, setting record after record in both hardware and software sales. When there are no more restrictions related to the pandemic and people can finally carry out other activities outside their home, the interest in consoles
and video games
will probably suffer a notable decline. It is therefore important to maximize sales in this period, trying to create a solid user base to ferry it along the whole generation that has just begun.
The low availability of the new generation consoles is clearly the daughter of the situation described in the previous paragraph . Sony and Microsoft are making gigantic efforts to try and maximize the work in their production and distribution chain. Consoles in physical and online stores are literally selling like hot cakes, as are the numerous accessories sold separately. Both companies know they must seek to maximize their earnings during this time and rest assured their commitment to this cannot be doubted. From the latest rumors leaked with some rather timid statements from various spokespersons, it seems that the unavailability of the hardware should last until the summer. We therefore expect that around September everyone will be able to buy a new console, without having to spend hallucinating figures and without having to use strange automatic bots to win the game machine.
Returning to video games
One of the Official screenshots of Gran Turismo 7 Having made a rather complete overview of the current situation in the videogame market and that of electronics in general, let's therefore answer the question we initially asked ourselves: why in this 2021 the video games we expected are not coming out ? If on the one hand, as we have already specified, there have been undeniable development problems due to smart working, on the other hand there is also an absolutely not negligible question of marketing. Both Sony and Microsoft want to release their games in order to maximize console sales. But if the consoles are currently unavailable, why should they release new video games?
For example Sony with the release of Gran Turismo 7 clearly wants to have a large audience of potential buyers available. If the game were trivially released today with five million Playstation 5s on the market, the number of sales would be lower than a release in a year when perhaps there will be 15-20 million Sony consoles worldwide. Similarly, just as mentioned earlier, the release of a game like Gran Turismo 7 serves to push the sales of the console, because the user who wants the new racing game must necessarily own a Playstation 5. As there is no console available, any imminent release of Gran Turismo 7 would be somewhat wasted on Sony. True, companies don't make much money on hardware sales, in fact they often make a loss in the first period after launch. In the long term, however, the revenues are there, because the user will continue to purchase
video games for
the platform, as well as subscribe to subscriptions to services such as Playstation Plus or Playstation Now.
Xbox Game Pass
official logo Microsoft from on the other hand, we know that a large part of the effort is being put on Game Pass. For them, too, it is therefore essential that people buy a machine compatible with the service (be it an Xbox or PC) in order to become loyal subscribers. It wouldn't make much sense to release big Game Pass exclusives right now, when few people can buy consoles to subscribe to the service. It would certainly make more sense to wait and prepare several major titles to launch in quick succession when it will actually be possible to safely buy an Xbox Series X or Series S. In a year, when the problem of availability will no longer be there, Microsoft could launch 5-6 exclusives. in the span of twelve months by exploding the desire to buy an Xbox or a PC and subscribe to the Game Pass. If these exclusives were released today, they certainly would not create the same impact, given the unavailability of the hardware.
Towards 2022
So if for this 2021 we expected the world in terms of videogame releases, we cannot deny that we were left with a bitter taste in our mouths. The situation, however, is very particular and very complicated, both for the software houses and for Sony and Microsoft, which are facing new arduous challenges to try to start this new generation of consoles in the best possible way. Wanting to make a small preview of the future, we can trivially say that most of the releases scheduled between the end of 2020 (did someone say Elden Ring?) And 2021 will probably arrive a year late. If indeed the availability problems are resolved by this summer, we expect to see a much higher number of consoles on the market already by July. At the same time, the software houses will probably have rescheduled their deadlines and will give some more information and guarantees to Sony and Microsoft that they will have to re-program the calendar of their exclusives. Consequently, third-party studios will also have greater clarity on how the release calendar will move and will be able to define a period of arrival on the market for their titles, giving the possibility to Sony and Microsoft to organize events, State of Play and more marketing to clarify how they intend to handle this turbulent start of generation.
Have you noticed any mistakes?