Marvel's Avengers: Operation Hawkeye, a chat with the voice actor Giacomo Gianniotti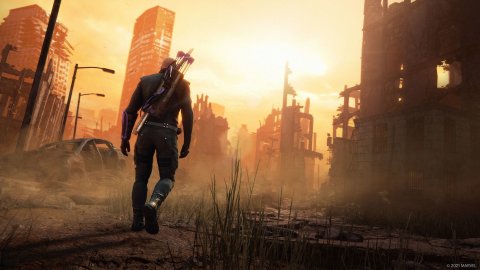 Marvel's Avengers
It is now
very close to the arrival of
Marvel
's Avengers: Operation Hawkeye, the new free DLC of the video game Marvel's Avengers of Crystal Dynamics distributed by Square Enix. The expansion, in collaboration with Nixxes Software, will be a real journey full of nuances that will star Clint Barton aka Hawkeye, a Marvelian character born in 1964 from the mind of Stan Lee and the pencil of Don Heck.
The expansion will focus on the comic book character Old Hawkeye, focusing in particular on the narrative arc of Eye for an Eye. In this story, we will not only have the opportunity to learn more about one of the main Avengers - who in the film version is played by the actor Jeremy Renner - between the past and the future, but it will also open up one of the most stimulating and particular storylines represented by Wastelands, the new biome that will be present in the map together with the release of Hawkeye and that will offer us a region of Future Imperfect that will take inspiration from the narrative cycle of Eye for an Eye.
Here the Avengers will have to deal with a new threat, that is the one represented by the Kree: warriors of a very powerful alien civilization who - for unknown reasons - have the aim of invading the earth, devastating everything that presents itself on their path. The Kree can use a powerful weapon represented by the gigantic Sentries, huge giants that have been partially destroyed by humans themselves and whose remains lie around the Wastelands, giving the game an even more despotic and apocalyptic aspect.
Face to face with Hawkeye
On the occasion of the arrival of the DLC, we had the opportunity to interview the Italian-Canadian voice actor and actor Giacomo Gianniotti, who lent his voice to the protagonist Occhio by Falco.
So Giacomo,
what does it
mean to be an Avengers? It's not something that just happens every day.
It is obviously a great opportunity! For a Hollywood actor, being part of a film franchise as important as the Avengers, also translated into the world of video games, is certainly one of the best experiences you could have. In addition, the Hawkeye character is really beautiful and rich in nuances. Unlike so many other heroes, he doesn't have powers. He is human, he can die. And he uses this weakness to his advantage, obviously relying on his physical prowess. He is an athlete, if we think about it. At the same time, however, he knows how to stand up to everyone.
Hawkeye before being a video game and the character of a film, is a comic. Are you a comics reader?
No, I wouldn't say. In fact, when I accepted the role, the first thing they said to me was: "This will be your weapon", obviously handing me the comic on which the whole story is based. It has become a sort of guide, a manual. It was my only source of inspiration, you know !? I didn't want to be influenced by anything else, in fact I stayed away from movies as well. I obviously made use of the great work of the directors and the Square Enix team, but otherwise I moved independently. I wanted the character to be mine, I wanted to give him my voice and mold him on me.
"I wanted to give him my voice". For an actor like you who works with video, on sets, both in the cinema and on television, how was this step where you didn't use your body, but only your voice, to give life to the character?
As you say it is more complex for an actor like me where you generally use all of yourself and not just a part. The voice has to work much louder than normal, it has to be everything that will make the character understand. Let's say it's like they cut off my arm, right !? I had to do something that I usually do but with one piece less. And only through the voice you have to give all the nuances of the character which, in Clint's case, are not few. It has an irony that drives me crazy. He tends to play down anything, but this does not mean that he is not more intense or less wise or that he does not suffer, so to speak. He is a wonderful character. However, from this point of view, it was certainly a very rewarding and interesting challenge.
A leap into the future with Hawkeye
Speaking of the story of Operation Hawkeye, what can you tell us in more than what (little) we already know?
Actually not much, but I can certainly say that we will have the opportunity to go to the future with Clint and meet his older version and it will be very interesting to see how the world has changed, if we have aged, together with him. By the way, I also gave voice to the older Clint, and it was one of the most interesting parts of this trip.
For Clint, the opportunity to see and confront his older and wiser version of the future will also give him the opportunity not to commit the same, or at least some, mistakes. To understand how his life really went, the existence of the world, and change the fate of the latter with the help of the old Hawkeye. He has this chance to reverse fate, at least in his timeline. And in this he
will not be
alone, because another not insignificant aspect is the relationship with his "colleague" Kate Bishop.
Square Enix has been able to make everything even more tantalizing by introducing new enemies, new characters rather complex to defeat. It will be a great challenge!
At this point it comes naturally to me to ask you
if you are
a gamer or not.
I was, absolutely. And also one of the most hardened. Unfortunately, as I grew up and moved to Los Angeles for work, I began to have much less time than before. Now it is rare that I can really devote myself to video games as a leisure, but those few times that happens, I always experience it as a party, a special event. And this experience allowed me to get closer to this medium again. Surely the child in me would never have imagined he could become the voice of a video game. It is an incredible emotion as well as a great satisfaction. I have not yet had the opportunity to try the game and, therefore, to "play" but I absolutely can't wait to do it!
Judging by these words, I really think we will see you again - or hear - as a videogame character.
Absolutely! I really want to dedicate myself even more to the world of videogame dubbing. I'm taking my first steps and I understand that, especially here, it's a field occupied by the usual 5-6 big names, but I'm trying to get busy. It ignited something new in me and, without being able to anticipate too much, I just tell you that this summer a game will be released where I will be back as a voice actor, but this time also using the motion capture technique! Great, we can't wait!
We remind you that Marvel's Avengers: Operation Hawkeye will be available from March 18th on PC,
PS4
,
Xbox
One and Google Staff. And, again on March 18th, the free next-gen update of Marvel's Avengers is scheduled to be launched.