MultiVersus: Season 1, patch details and Black Adam coming with Stripe?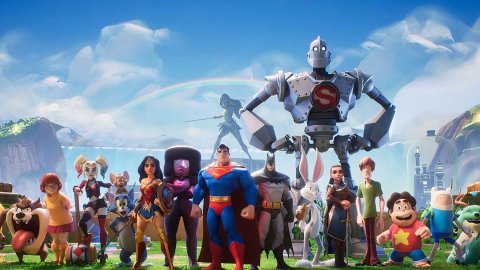 MultiVersus
MultiVersus today gets the patch scheduled with the start of Season 1, set for August 15, and this brings some changes in the balance of the game as well as news in terms of content, which could also include new characters not yet announced such as Black Adam and Stripe.
We already know that Season 1 will bring Morty to the large roster of the action game on the Warner Bros. and DC Comics universe, but apparently there are other new features arriving. A promotional image has been running for a few hours already showing Black Adam as a possible new character coming, as well as Stripe, apparently the new additions planned for the game.
Black Adam is a historical villain of the DC Comics universe, an anti-hero who was born within the Shazam series and then developed as an autonomous character. Stripe is instead a character of Gremlins, the leader of the First Batch of the creatures in question.
The announcement on the new characters should arrive soon, while in the meantime the official patch notes have been published, visible at this address . In these we can see that Morty will be inserted on August 23 and that the patch will be broken into two parts, with the second one arriving in the days following August 15.
Change the rotation of the free characters from August 15th to August 30th, offering Arya, Batman, LeBron and Steven, with some variations regarding the interface and XP points of the Battle Pass, for which the rewards have increased to 10 for wins and 5 for losses, compared to 5 for wins and 3 for losses.
For the rest, there are many minor variations applied to the game and to the characters to modify the balance, as summarized also in the brilliant video posted on Twitter by Monkey D. Lenny and reported by Destructoid, visible above. The Player First Games team made changes that resulted in the power reduction for Finn from Adventure Time, Iron Giant, Bugs Bunny and others.
Some special changes have been applied to Taz and her Tornado move and ad Arya Stark, especially when it comes to managing her combos. Meanwhile, MultiVersus has reached 10 million players worldwide and appears to be coming to
Nintendo
Switch,
iOS and Android
, according to a leaker.
Source Did you notice any errors?
---
MultiVersus Leak Seems To Confirm Stripe From Gremlins And Black Adam Will Join The Roster Soon
MultiVersus finally launched into 1.0 after weeks of beta testing, and while the launch was quite smooth, Player First Games opted to delay Season 1. 
However, that brief delay is behind us as Season 1 begins today and you can check out the patch notes detailing every character buff, nerf, and more here. Alongside today's patch notes, though, came a small leak from Player First Games and MultiVersus itself. Twitter user _FireMonkey booted up MultiVersus and saw a Season 1 startup loading screen a bit too early, as reported by Eurogamer. That's because this startup screen featured two characters not yet revealed for the roster: Stripe, the antagonist from Gremlins, and Black Adam. 
Check it out for yourself below: 
As you can see in the screenshot above, it seems Black Adam and Stripe will be joining the roster sometime in Season 1. Black Adam makes sense – Warner Bros. and DC (and Dwayne "The Rock" Johnson for that matter) are in full marketing mode for Black Adam. Stripe, however, is more of a curveball. It's an awesome inclusion, but also a somewhat random one.
For more, read Game Informer's MultiVersus review, and then check out this story about the upcoming release of Morty from Rick and Morty. Read about every character buff, nerf, and more in Season 1 after that. 
[Source: Eurogamer]
Which of these two characters are you most excited to check out? Let us know in the comments below!