Tchia: we tried a magical adventure all physical and exploration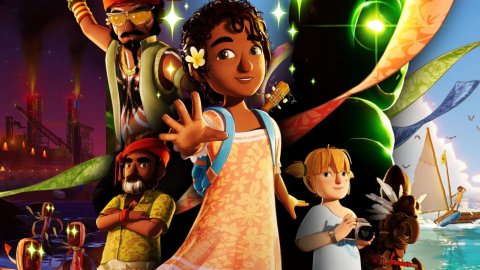 Tchia
At Gamescom we finally tried Tchia, do you remember? It was one of the most interesting projects among those shown by
Sony
at the
State of Play
in September 2021: good to see, good to hear, but we didn't understand much about the gameplay from that first trailer. Tchia seemed to be a third person adventure (as it actually is) but also one of those independent experiences with so many feelings, and very little structure. Interesting, but up to a certain point.
New Caledonia
Tchia: at the helm of the ship we will be able to decide how much sail to use, in order to decrease or increase the navigation speed, and of course steer il rudder You know how it is: a game must be tried to be fully understood, even better if you have the lead designer next to you ready to explain every function, to tell you the vision and the why behind every choice. This is
what happened to
us with Tchia, a super promising game created by a handful of nine people, all or almost all coming from that earthly paradise called New Caledonia. This strip of land that rises from the waters of the southwestern Pacific Ocean, not far from Australia and Fiji, is the inspiration for what we will see in the game: its world, its music, its stories.
Tchia is the name of the protagonist, a little girl who embarks on an adventure much bigger than her to save her father, kidnapped by the evil Maevora, and her homeland, threatened by puppet soldiers ready to attack on sight anyone who runs into their clutches. The peculiarity of Tchia is a power that allows it to take possession of objects, animals and people: through a combination of commands we can then take possession of a bird to quickly climb a mountain, a torch to start a fire in the fields of enemy soldiers who as puppets they are also highly flammable, or even a chair, rolling and jumping towards whatever target you have an eye on at that moment.
When we are "inside" an inanimate object, we will be able to roll, jump and launch in a specific direction to carry out what we could define a real attack, probably the only one in the game. We have also become a hen, and with a button pulled out - you know where - at least five eggs ...
A pacifist game
Tchia: the exploration continues underwater .. But from what we have seen, there do not seem to be many real enemies. Direct dangers are rarefied in Tchia, more than in Zelda Breath of The Wild, from which the Awaceb game clearly takes inspiration. It is not just a question of graphic style, the similarities with the
Nintendo
masterpiece are quite different: in the use of physics for example, and in the very high interactivity of the game world.
We can climb trees and any surface that is not too slippery, just like the last Link, with a stamina system that prevents you from overdoing it; you can explore the surprisingly detailed seabed, and soon we will also be able to use a small parachute to glide undisturbed downstream. Then there are many references visible on the map, distant lights that trigger the imagination and curiosity, streams of smoke in the sky that have the same effect. With the result that you want to go everywhere and at the same time.
The sound of magic
Tchia: the interface for playing is practically identical to that of The
Last of Us Part
II The map is divided into more or less large islands, it is an archipelago in all respects, therefore a boat will be essential. The one on which Tchia can get her hands is a sort of sailing raft, to be guided alternating between the rudder and the sail, in this case with a very similar system, but simplified, of what has been seen and played in Valheim. Tchia also brings the sound of New Caledonia to the spotlight, with various background music with an unmistakable style and different moments in which the protagonist will be able to hold a guitar in first person to strum with a system borrowed directly from the second The Last of Us.
In Tchia, these musical moments can be overcome by playing normally and as required, or by choosing the passive mode to enjoy the melody in complete tranquility. The game also allows you to play different enchanted melodies, capable of having magical effects on the surrounding environments in full Ocarina of Time and Wind Waker style ... we told you that the bond with Zelda would be stronger than expected!
In the original language
Tchia: what mysteries await us in the Awaceb game? This is Tchia, a game that in terms of mechanics and technical implementation does not seem at all the result of the work of such a small team. A sign that ideas, style and perseverance can now bridge any distance with the great ranking productions. Tchia also seems full of content, with lots of clothes, hairstyles and jewelry to customize the main character, and details and sails with which to adorn the creaking woods of our ship, all this to be unlocked simply by playing. This is what we have tried, but the adventures promised by the developers should be of a very different caliber: nocturnal mysteries and torches with which to light the way, dangerous climbs in the most frightening storm, underwater explorations to the last breath and much, much more. .
A touch of class:
it will be
the language of New Caledonia, taking full advantage of the precious Italian subtitles.
It is amazing that Tchia was developed by nine people. It really feels like a great game, as well as a great game, and beyond the capabilities of such a young and small team. It will be interesting to understand how much
there is to
do, and how the developers will have been able to exploit the countless opportunities afforded by an open world based on physics, and a character capable of possessing living beings and things. Combat is a secondary aspect, it almost doesn't exist, but it will have to be replaced with something interesting enough. The game is expected on
PlayStation
4 and 5 as well as on PC, where it will be exclusive (temporal?) Epic Store.
CERTAINTY
Sandbox full of physics Fighting to zero or almost, it's one thing beautiful! Very high interaction with the surrounding environment DOUBTS How will the quest system work? How useful will it be to take possession of things and animals? Will there be things interesting enough to find and discover? Have you noticed any errors?