Dead Island 2: We tried the action RPG resurrected as a zombie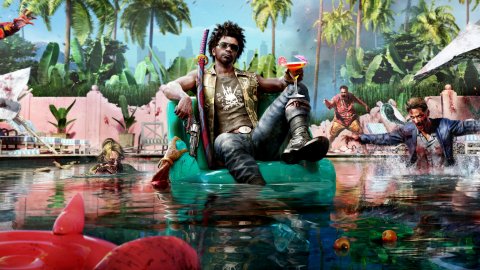 Dead Island 2
It was 2014 and from the stage of the
PlayStation
conference the sequel to a game was announced that, despite its imperfections, made
a lot of
talk about itself. We refer of course to Dead Island, the game that launched the Polish Techland into the stratosphere, leading then to the birth of the blockbuster Dying Light. However, things did not go as planned by the then publisher, Deep Silver, and soon the development passed to Yager Development, fresh from the success (of criticism, but not of sales) of Spec Ops: The Line. Not even this time the works continue in the hoped way: at first she is called to help Sumo Digital, but it was not enough. It is 2019 when the development of Dead Island 2 practically starts all over again, this time under the protective wings of Dambuster Studios, which finally manages to bring order to the project.
So much so that at Gamescom 2022 we finally tried Dead Island 2 .
Here is what
we found out about this game risen from its ashes. Like a zombie.
Twenty minutes of demo
Dead Island 2: welcome to Hell-A, or maybe it would be better to say L.A. It is 2022, we are back at Gamescom after two long years of
Covid
hiatus and among the games presented, guess what, there is also him, again him: just the Dead Island 2 of Dambuster Studios which, by now we can say it, he really seems to have made it. At least from what we got to play: we tried Dead Island 2 for about twenty minutes of demos that ended with a terrifying face to face with a killer clown, marred by anger and the most aberrant biblical infections.
Who are Dumbster Studios?
The origin of
this development team dates back to the early 2000s, when as Free Radical they created the two extraordinary Timesplitters; their story ended with the mega flop Haze, which
Ubisoft
and Sony tried to sell as the most convincing "Halo Killer". Found in dire straits, Free Radical was rescued and bought by Crytek, who renamed it Crytek UK. For Crytek, the Nottingham-based software house created Crysis 2 and 3, and then took over the Homefront project of which it began developing the sequel Homefront: Revolution. But in 2014 Crytek also began to have a very bad time, deciding to sell the intellectual property of the war game and close Crytek UK. To the rescue, this time Koch Media came, today Plaion, which through funds and new projects has allowed the team to reach the present day with the name of Dambuster Studios.
Homefront: The Revolution was a disaster, but the situation was what it was. Much, much better went with Chorus, from 2021, of which we recommend you take a look at our review.
Is it possible that in five years, a software house with such a long experience has simply managed to collaborate in the creation of a beautiful game, but all in all minute like Chorus? It sounded strange, but only because we still did not know that, in all this time, Dambuster Studios was also and above all busy reconstructing the very unfortunate Dead Island 2. As you already know, since it was revealed during the Opening Night Live, this sequel is not set in some tropical resort but in the city of angels, the Californian Los Angeles. The demo begins right on the famous beach of Santa Monica, at the foot of the pier immortalized in thousands of films, in the game now reduced to a decadent and ghostly barricade.
Attack and defense
Dead Island 2 : the zombies of the game are fairly scary, also because of their excellent graphic detail Here we have become familiar with the controls: we have opted for mouse and keyboard, since the present version is the PC version, and with the paraphernalia and skills already in possession of our character. The skill system is based on cards that will be found and then selected, giving us improvements and in some cases even new hits. There are also defensive cards that, instead, allow you to enable the possibility of parrying blows and / or exploiting powerful counter moves. The weapons that we found in the backpack, on the other hand, range from the more classic drum pistol, to the more exotic bagh nakh, or the Wolverine-like claws that allow you
to make your
way through enemies with overwhelming speed.
In between, sidearms clearly created with the crafting system (which we weren't allowed to try in depth), like axes capable of releasing electricity and other similar amenities. As in Dying Light, more than in Dead Island, in this sequel
it will be
very important to exploit the elements to multiply our effectiveness in combat. There are also two types of throwing weapons, like grenades, capable of attracting or slowing down the undead in the vicinity.
Realistically undead
Dead Island 2: the game seems to be made up of many several spacious levels, like small open worlds Mindful of the latest Techland efforts, which the game created it, we immediately tried to climb to gain access to the dock, only to discover that in Dead Island 2, as is normal, there is no more or less advanced parkour system. Indeed, the different characters, who are six in all even if the maximum number of players in a game is three, are all endowed with a heaviness that tends more to realism. While we were making our way through the zombies, with stamina at a minimum, our character also happened to stumble and run out of breath. Sure, it was just a few seconds, but trust us when we tell you that they seem a lot more when surrounded by similar enemies. Even the zombies are slow, but inexorable, moreover the combat system is based on a technology that allows very accurate responses based on the weapon used, in order to generate wounds and mutilations depending on the strength of our shots, which can be charged. , and their direction.
Killer Clown
Dead Island 2: goodbye club med ... Los Angeles is always Los Angeles As we move around the pier, entering abandoned arcades and ghostly salons, we retrace our steps several times because Dead Island 2 only gives a rough direction, also allowing you to take the wrong road. Arriving at the iconic Ferris wheel on the Santa Monica pier, the fun begins: we are attacked by dozens of zombies, we are forced to move constantly, we fall to the ground, we back away, we give the bottom of every weapon and bullet. We also try to exploit some elements of the environment, turning on the nearby generator to electrify a large pool of water
with which to
fry the enemies and blowing up the large gas cylinders scattered around.
Particularly menacing is a zombie two meters high and passes meters, eyes fixed on us, grim look and fatal slaps: it is he who kills us the first time, but on the second attempt he has no escape and we take home the victory . It is right after that that we find eternal peace at the hands of the abhorrent killer clown who awaits us at the end of the demo. They tap us on the back, there is no time to try again: the one at our disposal is finished and yet we would have gladly continued.
Zombie Express
Dead Island 2: night or day, get ready to escape What comes next is no less interesting: we go into a small room not far away to chat with the producer of Dead Island 2 who explains in detail how the effects of our shots are calculated, an element of which they seem to be quite proud. and how the contextual dialogues will change based on the chosen character. We also take the opportunity to better understand the game structure which, we will discover during the interview, is not a real open world. The Los Angeles of Dead Island 2, in fact, is divided into various areas, all very large and on which we will return several times in the course of the main story. Dead Island 2 will therefore be a more linear experience than we would have expected, and this could prove to be good if not great news.
After more than eight years since the debut of its very first trailer, Dead Island 2 is finally in the home straight. The game seems built on solid gameplay, graphically at least on very flashy PC, but there are several doubts that we hope will soon be dispelled by a longer and more exhaustive test. And what do you think, after all this time are you still interested in a similar experience?
CERTAINTY
Good graphics (on PC) Solid gameplay Not an open world in a sense tight DOUBT Will card-like abilities be limiting? Only three players for the co-op
It is not
an open world in the strict sense. Have you noticed any errors?