The best open worlds on iOS and Android smartphones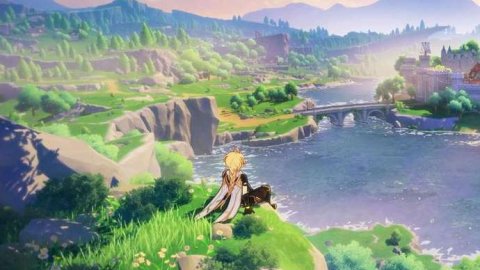 More than a simple feature, the open world is a sort of base from which to start the construction of the games, which can take on different physiognomies from here, but with a sort of common foundation also in terms of gaming experience. It is a rather expensive design specification in technical terms, which requires a certain commitment from the developers in the construction of the world and a technological base of considerable prestige in order to be managed in the best way, for this reason on mobile platforms it has been spreading especially in recent years. with the exponential evolution of portable hardware, having been difficult to propose until a while ago. Open world games have multiplied recently on Android and iOS, so much so
that it is
difficult to make a selection of the most interesting, but let's try to make an overview that also highlights the different interpretations and declinations that this design feature can take on mobile platforms.
Genshin Impact
A landscape of Genshin Impact We could only start from the global phenomenon of MiHoYo for an overview of the open world in the mobile environment. Genshin Impact is not only an excellent example of a mobile RPG with gacha elements done well and much less predatory than others, but its charm is also based on very extensive and more or less freely explorable maps, well characterized in the oriental style halfway between fairy tales , realism and local mythology.
Appointed as a mere clone of The Legend of Zelda: Breath of the Wild at its first presentation, the game managed to demonstrate a remarkable specific identity, playing the role-playing game gacha in a very peculiar and profound way. The world of Teyvat is large and fascinating, represented with a graphic style tending to cartoonish but with greatly inspired views and a certain variety of settings guaranteed by the various regions that can be explored following the main story and the quests linked to the banners. The use of a sort of "paravela" extends the freedom of movement and makes the open world of Genshin Impact even more enjoyable.
Oceanhorn
Oceanhorn 2: Knights of the Lost Realm presents an even more complex open world Speaking of Zelda clones that came very well, let's move on to Oceanhorn: Monster of Uncharted Seas, another title that owes a lot to the classic
Nintendo
brand. In this case, the proximity does not only concern the graphic characterization but also many aspects of the gameplay, so much so as to make it really at risk of plagiarism, if it were not that it still manages to amalgamate these derivative elements in an optimal way. The result is a classic action adventure that relies heavily on the freedom of exploration of its vast open world, with a very important role entrusted to boat navigation which also
appears to be
drawn very directly from Wind Waker. Things are further improved with the second chapter, Oceanhorn 2: Knights of the Lost Realm, which has expanded even more the explorable world and the possibilities of gameplay, but limited to the mobile landscape there are not many classic action adventures capable to offer an immersion of this level, between combat, puzzles and the possibility to explore different environments and dungeons.
Sky: Children of the Light
Sky: Children of the Light has a truly open world unmistakable Among the most fascinating interpretations of the open world there is definitely Sky: Children of the Light, not for nothing coming from the team that previously created Journey, with whom it shares various aspects from the style to the general concept. Also this title of Thatgamecompany leads us to explore a wide world characterized by the ruins of an ancient and mysterious civilization to be discovered freely, using a cloak that allows you to fly and move so easily among the dreamy landscapes that make up the scenario. The world of Sky is divided into seven realms, each of which represents a different phase of life and in turn divided into various settings that make exploration very stimulating. Like Journey, Sky: Sons of Light is also a game that is based above all on the pleasure of discovery and contemplation of scenarios, which obviously enhances world design as a central and characterizing element of the gameplay, or at least of the particular game experience.
Grand Theft Auto: San Andreas
Grand Theft Auto: San Andreas on mobile is the original experience, with an adapted interface Until a while ago it was almost impossible to think you could
to play Gran
d Theft Auto on mobile phones, but by now enough power has been reached to be able to offer even large-caliber console productions on smartphones, such as the Rockstar Games series. Among the various chapters available, we take into consideration here Grand Theft Auto: San Andreas, universally considered one of the best ever and probably the most significant before the arrival of the fifth. It remains, however, one of the games with the largest and most varied map and these characteristics are obviously found in the mobile version, with some technical compromises. The great freedom offered to the player to move around San Andreas and its surroundings remains unchanged, passing from reckless racing through the streets of the urban area to exploring the more isolated areas surrounding the city. At this point the game looks a bit dated, of course, but the great sense of freedom offered to the player remains alive, plus in total mobility.
Stardew Valley
Stardew Valley is based on a simple but charismatic open world A rather atypical open world is the one proposed by Stardew Valley, but which nevertheless falls within the extended definition and is also distinguished by an interpretation that certainly remains impressed. The ConcernedApe game has conquered the world with its simplicity, which however derives from a very studied and well balanced design in an amalgam of different characteristics, including RPG, agricultural simulation, survival and social grafts. The result is a living and vibrant world, in which the player finds himself easily immersed, although the pixelated 2D representation is far from the realism and spectacularity of other open world games. The village, the farm, the caves and the other settings are elementary in their representation but decidedly incisive, as well as some nocturnal and rural views manage to create a truly memorable atmosphere, helping to make Stardew Valley one of the most significant titles of these years , on the numerous platforms on which it appeared.
Minecraft
Minecraft has made freedom of exploration a fundamental concept If there's a game that helped build the modern idea of ​​open world that is probably Minecraft, which is one of
the most famous
titles ever, for several years also playable on mobile platforms. Also in this case, the representation of the world is very particular: in line with the style that made the Mojang title famous, the whole setting is entirely made up of cubic blocks, so we are far from realism. However, such a style allows the procedural construction of different worlds and the combination of various elements of scenery and biomes makes the environments always very varied, stimulating exploration and accompanying, in this way, the gameplay focused on research, collection and transformation. of resources. The open world is the fundamental concept in Minecraft, which builds on this freedom of movement and action the entire game experience focused on survival and creativity, where the surrounding world can be exploited in various and imaginative ways.
ARK: Survival Evolved
Ark: Survival Evolved conquers everyone even on mobile Survival, open world, FPS dynamics and dinosaurs: the ingredients for an explosive mix were all there, and in fact ARK: Survival Evolved, despite a very long and complicated gestation, tormented by technical problems, it managed to establish itself on PC and consoles first, and then also on mobile platforms, despite the fact that it seemed really impractical initially. In a mixture of science fiction and pseudo-prehistory, the game stages a strange world that sees humans and dinosaurs "coexist" (more or less), with the former trying to survive in tribes and exploiting a mysterious technology and the latter intent on making dinosaurs, essentially. Combat in PvP and PvE, interactions with over 80 types of creatures and survival dynamics are grafted into a wide open world setting that mixes prehistoric natural elements with some technological and sci-fi features in a bizarre but fascinating mix.
Wilderless
Wilderless is based only on exploration and contemplation of its open world Not exactly a famous game and perhaps not even a "game" in the strictest sense of the term, but Wilderless is undoubtedly a title that open world is its foundation and indeed also its very reason for being. Developed by Protopop Games, the title provides us with a vast and wonderful virtual world that can be explored at will, practically without any limitations or worries to be behind and with the sole purpose of delving into the scenarios and, possibly, taking pictures. . It is, in effect, the quintessence of the open world as a game concept itself: in Wilderless we can transform ourselves into various forms between human, bird and more, moving around the world in various ways and without having to follow quests, worry about survival. or fight against enemies. The only purpose is to enjoy the natural beauties reproduced with excellent style and
to travel through
mountains, woods, clearings, seas and rivers to discover every corner of this peaceful digital land.
Terraria
Terraria has a wide and irresistible world even in the mobile version Another title already famous in the console and PC field, Terraria has also arrived on mobile platforms, proposing intact the original experience that has captured millions of players all over the world. Also in this case the representation of the open world is somewhat stylized and particular, perhaps more than in all the other examples we have examined so far: Terraria is in fact represented and structured entirely in 2D, which may seem rather strange for an open world. , whereas this is usually associated with free movement in three-dimensional space. Yet, the game of Codeglue perfectly manages to restore the feeling of free exploration in a wide and varied world, characterized by a large number of different scenarios between outdoor and indoor settings, all rigorously represented in a simple but very detailed two-dimensional style. in pixels. More than 10 years after its original release, Terraria continues to be one of the greatest - and most particular - interpretations of the open world in video game.
Dragon Raja
Dragon Raja, a screenshot of the game Oriental-style mobile MMORPGs are usually not exactly a joy to play, but very often they represent the most advanced examples of the application of technologies to mobile gaming and Dragon Raja is a concrete example. Also in this case it is difficult to recommend it as a game in itself, because it brings with it the typical heaviness of this genre applied to smartphone interfaces and the various consequences of the free-to-play structure, but if you want to get an idea of ​​that that mobile video games can achieve in terms of graphical complexity, then it can be a very recommended download, as long as you have adequate hardware.
The open world of Dragon Raja is huge and presents sudden and almost incomprehensible variations of scenery, passing from snow-covered settings from Santa Claus village to huge cyberpunk metropolis, passing through wonderful natural landscapes and hyper-technological dungeons. Along with Black Desert Mobile, it represents perhaps the most direct translation of the Asian all-graphical MMORPG into mobile form.
Have you noticed any errors?