Gamescom 2022: the games announced and when to see them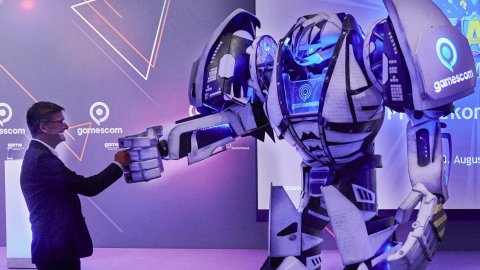 Gamescom 2022
Let's try
to understand what
awaits us from Gamescom 2022 in terms of games present and possible announcements. The event has not yet reached the glories of the past, but there will be opportunities to see something new and hopefully promising. In particular, there are four events to wait for, in which we will see the largest number of games: Opening Night Live,
Xbox
Booth Live, Future Game Show and Awesome Indie Show. So let's find out what Gamescom 2022 games will be and what expectations we have for the various events.
For general details on Gamescom 2022, we refer you to our definitive guide.
Opening Night Live - Tuesday 23 August at 20:00
Hogwarts Legacy will be one of the titles of the event The Opening Night Live will be the main event of Gamescom 2022, at least in media terms, as well as the one where the announcements should focus relating to the largest of the forthcoming productions. Geoff Keighly, the patron of the evening, created the usual hype around possible presences, unveiling in advance some of
the games that
will be revealed during the evening to entice the public more. Let's see
what they are
:
Goat Simulator 3 Gotham Knights High on Life Hogwarts Legacy Honkai Star Rail New Tales of Borderlands New intellectual property of Unknown Worlds (Subnautica, Genetic Species II) Return to Monkey Island Sonic Frontiers
The Callisto Protocol
The Expanse: Telltale Series The Outlast Trials
It should be noted that New Tales of Borderlands has not been included in the list by Keighley, but has subsequently emerged among the various rumors, in this case confirmed, surrounding the Opening Night Live. A
s you can
see, these are well-known but highly anticipated titles, apart from the new ownership of Unknown Worlds, of which nothing is known. However we are talking about the developer of Subnautica and Natural Selection 2, so surely he deserves some fervor.
For the rest, these are mainly confirmations of titles that have already been able to arouse general curiosity, such as The Callisto Protocol, a Dead Space-style horror that has been talked about a lot in recent months, Sonic Frontiers, which has the duty to dispel the doubts that arose by looking at the first official material, Return to Monkey Island, which still remains largely a mystery and so on. We will also be watching Gotham Knights and Hogwarts Legacy, titles of which we know practically everything but which are always nice to review. The new Telltale will be present with at least two games, which indicates a certain vitality of the development studio. In short, regardless of the titles not yet announced, this list is already enough to make us consider the Opening Night Live worth watching.
Chance of surprises: high, certainly it is the event in which more announcements will be seen of weight, although we do not believe at the level of the events of June.
Future Game Show - Wednesday 24 August at 20:00
Goat Simulator 3 will be at the evening The Future Game Show remains for most of it an unknown. The organization talked about about 50 games featured, but didn't reveal much about it. The presence of some publishers such as Team17, 505 Games, Prime Matter and others has been ensured, and a handful of games have been unveiled, of which we will probably see new trailers or gameplay:
Layers of Fears Goat Simulator 3 Lightyear Frontier Ereban: Shadow Legacy The Dark Pictures Anthology: The Devil In Me
As you can see, the list is very meager compared to the amount of titles expected. Surely these are interesting titles (note that Goat Simulator 3 will also be present at Opening Night Live), such as The Dark Pictures Anthology: The Devil In Me or Lightyear Frontier, but the hope is that they are just the appetizer for a presentation. crackling that leads us to replenish our wish lists.
Possibility of surprises: medium, surely there will be many interesting titles, however small to medium.
Xbox Booth Live - Thursday August 25 from 14:00 to 20:00
Will Pentiment be as good as it sounds? Xbox will not hold a proper conference at GamesCom 2022. Instead, it will be present with some games of which it will extensively show the gameplay. In fact, that of Xbox will be a living room in which we will talk about the various titles in turn. Probably there will be no lack of news and details on each of them, but it is safe to say that it is
not to be
expected who knows what a flood of announcements from the Spencer house. Let's see the list of announced games.
Microsoft Flight Simulator (Asobo Studio / Xbox Game Studios Publishing) Gunfire Reborn (Duoyi Games / 505 Games) Sea of ​​Thieves (Rare Games / Xbox Game Studios) Lies of P ( Neowiz) High On Life (Squanch Games) Grounded (Obsidian Entertainment / Xbox Game Studios) Pentiment (Obsidian Entertainment / Xbox Game Studios) A Plague Tale: Requiem (Asobo Studio / Focus Entertainment) Minecraft Legends (Mojang Studios & Blackbird Interactive / Xbox Game Studios) Planet of Lana (Wishfully / Thunderful) Age of Empires IV (Relic Entertainment & World's Edge / Xbox Game Studios)
The lineup deployed by Xbox is very varied and is obviously designed in a Game Pass key. So, alongside the first parties arriving in the coming months on the service, in particular Pentiment and Grounded by Obsidian Entertainment, some valuable third-party titles have been invited, such as A Plague Tale: Requiem by Asobo Studios (the same developer of Microsoft Flight Simulator), the promising soulslike Lies of P, the puzzle adventure Planet of Lana, and more.
A Plague Tale: Requiem will be at Microsoft We reiterate that it is likely that there are no big announcements, but that Microsoft has thought of everything as a way to give a big update on the Xbox news. For this it has also included successful live services such as Sea of ​​Thieves, which continues to do great despite the years, the aforementioned Microsoft Flight Simulator, which is proving to be a long-term project, and Age of Empires IV, of which they could news regarding the console version be revealed.
Possibility of surprises: scarce, Microsoft has been very clear about it. Let's expect announcements related to individual games and nothing more.
Awesome Indie Show 2022 - Friday 26 August at 5:30 pm
Gamescom focuses on indies Organized directly by Gamescom 2022, the Awesome Indie Show 2022 is largely a mystery, in the sense that the only certainty is that independent titles will be shown. We imagine that there will be several from German studios, but it is really difficult to speculate what they may be, considering the breadth of the independent scene and the discretion of so many projects. We will see what the evening will offer.
Surprise possibilities: medium-low, 360 ° video game enthusiasts will surely find it pleasant to watch a roundup of new independent games.
Follow the events with us!
Follow with us from the editors of sportsgaming.win all the main events of Gamescom 2022 live on Twitch. To do so, just go to our live page, where you will also find the updated calendar with these and other events in which we will try to make you protagonists.
The great absentees
As is nowadays given for discounted for years, even before the
COVID-19
pandemic, Gamescom 2022 will be deserted by some big publishers, such as Sony, Nintendo, Take-Two, Wargaming and Activision
Blizzard
, who will not bring their games to the fair. It is true that, Nintendo aside, the others have very little to announce, so the absence will not be noticeable too much, but we are sorry to see how some of the biggest names in the industry continue to snub a fair in which, however, the influx of audience is huge.
Another absence will be that of CD Projekt RED, which apparently has no titles to show at the moment, despite being working on several projects (expansion of Cyberpunk 2077, latest generation version of
The Witcher 3
, new The Witcher and so on). Actually the Polish developers will be at Gamescom, but apparently they will stay behind the scenes and deal with matters relating to the studio's business.
Have you noticed any errors?