Final Fantasy 16, Naoki Yoshida tells us about the long-awaited PlayStation 5 exclusive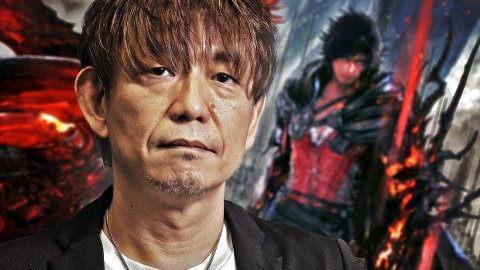 Final Fantasy 16
The Story of
How Naoki Yoshida Saved Final Fantasy XIV: Everyone likes Realm Reborn. He appeals to Final Fantasy fans, who have found an online game with an excellent storyline and superfine design in their hands; the media like it, who have been able to tell about this King Midas who has taken a failed project from rags to riches; Square Enix executives certainly like it, who year after year, expansion after expansion, have seen the series gain trust thanks to the work of its producer.
This is also why, since the announcement of
Final Fantasy 16
- and of the producer who would have supervised it - around the project there was a mixture of trust and excitement on the part of the fans. And this despite Final Fantasy 16 being the episode that most of all seems to embrace that action drift sometimes contested by the most traditionalists. The latest trailer has in fact given a small taste of the frenetic, explosive and spectacular soul that characterizes the game, but in our exclusive interview with Naoki Yoshida it is the producer himself who tells more in detail about the combat system, the news compared to the past. of the series and the inspirations behind Final Fantasy 16.
The Party
Final Fantasy XVI: if there isn't a boss in this room, I'm a Tomberry Those of the Final Fantasy series are always choral stories, which through the personal stories of a group of characters tell the world in which they are set. Although Final Fantasy XVI will have a cast with more characters, the communication of the game has so far focused on the protagonist, Clive Rosfield, and even the last trailer has shown only him in the fight sequences, suggesting that the main series may abandon a tradition. well present in its DNA.
"From the trailer it may seem that we have abandoned the party system," explains Yoshida. "As this was the second cutscene in the game, we didn't want to overwhelm the players with too much information, so we decided to focus on Clive's battles. But rest assured, we haven't abandoned the parties." During his journey through the lands of Valisthea, Clive will be joined by several allies, each with their own narrative arc, personal stories and a story that, dialogue after dialogue and mission after mission, will play an important role in the events narrated and in the knowledge of Valisthea.
Party members will help Clive in battle, but Yoshida has confirmed that they cannot be controlled directly: "The combat system is all about real-time action, and therefore, for to allow players to focus on controlling Clive, we decided that the other party members would be controlled by artificial intelligence. "
There will be a single and partial exception, since Clive will also be accompanied by a "companion" who can be assigned simple commands: "You can, for example, tell him to heal you or to attack a specific enemy", the producer told us. "The commands can be assigned manually or they can be automated according to the player's fighting style."
It is not
clear, however, if this "companion" will be a particular supporting actor or if it is a non-human creature. After all, the first trailer showed how Clive's younger brother Joshua had a puppy dog: who knows if he is the one who accompanies the protagonist on his journey in search of revenge.
Clive Rosfield, the protagonist of Final Fantasy XVI Yoshida did not specify if and how much party members can be customized in skills, equipment or strategies in battle, but even if they should be, it is clear that the spotlight will all be on Clive. This decision will make traditionalists and those who love to micro-manage every single action of their party turn up their noses, but at the same time it allows you to have a deep combat system tailored to Clive. Not only that, because it could also lead to less predictable relationships between the characters: Final Fantasy XVI would certainly not be the first JRPG in which supporting actors leave the party, die or even betray the protagonist, but reducing their influence on the combat system, the team di Yoshida has more freedom to dare and raise the stakes.
The combat system
In Final Fantasy XVI only the protagonist will be directly controlled, while the party members will be managed from artificial intelligence Unlike series like Dragon Quest, which over the years have modernized without ever departing from their original formula, Final Fantasy has experimented with each chapter, chasing an increasingly spectacular, dynamic and action-oriented experience. From the invention of Active Time Battle to the first QTEs that appeared during special attacks, from the abandonment of random encounters to continuous experimentation to reduce waiting times in battle. It was therefore foreseeable, if not inevitable, that Yoshida's team would try again to modernize Final Fantasy to make it even more action and sensational. "At the beginning of the development of Final Fantasy XVI we did
a lot of
tests to understand how much action there had to be, how fast the movements had to be, how customizable Clive could be." From this phase made up of continuous iterations, discarded prototypes and ideas pinned on office blackboards, the development team has learned a lot, but the game took the form it has today only after Ryota Suzuki, battle director who joined the project. he curriculum counts games like Devil May Cry 5 and Dragon's Dogma.
Clive can select the equipped Eikon on the fly, obtaining different techniques and skills to combine "When Suzuki arrived, he took what we had created up to that moment and reorganized it, cleaned it up, making it even more exciting and stylish ". The previous projects Suzuki worked on during his years at Capcom are a fundamental clue to understand in which direction the team of designers working on the combat system has moved. Since the release of the first trailer, many fans have compared the fights of Final Fantasy XVI to those of Devil May Cry and other more distinctly action hack'n'slash. Like it or not, the combination is not far from reality, given that among the main sources of inspiration of the developer there are some of the masters of real-time action. "Without mentioning games specifically, we looked at titles made by PlatinumGames primarily, but also by Capcom and FromSoftware," explains Yoshida. "The team is made up of many passionate players and the works that inspired us are the ones we have spent a lot of time with, not only for work but above all for fun".
Hugo Kupka, the Dominant who hosts the Eikon Titan The result is there for all to see: in the films Clive twirls and dodges, throws his opponents in the air and rings aerial combos, quick attacks and special techniques, passing from one set of moves to another with the press of a button. An episode of Final Fantasy so markedly oriented to the frenzy and explosiveness of combat has rarely been seen. According to Yoshida's words, the battles will not only be spectacular and choreographic, but will also be connected to each other in a fluid and dynamic way, leading to clashes that in real time can change in size and intensity. "At some point in the story, Clive might start off by fighting with a group of three or four normal enemies," explains the producer. "But as the battle kicks in, elite opponents may be added to take on one-on-one. You take it out and soon after you find yourself fighting a mini-boss or a giant creature ... and, when you think it's over , Clive finds himself fighting against an entire Eikon ".
The Eikons
The icy Shiva, one of the Eikons who can be fought (and obtained) in Final Fantasy XVI. GF, Esper, Astral, or more generically Summon, the evocations have always represented one of the most fascinating and characteristic elements in the thirty-year history of Final Fantasy, but the feeling is that never before have they had such a central and influential role as in Final Fantasy XVI. in the plot as in the gameplay. Along his journey, Clive will get new Eikons that he will be able to "equip" to access new abilities and attacks in a way not too different from what happens when changing weapons in Devil May Cry V: here Suzuki's hand can be seen, and how. In addition to invoking the power of the Eikons in his human form, Clive will also be able to transform into one of them to engage in epic battles.
The battles between Eikon will all be different: some will look like they came out of a fighting game, others like a 3D shooter These battles between Eikon are what the development team considers to be the largest and most spectacular boss battles in Final Fantasy XVI. After seeing the latest trailer, many have wondered how interactive these fights were, but Yoshida not only confirmed that they will be playable moments in real time, but that they will also all be different in terms of mechanics and staging. . "One of these battles works similar to a 3D shooter, while another can be reminiscent of a fight between professional wrestlers," Yoshida explains, adding that there are titanic fights that even turn an entire area into a battlefield. "From the mechanics to the animations, passing through the way they are presented, each of these fights is original and unique: we have invested a lot in terms of time and resources to make them unique experiences. We do not reuse anything, not even the code that is there. under".
Judging by the trailer and the logo, Ifrit could play an important role in
the history of
Final Fantasy XVI. , fights, dialogues and cinematics, without any interruption or loading. "I've said it before but I'll say it again: Final Fantasy XVI is a roller coaster ride," Yoshida tells us. "You have this continuous sense of excitement on you, and the impression that everything is connected together. It will be a real sight to behold, we can't wait for you to realize it".
From Final Fantasy XIV to XVI
From these images, the impression is that Final Fantasy XVI could have much more open environments than in the past At the beginning of June, Yoshida stated that the development of Final Fantasy XVI, in terms of content, was now in the final stages, and that the game was actually playable from start to finish. However, with the release set for the summer of 2023, fans are being asked to have another year of patience. "There is still a lot of work to be done," Yoshida explains. "Right now we are working on dubbing for many different languages, and the timetable is getting tighter and tighter as we have a lot of dialogue to record." We were not told if Italian is also included among these languages, but if Final Fantasy VII Remake is indicative, it is likely that the Italian public will have to be satisfied with the translation of the texts and menus.
Final Fantasy XVI, the Eikon Phoenix Obviously, the year that separates us at the release of Final Fantasy XVI will mainly serve the debugging of the game and the tests to ensure a refined experience, and who has followed Final Fantasy XIV from its "rebirth" knows how much Yoshida is a perfectionist about it. "There is still a mountain to climb," the producer told us. "Even if a year seems like a long time, for us developers I'm sure it will fly in an instant." As a company policy, Square Enix does not like to have details on the size of its teams released, nor to have direct comparisons made between the studios working on its various projects, but Yoshida has no problem admitting that in terms of resources and size working, Final Fantasy XVI
is one of
the most impressive games I've ever worked on. "We have invested a lot of resources in development: as a producer I don't even want to think about how much money we have spent because it's really a lot".
In Final Fantasy XVI, a situation of total calm could turn into an escalation of fights in a few moments The experience with the fall and rebirth of Final Fantasy XIV has certainly marked Yoshida as a producer, but given the enormous differences between the two games, there are few lessons that can be put into practice in the development of Final Fantasy XVI. "Being an MMO, FF14 has completely different design and technological problems. If there is one thing I have been able to take with me, however, it is the fact that I have come into contact with a large number of fans and players from all over the world. . I have had the opportunity to talk to many people and in this way over the years I have understood what the public wants from Final Fantasy and what they do not appreciate. Here, this has been extremely useful in the development of the new game: the direct development team from Hiroshi Takai took these feedbacks, hopes and wishes, and took them into account in the creation of Final Fantasy XVI. I have full confidence in the group and in the fact that they will be able to create something truly fantastic. "
Did you notice any errors?