Sega Genesis / Mega Drive: Launched an online database with all console games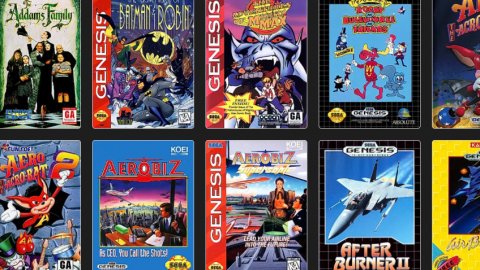 Sega Genesis / Mega Drive
Online a new database showing all
Sega
Genesis / Mega Drive games, including lots of documentation. This is the first step of the VG Complete project, which aims to be a reference point from the point of view of the preservation of
the history of
videogames, also expanding to other platforms.
An example of a database form The database of VG Complete is really rich and neat. The games are presented in alphabetical order, all with their original cover art (US version). Clicking on a cover opens the page of the related game which contains general information (Console, territory, publisher, developer, genre, year of release, number of players, game modes), the back cover, the image of the cartridge , at least one screenshot and at least one video of the game. To enrich everything there is also a short description, taken from MobyGames, and a PDF file with the manual. Currently the manuals are not available for all games, but
the author of
the database is slowly loading them. Considering that it is an individual job it is truly remarkable.
Note the possibility to change the territory of the game, where possible, so as to
be able to
see the packaging differences between the various editions.
VG Complete - Sega Genesis / Mega Drive
The next consoles that should be added to the VG Complete database should be NES, Super NES,
Nintendo
64,
PlayStation
and Dreamcast.
Have you noticed any errors?
---
Sega Megadrive
Chiptunes are cool, but when you get into it, you realize you're mostly dealing with Commodore SID tunes, Atari POKEY tracks for the cool kids, bleeps and bloops from a Game Boy, and maybe some NES tracks thrown in for good measure. There's another option out there – the sound chip in the Sega Genesis. This thing could do drums, man, and [Aidan Lawrence] built the perfect player for the tuneful silicon tucked inside the classic 16-bit console.
[Aidan] had previously built a tiny little music player based on the YM3812 chip, the Yamaha chip found in SoundBlaster and Adlib sound cards. The chip inside the Sega Genesis, the Yamaha YM2612, is a bit different. The killer feature of this chip, PCM waveforms, aren't stored as simple, small bits of code. These are massive blobs of binary data sent to the chip's DAC. The SEGGGGAAAA intro of Sonic the Hedgehog, for example, used an eighth of the the cartridge space. You're not going to build a Sega chiptune player with a tiny little microcontroller and 20kB of RAM.
The solution came in the form of an external SPI RAM device. The 23LC1024 is a full 1 Megabit in size, and since it's SPI, it's more than fast enough to keep up with the sample speed. The rest of the circuit including the mixer, preamp and power amp are based on the Genesis' actual schematics, with an SD card and OLED thrown in for good measure. How does it sound? There's a great video below the break and yes, the soundtrack from Sonic 3 sounds just as good as it did twenty years ago.
Continue reading "We Got Your Sega Chiptunes Right Here" →