PlayStation Plus February 2022: EA Sports UFC 4, Planet Coaster and Tiny Tina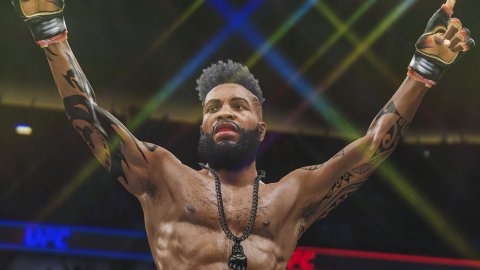 PlayStation Plus February 2022
As rumors multiply that
Sony
is about to
revolutionize its subscription services, including PlayStation Plus, the February 2022 update sees the arrival of three new games, with the highlight undoubtedly represented by the EA Sports UFC combat simulator. 4.
The
Electronic Arts
sportsman is accompanied in this case by the fun management software Planet Coaster: Console Edition, which will allow us to create our own amusement park, and by the stand alone expansion Assalto alla Rocca del Drago by Tiny Tina, who starts from the basics of Borderlands 2 to deliver us an exciting fantasy-inspired adventure.
Did the readers of sportsgaming.win like the February offer? Not at all, it seems: according to our traditional survey, 65% of users did not appreciate the update at all, while 19% said they were unsatisfied, for a total of 84% of a negative response: perhaps it is even a record.
EA Sports UFC 4 (PS4)
EA Sports UFC 4, a punch that hit Even without introducing revolutionary innovations compared to the previous edition, EA Sports UFC 4 focuses on more accessible gameplay, with a simplified control layout, which allows players to perform attacks and maneuvers more immediately, and on a substantial single player career.
The latter will see us starting practically from scratch with a novice fighter but eager to make a name for himself in the mixed martial arts circuit, who engages in some independent matches and then snatches a contract with the UFC and realizes his dream of becoming a fighter professional. From there, however, his path will be all uphill.
The career of the Electronic Arts game does not have who knows what narrative implications and proceeds with a traditional structure, in which we will not only have to face increasingly stronger fighters but also train in order to improve the physical condition of our character, make it more powerful and more resilient, as well as make some decisions that will affect the course of events.
Featuring a large and varied roster, as well as a number of really interesting side modes, the experience is revealed in short, solid and engaging: just enough to win over the fans of the franchise, although in terms of technical implementation we would have expected something more. We talked about this and more in the EA Sports UFC 4 review.
Planet Coaster: Console Edition (PS5)
Planet Coaster: Console Edition, the inevitable Frontier Developments roller coaster puts us in the take on the role of an entrepreneur grappling with the construction of the best amusement park in the world! In Planet Coaster: Console Edition we
will be able to
start from scratch or modify an already started project, choose from over seven hundred assets and create a place where people can have fun in a carefree way.
The powerful editor included in the game it is immediately surprisingly easy to use, and so building roller coasters or any other type of attraction becomes child's play, comparing with other theme parks in career mode or creating completely free thanks to sandbox mode. More details in the Planet Coaster: Console Edition review.
Tiny Tina's Assault on Dragon Keep (PS4)
Tiny Tina's Assault on Dragon Keep, one of the characters shoots a dragon A standalone, remastered version of the hit Borderlands 2 expansion, Tiny Tina's Assault on Dragon Keep, sets the stage for the promising Tiny Tina's Wonderlands, coming in March. It is therefore a necessary "recovery" for the many fans of the Gearbox Software series, who will be able to begin to immerse themselves in the peculiar dark fantasy atmospheres of this adventure.
After choosing our character among six gifted Hunters each of peculiar abilities, we will have to launch with our heads down in a campaign to be faced alone or in cooperative, facing skeletons, golems and huge dragons in an attempt to save the queen and her kingdom. We will make it? A few suggestions in Tiny Tina's Assault on Dragon Keep review.
February 2022 arrivals and departures
No longer available on PlayStation Plus from February 1st
DIRT 5 - PS5 Persona 5 Strikers - PS4 Deep Rock Galactic -
PS5 and PS4
Available on PlayStation Plus from February 1st
EA Sports UFC 4 - PS4 Planet Coaster: Console Edition - PS5 Assault on Tiny Tina's Dragon Keep - PS4
Have you noticed any errors?