Square Enix at E3 2021: our expectations for the conference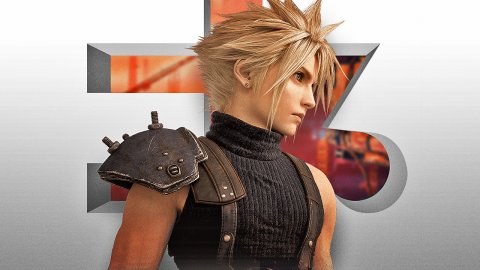 Square Enix at E3 2021
It's June, the heat has arrived, the videogame releases are thinning out and, above all, E3 arrives. It's been two years since we last wrote this sentence and, in all honesty, we missed it. Yes, E3 2021 isn't exactly the same event we've come to know edition after edition - the name itself changes from Expo and Experience - but that doesn't mean the whole industry can't wait to find out what they have in store. for us the big companies that have decided to participate. One of these is Square Enix which will have its own space on June 13 at 9.15 pm.
Square Enix has actually already been busy in recent weeks, dedicating an exclusive event to the Dragon Quest franchise that has allowed us to discover all the news coming for the saga. This helps us to exclude some names from the list of possible announcements of E3 2021, which however remains quite large.
In this article we want to indicate our expectations, as well as invite you to let us know what your wishes are. for Square Enix's E3 2021 conference!
Certainties
Babylon's Fall Before launching into the assumptions and hopes, however, let's talk about what Square Enix has clearly confirmed it's official . Within the E3 2021 conference of the Japanese company there will certainly be a way to see Babylon's Fall, the action game by PlatinumGames.
The Japanese team is a certainty when it comes to combat systems and, from what little we've seen, Babylon's Fall seems to offer an intriguing variety of combos and abilities. However, it is necessary to understand if the game will be able to convince at a narrative level and from a graphic point of view, even if the particle and light effects of the clashes are promising. The game has been in development for some time, too, so it's important that Square Enix reassure players about the health of the project: the best way to do it? Indicate a release date!
Marvel
's Avengers Square Enix has also confirmed that we will be able to see in detail what awaits us in the Black Panther expansion of Marvel's Avengers. The DLC will introduce, in addition to the new hero, also new costumes, an increase in the Level Cap, new enemies including Klaw (and related faction), a new story, a new biome and even a new fortress.
In other words, the contents will not be lacking at all. As we know, however, Marvel's Avengers tends to become easily repetitive, so what matters most is that the gameplay innovations of this expansion know how to vary the cards on the table a bit so as to convince players to stay in the game (or even, to return after a break). This presentation, therefore, will be very important.
Life is Strange
: True Colors Finally,
there will be
space for Life is Strange: we will see both True Colors, the new chapter of the series, and the remastered version of the first Life is Strange. This time we will take on the role of Alex, a girl who reconnects with her older brother after years of being away: unfortunately the man dies in mysterious circumstances and it will be up to us to understand what happened. Supernatural powers also return: Alex is in fact able to see people's feelings in the form of a colored aura (hence the name of the game, True Colors). More open maps are also promised to make the sense of exploration more satisfying. Finally, the game will be sold not in episodes, but will be available in full form in one go.
The saga, as we know, is very much loved by fans and we will have to see how much good it has been able to do Deck Nine with a 100% original chapter (remember that Before the Storm was strictly dependent on the characters and situations created by Dontnod for the first episode). All doubts are related to the narration and characterization of the characters: this presentation will be important to reassure us about the quality of Deck Nine's work.
Guardians of the Galaxy Square Enix has announced that during the event there will be space for the reveal of a new game from Eidos Montréal. It could be Deus Ex, Tomb Raider or even Thief, but various insiders have pointed the finger at Guardians of the Galaxy: the "confirmation" also comes from Jason Schreier, of Bloomberg, always very reliable.
What can we expect from this game dedicated to Guardians of the Galaxy? Difficult to say. It is not impossible that Eidos Montréal has opted for a game structure very similar to that of Crystal Dynamic's Marvel's Avengers (after all, we always talk about a game that revolves around a team of heroes), also because it helped in the development. Being able to recycle ideas and content would allow the team to create a new game very quickly and could easily make its way into Marvel's Avengers fans, or on the contrary it could be redundant and boring. It
will also be
interesting to understand if this new game will be somehow connected to the work of Crystal Dynamics (Marvel Gaming Universe?), Or if Eidos will prefer to manage it as a completely independent narrative universe.
Final Fantasy 7
Final Fantasy VII Remake Intergrade Speaking, however, of what is in doubt, let's start with one of the most important names in Square Enix today: Final Fantasy 7. Of course, we are not talking only of the Remake, but of the entire franchise. The Japanese company has in fact decided to create multiple contents starting from the adventures of Cloud, Zack & co., With many projects that intrigue different audiences, from the battle royale The First Soldier to the retro-style Ever Crisis collection. br>
Obviously, right now, the bulk of the historical audience is first of all interested in a specific game of the Square Enix sub-saga:
Final Fantasy 7 Remake
Part 2. Will he be present at E3 2021? Difficult to be sure but it is likely that it is still the right time to talk about it. Right now, the public must have eyes only for Intergrade / Intermission, respectively the
PS5
version and related DLC of the first Remake, arriving on June 10th. Square Enix does not need to divert attention from this publication and must be careful not to overwhelm the public with Final Fantasy-themed ads that, as we will see shortly, do not seem to be missing.
At E3 2021, therefore, we expect a trailer that reminds us of the availability of Intergrade and, perhaps, a small reference to First Soldier and Ever Crisis, but only as a small interlude between the show's real big announcements.
Final Fantasy 16
Final Fantasy 16 We add a +9 to the title and we come directly to Final Fantasy 16. Square Enix's new action role-playing game is one of the most anticipated names of E3 2021. The Japanese company has in fact promised news during the year and, excluding rumors, we have not heard of the game since the end of 2020.
The official presentation and a handful of information shared via the game's website have allowed us to get an idea of ​​the world in which Final Fantasy 16 is set, as well as introduce us to the characters that will be at the center of the plot. The gameplay is instead an unknown: yes, we can guess that it will be much more action than the canons of the series (and also compared to Final Fantasy 15), but we still haven't been able to see the exact nature of the clashes.
The fact that in the development team there is Ryota Suzuki, designer of Devil May Cry 5, leaves no room for too many doubts about what the general direction of the game is, but right now we can't say if the goal is to create " simply "a fluid and satisfying action combat system, or if Square Enix wants to give Final Fantasy 16 a more stylish drift, just in the style of Devil May Cry. E3 2021 should therefore be the right time to get an answer to this question. Obviously we would not mind finding out clearly the release period of the game.
Final Fantasy Origin
Dissidia Final Fantasy: the Warrior of Light We admit it, this paragraph exists only thanks to leaks. The idea of ​​a souls-like-inspired action game in the world of Final Fantasy hadn't even crossed our minds until various sources indicated that the Japanese company entrusted Team Ninja (and more precisely to the developers of Dissidia Final Fantasy NT) the development of "Final Fantasy Origin", exclusive to PS5. Credible that the announcement of this game would have been the big surprise of E3 2021.
What exactly
do we know
thanks to the rumors? Final Fantasy Origin should be inspired more by Jedi Fallen Order than Dark Souls - in other words, it would be simpler and more accessible than the average souls-like. Furthermore, rumors claim that it will be set within the first chapter of the saga, which will probably be expanded given the "simplicity" of the original.
The questions are many: what kind of combat awaits us? Will the narration be "silent" as in many souls? Will it be the beginning of a new saga? We hope to find out soon!
Final Fantasy 14 Endwalker
Final Fantasy 14 Endwalker With release scheduled for November 2021 (a little later than expected due to the problems caused by COVID- 19), Final Fantasy 14 Endwalker is one of the big candidates for E3 2021. Square Enix's MMORPG expansion is one of the most anticipated titles in the world and Final Fantasy 14 is THE most popular Final Fantasy of recent years. br>
The success of the game is constantly growing and Square Enix will probably want to take advantage of the stage offered by E3 2021 to publicize even more the new expansion and the PS5 version recently made available. Recall that Endwalker will not be the end of Final Fantasy 14, but "only" the narrative arc started about ten years ago. It is impossible that during the event what awaits us next will be indicated, but a trailer that remembers all the news expected in the new expansion is credible, unless Square Enix has already scheduled a dedicated event during the summer, to allow the MMORPG to shine and not mix with single player products.
Forspoken
Forspoken We know very little about Forspoken. To date we have had the opportunity to see the protagonist, Frey Holland, and understand that she has found herself in a strange world populated by dangerous creatures, such as a kind of zombie bear and a giant dragon. The trailers suggest that there will be a great focus on environmental crossing, with the protagonist able to run very quickly, make jumps and long-range shots: however, we do not know if what will be proposed to us will be an open world or an adventure more. contained, divided into micro-regions and levels like a Nier Automata.
The combat system is also an unknown. Of course, Forspoken is a real-time action title and the protagonist is the holder of some magical power that allows her to attack and defend herself (we can see that she creates shields and stone bullets, for example). The technical level of the game is promising, but for now we have shown woods, rocky moors and an urban area with a modern cut very little characteristic from an artistic point of view. For the moment, what makes Forspoken really interesting is that it's a Square Enix game that, after a bit of uncertainty, appears to be back on the right track with its own in-house productions. However, this means that expectations are high, that Forspoken will have to demonstrate that he has a unique and strong identity, both from an artistic / narrative point of view and from a gameplay point of view. E3 2021 could therefore be the right time to tell gamers: "Yes, Forspoken deserves to be at the top of your list of the most anticipated games".
Project Triangle Strategy
Project Triangle Strategy In February 2021 we had the opportunity to discover the existence of Project Triangle Stategy which, with its name alone, perfectly suggests everything that can be expected. This does not mean that the public is not curious to see anything else. The first presentation was quite comprehensive and a demo has already been released, so it is possible that - with a fixed release at a generic 2022 - Square Enix would prefer to postpone sharing
new information on
Project Triangle Strategy to a future date.
However, it is not impossible that in these four months Square Enix has decided on a release date for the game and is ready to communicate it. This is a remote possibility, but we don't want to rule out anything in our article. Credible, however, that Square Enix "sells" the announcement to
Nintendo
again, since it is a Switch exclusive. In any case, it is one of the most intriguing projects announced in recent months and we are sure that many fans are looking forward to discovering more.
Kingdom Hearts / Verum Rex
Sora and Yozora in Kingdom Hearts 3 Re: Mind Two and a half years after the release of Kingdom Hearts 3 and a year and a half after the release of its DLC, Re: Mind, the desire for a new chapter of the franchise created by Nomura is always beginning to be more intense. The director, however, has been somewhat busy in recent years, putting the ending of mobile UX adventures, creating Dark Road (actually dead in the bud) and, above all, working on Final Fantasy 7 Remake.
Nomura has however announced that he will not be director of the second Remake, as he has many projects in his hands and the path has now been traced. The question is whether Nomura had space, between the works of First Soldier and Ever Crisis, to work on the next chapter of Kingdom Hearts or on Verum Rex, the alleged spin-off that appeared in the third numbered chapter of Sora's adventures.
It may be too early for a new chapter, but remember that Kingdom Hearts 3 was officially announced at E3 2013, which is five and a half years before its release. Therefore, we do not feel to exclude that Square Enix wants to share a short teaser to announce that a new chapter of the saga is in development.
E3 2021: will Square Enix amaze? These were our expectations and our opinions on the possible games present (or not present) at E3 2021 of Square Enix. Now we want to hear yours. Which games are certain for you? Which ones would you like to see most of all?
Finally, we remind you that you can see all the details on the events of E3 2021 in our dedicated article: E3 2021: all conferences and events, while on the Multiplayer Twitch channel .it we will follow all the events of the digital fair live, and therefore the invitation is to subscribe to the channel so as not to miss a notification when the live shows start.
Have you noticed any errors?