Mario Golf: Super Rush, 6 reasons to wait for it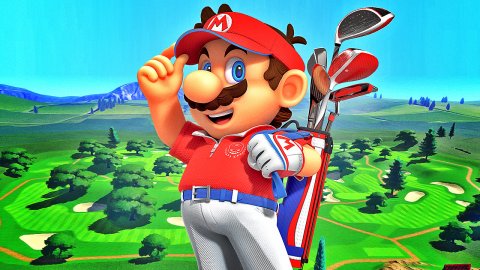 Mario Golf
Mario Golf: Super Rush marks the return
of one of
the many sporting passions of the
Nintendo
plumber. An arcade golf game that includes a wide range of local and online multiplayer modes, some unreleased.
Mario Golf: Super Rush comes seven years after the latest 3DS game, Mario Golf: World Tour, and represents an important step for this spin-off series, which has had mixed fortunes over the years. Born in 1987 with Mario Open Golf (NES Open Tournament Golf in the West), it is resumed only a decade after and entrusted by Nintendo to the care of Camelot, a Japanese software house born within
SEGA
for the creation of the RPG Shining series. The collaboration led to the publication of two Mario Golfs as early as 1999: one for the Nintendo 64 and one, with RPG elements, on GameBoy Color.
Amid alternating fortunes, the Mario Tennis series is now over 30 years These works were a real success with critics and audiences, such as to lead Camelot to become one of Nintendo's most important second party studios. It is to this team, in fact, that we also owe the recovery of Mario Tennis and the creation of one of the most controversial characters loved by fans of the great N: Waluigi.
In 2003 they also made Mario Golf: Toadstool Tour, while in 2004 a new portable version with RPG elements arrived, Mario Golf Advance Tour for GameBoy Advance.
Since then a 10-year hiatus, which led to the publication of the aforementioned World Tour in 2014 . A portable episode that lost that strange, fascinating blend of
sports
game and role-playing game that had characterized the GameBoy versions, but that still knew how to entertain both alone and in company, thanks to a solid gameplay and the presence of many elements of progression.
Camelot also takes care of the Mario Tennis series Now Camelot seems to be aiming to go all-in, realizing what could become the definitive Mario Golf thanks to a series of really important news and returns. Let's see together the 6 reasons to wait for Mario Golf: Super Rush as one of the best sports for Switch. And potentially one of the best party games too.
New Characters
A roster of 16 characters from the world of Mario, with three new faces You can't talk about a sports game without mentioning his roster. Mario Golf: Super Rush
allows you to
choose from a cast of 16 characters from the Mushroom Kingdom, each with different strengths and with their own special moves, unique to each of them.
The values ​​differ in strength, energy, speed, control and effect, while historical faces such as Wario, Boo or Bowser Jr return to the roster, joining the classics Mario, Luigi, Toad and Peach. However, there are also three new entrances, namely Pauline, Plakkoopa and Re Bob-omb, which will debut for the first time in the series.
Speed ​​Golf and Battaglia Golf
Speed ​​Golf is speeding I can't more! But what are stats like speed and stamina in a golf game for? To compete in Speed ​​Golf, of course. In this fast-paced new mode, players start in unison and race along the course to be the first to pocket the ball. In this aerobic variant of golf, it is also important to collect objects, to always have your fill of energy, and you must avoid the various dangers of the course while running towards the ball. Players can also use special shots and shots, different for each character, to tip the scales in their favor.
But that's not all, because there will also be a more challenging variant called Battle Golf. In this mode Mario Golf becomes a real party game, since nine holes are in play at the same time. The first player to score three holes is entitled to victory, so it is essential to stay ahead of your opponents in order not to risk losing. All while challenging friends and other players online.
Online multiplayer
Online and locally you can challenge up to 4 players simultaneously. In fact, multiplayer is obviously back, both locally and online . Thanks to the multiplayer options, Mario Golf: Super Rush has the potential to become another super party game
for Nintendo Switch
: up to 4 players can therefore compete on the sofa at home or from a distance, and thus make the most of all the potential of the new Speed ​​modes. Golf and Golf Battle.
How to do it is up to you: Nintendo provides irons and greens, you have to choose how and who to invite to the party.
The Super Techniques
Mario Golf: Super Rush's special shots are truly spectacular The Mario sports games made by Camelot (and not only, just think of Mario Strikers) are famous for their super spectacular techniques and, as we have already seen, Mario Golf: Super Rush will not be outdone.
The various characters can in fact exploit different types of shots. Special shots, for example, allow the different heroes and villains of the Mushroom Kingdom to throw the ball into the hole with shots capable of making it continue in a straight line for a long distance, or make it explode in a shower of coins.
Equally important and spectacular, however, are the special shots. These offer sudden acceleration, which allows you to increase speed for a short period of time. The animation can range from Waluigi's dance to Bowser Jr.'s Bullet Bill, but the element in all of these shots is that they can
also be used
to hit opponents, and thus slow them down during crazy Speed ​​Golf games. br>
Adventure Mode
Will Adventure Mode be able to recreate the magic of classic chapters for portable consoles? One of the most popular elements of Mario Golf's portable chapters is the presence of a story with RPG elements. In the last episode for 3DS this didn't matter much and that's also why we can't wait to get our hands on Super Rush's Adventure mode. A single player campaign featuring the player's Mii, during which you can interact with various characters from the Mushroom Kingdom, participate in various golf-based challenges and earn experience points to boost your stats.
The classic RPG ingredients are all there and could add hours of extra fun to the package.
Controls for all tastes
Mario Golf: Super Rush also introduces motion control support As per tradition, Mario Golf: Super Rush has all the elements of a golf game. While not aiming at a simulation experience, it allows you to choose different clubs based on the distance and the shot to be made, and requires you to take into account elements such as the wind and the slope of the fairway.
At the same time, the new modes offer the classic fun experience of Nintendo party games, including special shots and wild races towards the hole. To all this are added paths that offer scenarios of all kinds: meadows, deserts, volcanoes or the arena of the Battle mode will always field different obstacles, to guarantee a great variety of situations.
Also, but not less important, Super Rush will support both traditional controls and motion controls via the Nintendo Switch Joy-Con: in this way they can be held just as if they were a golf club and we are really curious to see how precise their response will be. , or whether they will only be used for more casual games.
Mario Golf: Super Rush is set to release on June 25, 2021 exclusively for Nintendo Switch. So there is very little to go to the publication: are you ready to go back to the green? Let us know in the comments below; and if you're still in the mood for Mario while you wait, check out the
Super Mario 3D
World + Bowser's Fury review.
Have you noticed any errors?