Happy Game, the tried of a more disturbing horror than expected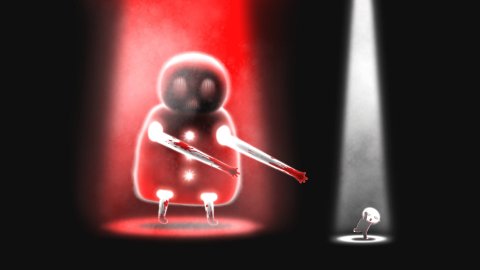 Happy Game
In the past few days, Amanita Design has released the Happy Game demo on Steam. Perhaps to the ears of the masses its name says little, but over the years Amanita Design has gained a large group of enthusiasts thanks to games with a unique style such as Machinarium, Botanicula and Samarost. Happy Game, however, aims to be even more particular, proposing a horror with a falsely cartoon and cheerful style, which has us worried to say the least. Here are our impressions after trying it.
Wake up
Happy Game is not about happiness, mind you The starting idea of ​​Happy Game is simple. You are a child and you fell asleep in your bedroom. When you open your eyes, however, you are in the middle of a nightmare, a dark and limitless place where familiar yet terrifying visions unfold. The subject of this first session, lasting only 10 minutes, are toys. The child of Happy Game sees, under the spotlights, puppets and other objects with which a normal child usually has fun. This dark reality, however, deforms these simulacra of joy and makes them disturbing demonic effigies that also cause visions of death and suffering.
Even a sudden moment of happiness, or the memory of a day in the park spent playing ball , it's just a deception, like a fairy who draws you to her own kingdom from which you will never be able to escape. Each interaction necessary to continue the adventure is just one more step into the abyss of the twisted mind of the protagonist, who creates his own nightmares in the first person. For example, the toys we reassemble, at a certain point, celebrate and the child jumps joyfully with them, but the sound and the lights become stronger and stronger, to the point of terrifying him and causing the destruction of what initially could have been a moment of tranquility.
Open your eyes and ears
The graphic style of Happy Game is extremely simple: the first area in the demo, as mentioned, is just a dark abyss with occasional interactive elements illuminated by spotlights off stage. At first glance it might seem a sparse presentation, but the result is fascinating and effective from the very first minutes, while images and trailers shared by Amanita Design give a preview of very different areas, with bright colors and full of elements.
Happy Game, the toys are deformed and made monsters As in any horror game, the sound component is also fundamental in Happy Game. Hisses and whispers, distorted sounds, the high-pitched voice of the child transmitting his constant suffering: everything is clearly chosen with care. The cacophony of many sequences also helps make the experience even more disturbing.
In Happy Game
there will be
more colorful areas, but we believe they will only serve to deceive us
Point and click
As per tradition of Amanita Design's games, Happy Game is a very simple point and click adventure. Each sequence puts us
in front of
a handful of elements with which it is possible to interact and it is our job to understand how to move forward. Sometimes you just have to pull an object up and down, in others
you need to
find the right sequence of moves, even if you try a little. Based on what we saw in the demo, we do not expect a particularly complex play structure, but as in games like Samorost and Botanicula the charm of the game lies in the constant ability to surprise. Happy Games does not want to test our reasoning skills and does not want to keep us stuck in front of a screen for too long, also in order not to lose rhythm and, consequently, to make the experience bland.
Happy Game he will not skimp on blood and dismemberments. Our hope is that Happy Game will take us on a fast-paced journey that takes care first of all of staying fresh from sequence to sequence. In fact, it is not a simple task: these 10 minutes of demo have convinced us, but being able to replicate the same feelings for hours is no small feat. The game will be available on PC and
Nintendo
Switch next fall, at a date yet to be defined. We will have to wait for the full version to be able to understand if Happy Game will be a valuable experience or if it will be just an experiment with a particular style but of little impact.Before leaving, a note for anyone who intends to try the demo on Steam: Happy Game, as is immediately reported by the game itself, uses multiple flashes and intermittent lights, be very careful if you suffer from epilepsy.
The first impact with Happy Game is certainly positive. The experience is evocative, disturbing and disturbing, so much so that it caused us goosebumps most of the time. But "most of the time" means about ten minutes. To ensure that the complete game is able to return the same sensations as this tried, Amanita Design will have to propose a work with a perfect rhythm and with ever-changing situations, both from a visual and a playful point of view. We will have to wait until next autumn to find out if he succeeds.
CERTAINTIES
Stylistically very effective Disturbing DOUBTS Will the full game have the right rhythm? Point and click structure could tire easily Have you noticed any mistakes?