Devolver Digital - Style, madness and video games in the E3 conference of the century!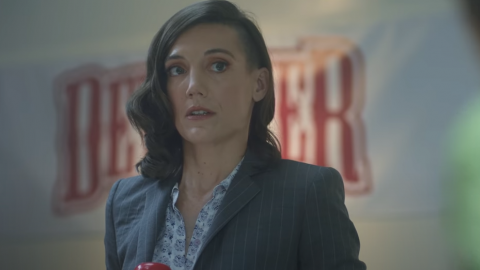 Devolver Digital - Style
How do you say? If there were no Devolver Digital, it would have to be invented. The problem is that it is not even clear to us how this original and inimitable Devolver Digital was born: so we have more than a doubt that someone, in another timeline, could create another.
Since when the 'E3 has changed, this great little team has continued to be themselves while preserving the essence of the fair by escaping from the halls of the Los Angeles Convention Center. For several years, its exhibition area has been a few meters from the real E3, and it is precisely where you can find people like you: not the finished nerd who drags himself tiredly between the stands, but the video game enthusiast who knows how to appreciate a relaxed and spontaneous environment that does not want to circumvent you with chatter or deceive you with the usual special effects. In Devolver Digital you know that you will find endless and quality beer, extraordinary t-shirts, rusty tractors, sandwiches with pulled pork that will satisfy you for days and a group of over-the-top people always ready to talk to you about their games.
But above all you will find people who know how to communicate a product and who, year after year, have put together a show worthy of the best Hollywood productions. Is Devolver Digital the E3 conference of the century?
Devolver MaxPass +
Then came the pandemic and of course Devolver Digital also had to look for a new formula: how to preserve that rebellious spirit even in a digital context? The solution was found by making fun of the other publishers, not the small fish like Devolver herself, but the very big ones who claim to reinvent the wheel every year, but always with the same games, always with the same words. And it was like this again this year: the conference of the Texan company was once again not a conference like the others, but almost an episode of a TV series of which you would not miss a single episode, if this really existed.
Actors and real team members alternate in a very fast montage in which a fantasy Devolver Digital, extreme in all its real characteristics, organizes a meeting to understand how to amaze the audience of E3, finally bringing out the craziest idea there is:
the future of
video games will pass through what is called a monetization as a service system, based on the next, extraordinary, definitive, revolutionary Devolver MaxPass +.
Of course there is not nothing true, but damn it if it's funny, damn it if these 32 minutes of short film, alternating with gameplay videos and never just computer graphics, are made by God. brain function too. So congratulations once again, dear Devolver Digital, it will not be like visiting you in your inimitable public space, but we are close. And now let's move on to the games!
Trek To Yomi
The first new game presented by the Texan publisher is the interesting Trek To Yomi. Imagine a two-dimensional version of Ghost of Tsushima, and without all those classic open world for dummies fillers, then take the colors off and well, you have this very game that the company describes as a cinematic tour de force. Trek to Yomi will arrive on PC, PS5,
PS4
,
Xbox Series X
|
S and Xbox One
in 2022.
Wizard with a gun
An image of Wizard with a gun Colorful graphics, exceptional music and gameplay that promises sparks: Wizard with a Gun is a survival to be played alone or in cooperative with a friend set in a sort of western fantasy, where between revolvers and hats, even
the most powerful
spells find space, indeed very powerful , but so powerful that by mistake you could even destroy everything you have built together.
Inscryption
The Inscryption map This is one of those little projects that even if it won't be the best to play , but it seems the exact opposite, it will still be worth buying and trying. Inscryption is a card game, a puzzle game, a little bit two-dimensional, a little bit three-dimensional, full of puzzles, supported by horror, mysterious atmospheres, and in which there is also a hint of found footage that boh, not we don't even know why, but it will be ours on day one.
The game will be released after the summer but still in 2021, and only on PC. Should it ring a bell, know that it is made by the same people from Pony Island and The Hex.
Devolver Tumble Time
How can we describe Devolver Tumble Time? Meanwhile, it will be released in 2021 on mobile platforms, therefore iOS and Android, and will be totally free. To stand up, in Devolver they say it will contain a nifty monetization, so
there will be
in-app purchases but light ones. As gameplay it looks like a sort of Tetris / PuyoPuyo but in a circular context, where we will be called to create chains of identical heads, in order to eliminate them from the playing field. As the official video shamelessly explains, it's a game to play on the toilet bowl!
Demon Throttle
The physical edition of Demon Throttle You want a crazy game, but crazy anyway with a great aesthetic taste? Here is Demon Throttle, new madness from the developers of Gato Roboto (and already the name, if you don't know it, should tell you everything). Demon Throttle is a very old style action shoot shooter that brings to mind the very old Commando, or Time Bokan for PSOne but with Nes 8-Bit graphics.
If all this isn't crazy enough, know that Demo Throttle will only be released on Switch and only in physical format. A real collectible jewel for one or two players.
Death's Door
Death's Door Out July 20 on all Xboxes and PCs, but not on
PlayStation
, Death's Door and a game in which we will play
the role of
an anthropomorphic crow in charge of collecting the souls of the damned. Everything goes smoothly when one of the souls we were supposed to collect is stolen by an evil entity.
Simple but fascinating graphically, action in gameplay, Death's Door seems a very interesting game, which does not disdain platform phases and end-of-level bosses as dangerous as grotesque.
Phantom Abyss
A glimpse of Phantom Abyss Perhaps the most complex game of the lot, Phantom Abyss is an asynchronous multiplayer based game where all players will have to face procedurally created temples with each match. The game is rigorously in first person and presents challenges of all kinds, with jumps to the millimeter, lazy traps, and dreamlike enemies who love to throw everything at us, from laser beams to gigantic stone balls that roll, crush and must be avoided as the other thousand pitfalls that it hides inside.
The game will be released in early access format on Steam on June 22nd. It sounds so much fun!
Shadow Warrior 3
The gruesome Shadow Warrior 3 Released on PC, PS4 and Xbox One, so at the moment the nextgen is excluded, Shadow Warrior 3 is the usual beautiful action first person game where in the role of a cyber ninja we will have to show the enemies how much we are too strong.
If we have reached the third chapter, there will be a reason, and this reason is soon said: those who try Shadow Warrior fall in love with it at first sight because it represents the quintessence of an old-style FPS. Sure, by the time 3, things may have lost some of their bite, but we'll only find out by playing it ...
Have you noticed any errors?