Demon Slayer: momoreku's Daki cosplay reveals her demonic side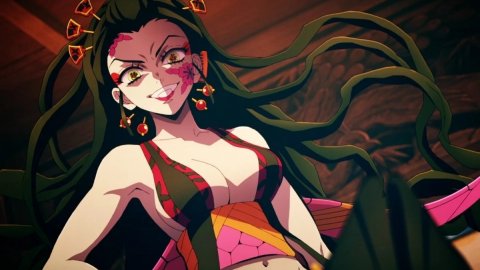 Demon Slayer
Demon Slayer with Season 2 has confirmed itself as one of the most successful anime of recent years, which is inevitably also reflected in the panorama of cosplayers, who do not miss the opportunity to take on the role of the characters taken from the work of Koyoharu Gotōge. Today we admire the Daki cosplay made by momoreku, which brings to life the demoness of the pleasure district in the company of her brother Gyuntaro.
Daki is one of the main antagonists of Season 2 of Demon Slayer. She is an extremely powerful demon, so much so that she represents the Sixth Crescent Moon of the demonic army of Kibutsuji Muzan, together with her brother Gyutaro. In addition to unparalleled strength, endurance and agility, her special power allows her to manipulate obi, a traditional Japanese garment, which she can use as if they were razor sharp blades.
As we can see in the shot below , the cosplay signed by momoreku represents the complete demonic form of Daki, characterized by white hair
and scarlet
tattoos covering the face. Behind her we see instead her brother Gyutaro, always ready to help his sister when she is in danger. Both characters have been reproduced in an impeccable way, with great care for costumes, make-up and composition of the shot.
Are you interested in other cosplay inspired by anime and manga characters? Then check out Marin Kitagawa's
cosplay from
My Dress-Up Darling by Hiko and Neliel Tu Oderschvank's cosplay from Bleach by purai.prih. Changing genres, we also suggest the cosplay of Yae Miko from
Genshin Impact
by mmmenmentan and that of Starlight from The Boys by narga_lifestream.
Have you noticed any errors?
---
Demon Slayer Cosplay Brings Tanjiro's Wildest Look to Life
One awesome Demon Slayer: Kimetsu no Yaiba cosplay is getting ready for Tanjiro Kamado's big return in the third season by sharing a whole new take on one of the young fighters' most brutal look in the series yet! The second season of the anime ended the Entertainment District arc from Koyoharu Gotouge's original manga series, and with it saw Tanjiro taking on some of the toughest opponents in the series yet. With the demons ramping up their efforts to match the Demon Slayers' efforts, Tanjiro needed to grow quickly in order to have any chance of surviving his fights.
Tanjiro and the others pushed their bodies and minds to the limit and damaged themselves beyond ever before as they fought against their first real Upper Six threats, and this was especially seen with Tanjiro himself. Not only did he grow to a stronger new level, but he unleashed a major string of attacks to land some kind of damage. But now his gnarliest look has gotten an unexpected makeover from artist Low Cost Cosplay on Instagram who took Tanjiro's bloody self and interpreted it in a whole new way. Check it out below: 
Demon Slayer will be coming back with Season 3 in the near future, but has yet to set a release date or window for its new episodes. Picking up from the next arc of the series, the new episodes will be adapting the Swordsmith Village arc in which Tanjiro and the others take on the next major threat from the upper ranks of Muzan's various demons. This next arc will feature tougher foes, bigger fights, and some new Hashira joining the fold with the likes of the Love Hashira, Mitsuri Kanroji, and Mist Hashira, Muichiro Tokito, getting into the center of the action this time around. 
This new season will feature the same staff and cast from the first two seasons and movie, so if you wanted to catch up with Demon Slayer's run so far, you can actually find it all streaming with Crunchyroll. They tease the franchise as such, 'It is the Taisho Period in Japan. Tanjiro, a kindhearted boy who sells charcoal for a living, finds his family slaughtered by a demon. To make matters worse, his younger sister Nezuko, the sole survivor, has been transformed into a demon herself. Though devastated by this grim reality, Tanjiro resolves to become a 'demon slayer' so that he can turn his sister back into a human, and kill the demon that massacred his family.' 
What are you hoping to see from Tanjiro in Demon Slayer's third season? Let us know all of your thoughts about it in the comments!