Resident Evil 4 VR, Ada Wong cosplay from Alyson Tabbitha is obviously perfect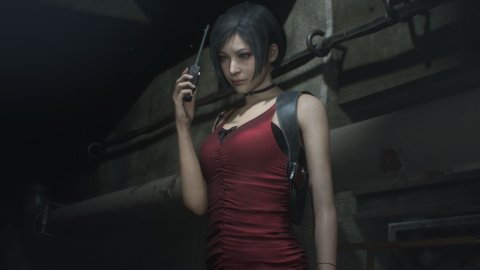 Resident Evil 4 VR
The Mercenaries update for
Resident Evil 4
VR on Meta Quest 2 was announced yesterday, and Alyson Tabbitha was commissioned by the company to make one of its themed cosplay: the model chose Ada Wong.
We are now used to the quality of Alyson's interpretations, see for example her extraordinary Catwoman from The Batman, and Ada's cosplay is no exception between costume, hairstyle and makeup.
" I'm really excited to
be able to
share my new Ada Wong cosplay, "the cosplayer wrote in her Instagram post. "This is without a doubt my favorite Resident Evil 4 character (and the best way to play it is with the Meta Quest headset!)."
"This costume is taken from The Mercenaries mode, which allows you to play the fights in first person eventually selecting a fighter among Ada, Jack Krauser, Albert Wesker or the Special Agent Hunk. "
Source Did you notice any mistakes?
---
Resident Evil 4 VR's The Mercenaries Mode is Available Today
We already knew Armature planned to add The Mercenaries Mode into Resident Evil 4 VR – today, Quest 2 players with a copy of the game can now access the mode as a free update.
The Mercenaries is an arcade-style mini-game that debuted as an additional mode in Resident Evil 3. Players are tasked with killing waves of enemies and obtaining the highest score possible before the timer runs out. RE4 VR, when it initially launched, was the only version of Resident Evil 4 not to include the additional mode.
Like the base game before it, The Mercenaries mode has been rebuilt from the ground up to accommodate virtual reality. Along with the inclusion of the highly-requested game mode, Resident Evil 4 VR's major update rolls out new content as part of the new Mercenaries mode.
This includes an online leaderboard and a new Challenges mode, which consists of a variety of different scenarios, each ramping up the difficulty. Depending on how you perform in the Challenges mode, you can unlock new bonus items and weapons, such as a Big Head Mode, new outfits, and Chicago Typewriter, a gun that was noticeably missing from the VR version at launch.
Despite the game lacking additional modes at launch, in my review of Resident Evil 4 VR, I noted that it offered a fresh take on one of the most ported entries in Capcom's popular survival horror series. With the inclusion of The Mercenaries, the new online leaderboard and Challenges mode, and the return of the Chicago Typewriter, this update helps increase the replayability of Resident Evil 4 VR.
IGN had a chance to go hands-on with the new content ahead of release. This includes capturing 17 minutes of Mercenaries Mode, 11 minutes of the new Challenge mode, and 10 minutes of the single-player campaign with the golden gun skins and big head mode enabled.
Taylor is the Associate Tech Editor at IGN. You can follow her on Twitter @TayNixster.