Gran Turismo 7: let's see how credit collection has changed and the reason for the controversy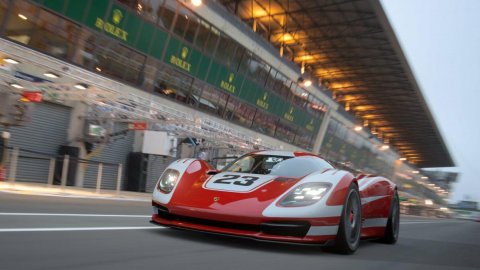 Gran Turismo 7
Gran Turismo 7
is at the center of fierce controversy by users, who actually have a real basis also according to the very precise calculations made by GTPlanet, a site specialized in the series that has conducted an investigation on the changes made to the collection of credits and expenditure required to the players, in terms of credits and playing time, to get the cars in the new game compared to the previous chapters.
The problems emerged in particular with the update 1.07 which caused two buboes to burst together which were already hatching from the early days of Gran Turismo 7: the need for always online even for a single player career, which made it impossible to play for 30 hours due to the technical problems that emerged later, and the presence of microtransactions, for the which heavy revisions have been made to the credit collection system in the game.
As for the credit collection revision
in Gran Turismo 7
, this is the comparison with the other chapters on credits and also with the same game before and after patch 1.07, based on the calculations of GTPlanet, focused on the use of META ("most effective tactic available"). The ranking compares the amount of credits that can be collected in one hour of play according to the META:
Gran Turismo 6 - 3.55m credits / hour Gran Turismo Sport - 2.04m credits / hour Gran Turismo 7 (v1 .06) - 1.75m credits / hour Gran Turismo 4 - 1.69m credits / hour Gran Turismo 2 - 1.35m credits / hour Gran Turismo 5 - 0.87m credits / hour Gran Turismo 7 (v1.07) - 0.85m credits / hour Gran Turismo 3 - 0.50m credits / hour Gran Turismo 1 - 0.50m credits / hour
Note how Gran Turismo 7 went from 1.75 million credits per hour to practically half, with 0.87 million credits per hour after patch 1.07. In all this it should also be noted that in Gran Turismo 5 and 6 the collection of credits was calculated on the basis of now, that is with the servers closed, while it was faster when the online was operational, through other systems.
We must also consider the costs of the cars, which in the old chapters were on average much lower, with the most expensive of Gran Turismo 1 rarely exceeding 500,000 credits.
Based on the prices of the most expensive cars present in the various chapters (and many of these have not yet been revealed in Gran Turismo 7, so we are based on a partial calculation for the moment), in the list below is the calculation of how many hours of play and races are needed , on average, to get the most expensive cars within the various chapters:
Gran Turismo 1 - 1 hour (8 races) Gran Turismo 2 - 1.5 hours (14 races) Gran Turismo 4 - 2.7 hours (32 races) Gran Turismo 6 - 5.8 hours (90 races) Gran Turismo 3 - 7.5 hours (5 races) Gran Turismo Sport - 9.9 hours (84 races) Gran Turismo 7 (v1.06) - 10.9 hours (205 races) Gran Turismo 7 (v1.07) - 17.8 hours (333 races) Gran Turismo 5 - 23.3 hours (315 races)
Again, the calculation made on GT5 and GT6 is partial because it is based on the current state of the games, with no online support. Previously, there were various other ways to reduce the times thanks to the login bonuses and other additions.
In general, we understand a little about the chaos generated among users with the recent update to
Gran Turismo 7 and
the fact that the game currently has the lowest average rating of users ever.
Source Have you noticed any errors?
---
'Gran Turismo 7' Shows Why Sony Needs Bungie's Help With Live Services
Gran Turismo 7
Sony
Gran Turismo 7 is experiencing a number of issues, both technical, which recently resulted in 30 hour downtime after a patch went wrong, but also with its game economy, as the purpose of that patch in the first place was to increase grind time in many aspects of the game, which has upset players.
It's long been common knowledge that Sony has the Big Expensive Third Person Epic Story Game down, whether that's God of War, Horizon, Ghost of Tsushima, Uncharted, The Last of Us, etc. But this is an age of live services, microtranscations and ongoing revenue streams, and this is an area that they've struggled with. In fairness, Microsoft has too (have you seen Halo Infinite's monetization?) but Sony is attempting to do something about it.
That's a big part of the reason Sony bought Bungie, the developer of Destiny 2, one of the most successful, long-running live service games out there, which has survived as dozens of imitators have failed. It's not that Destiny has never faced issues as a series, they've dealt with more than their fair share, even to this day, but it's how they've handled them and got past them that's been why the series has succeeded. And now Sony wants Bungie to start educating its other developers in how to build and manage good live service games.
Gran Turismo 7
Sony
All you have to do is look at how Gran Turismo 7 is struggling with its live service elements to see what sort of work needs to be done. I was particularly struck by the mournful language of this blog post by Kazunori Yamauchi, which contains some choice passages about the issue. I'm going to comment on some of the lines that stand out:
"In GT7 I would like to have users enjoy lots of cars and races even without microtransactions.
At the same time the pricing of cars is an important element that conveys their value and rarity, so I do think it's important for it to be linked with the real world prices."
Comment: A mistake here is trying to dictate value to your players instead of them dictate what they view as the value of something. Comparing a digital Ferrari to a real-life Ferrari is useless, it only matters what makes sense in the context of your own game economy. And more often than not, being more generous is better than being stingy if you want a happy, engaged playerbase. Do not issue or listen to orders that are along the lines of "increase the grind so players are herded into the cash shop more often." That is going to take you nowhere.
"I want to make GT7 a game in which you can enjoy a variety of cars lots of different ways, and if possible would like to try to avoid a situation where a player must mechanically keep replaying certain events over and over again.
We will in time let you know the update plans for additional content, additional race events and additional features that will constructively resolve this.
It pains me that I can't explain the details regarding this at this moment, but we plan on continuing to revise GT7 so that as many players as possible can enjoy the game."
Comment: If you are making your game a live service, being able to both create a roadmap and hit those dates is essential. This is something that Destiny got very good at as a franchise, which resulted in players knowing what was coming and when, and I've seen too many games shift into nebulous "things coming soon!" mode that causes the playerbase to flee with no real hope for concrete changes in the future.
"We would really appreciate it if everyone could watch over the growth of Gran Turismo 7 from a somewhat longer term point of view."
Comment: One of the biggest live service fears is that games launch with minimal content and bad economies, and fans are just supposed to wait around to until those issues are fixed weeks, months or even years later. This is no longer an acceptable expectation and to treat it like the norm in this genre after so many lessons should have been learned from other failures up front is not a good look. This is where Bungie's teachings could and should be useful. We'll see how those manifest in future Sony projects.
Follow me on Twitter, YouTube, Facebook and Instagram. Subscribe to my free weekly content round-up newsletter, God Rolls.
Pick up my sci-fi novels the Herokiller series and The Earthborn Trilogy.