Fortnite Chapter 3 Season 2, all the news of the Royal Battle of Epic Games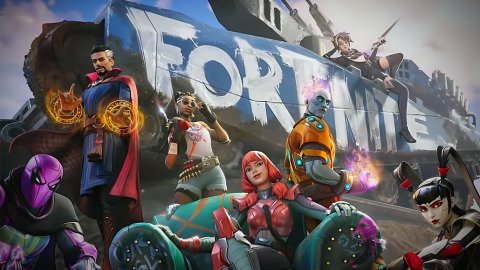 Fortnite Chapter 3 Season 2
It will no longer be the game of the moment, but Fortnite Battaglia Reale continues to boast millions and millions of players all over the world; numbers that push Epic Games to persist in a constant investment in its creation, sometimes even with commendable initiatives, such as sending revenues to Ukraine to support refugees fleeing the war.
The short in-depth analysis that you are about to read, fortunately, deals with more cheerful themes, that is to say all the news of Fortnite Chapter 3 Season 2. You will have noticed, in fact, how in the last few days the battle has changed a lot: it is worth understanding how and to what extent, also because all the changes will presumably remain active at least until June 2022. Oh, if you've always dreamed of to drive a tank in Fortnite this is the right time.
New season, new gameplay
Now in Fortnite you can run, jump and cling to ledges The main changes introduced with Fortnite Chapter 3
Season 2 is
n't so much about introducing new items or vehicles - yes, there are those too, of course, but we'll take a moment to explore them later. What has changed is the gameplay first of all, which has enhanced the measures introduced over the last few seasons. Needless to deny it, those who return to Fortnite today after a year of absence will find a very different and, in our opinion, more engaging experience awaiting them.
The reason is soon said: first of all, it is no longer possible to build Fortnite Battaglia Reale. "But how", you say, "the beauty of Fortnite was precisely that inseparable mix between fire and buildings!" In fact, it is only a momentary choice, justified by needs related to the horizontal plot - Slone is back with a device capable of deactivating the immediate manufacture of buildings - even if it remains to be understood how thoroughly Epic Games wants to try the path of a Fortnite permanently without structures. Be that as it may, for now it is played like this: just shooting. For shelters you have to make do with what is around; it goes without saying that the approach to the title has changed in a structural way.
Alongside this unprecedented novelty, Fortnite characters are now also able to sprint at speed for a short time and climb to the protrusions of buildings to climb higher, obvious introductions from the perspective of a Royal Battle in which it is no longer possible to build towers upon towers in a few seconds. A new small white bar
has been in
troduced at the bottom left of the main screen, just above the health indicator: it measures the sprint, after which you will have to rest for a few seconds.
And it's not over yet here (yes, the news this time are really many) because, as a form of balance for all these new subtractions and introductions, now Epic Games has added an additional bonus to the shield equal to fifty points. This small mini-shield automatically activates and recharges over time, providing immediate and additional protection during battle.
If you have
been hit by an enemy, before losing the points of the standard shield or even those of health it is advisable to hide to recharge the fifty of the additional protection.
Map and armored vehicles
One of the armored vehicles of Fortnite Chapter 3 Season 2 The other changes made by Epic Games with Fortnite Chapter 3 Season 2 are among those now standardized over the course of years and years of updates. First of all, the balance of the game map has changed again: now the troops of the bad guys compete with the rivals of the Rebellion some of the main cities. It's easy to recognize who's where, because red (for the bad guys) and blue (for the good guys) outlines have been added to the island map. It goes without saying that going to a place managed by the OI (Imaginary Order) means suffering the wrath of local NPCs, armed to the teeth. So be careful. If you do not want to consult the map, "by eye" remember that the areas dominated by the gigantic black airship (explorable) are those of the bad guys.
This all-out war has led to the need to deploy new armored vehicles. Above all, the very powerful tanks: slow, heavy vehicles, even quite difficult to control, but capable of destroying everything and everyone if used correctly. Fortunately, they too can be destroyed by reducing their health points to zero and they also need fuel to function. Above all, the tank seems to consume a lot of fuel for limited movements in space. The rebellion, on the other hand ... well, they decided to turn the Battle Bus into a war machine on wheels. And the strategy seems to work pretty well too.
Fortnite's new season weapons in all their beauty Other noteworthy balances concern weapon management. Gamers will surely enjoy some throwbacks from the past, such as the famous remote-controlled explosives (the C4, to be understood), revolvers, the heavy drum shotgun, even shockwave grenades. The brand new newcomers are the combat machine gun and the firing gun.
The latter basically consists of a semi-automatic rifle gun with a viewfinder. And this - for the moment - is what, even if obviously relevant innovations will continue to be introduced gradually, from week to week, as Fortnite Battaglia Reale has accustomed its players for years.
A close look at the Pass Battle of Fortnite Chapter 3 Season 2 Speaking of players, what about you? Have you long since abandoned Epic Games' Battle Royale, or will Chapter 3 Season 2 be your chance to get back to playing? Maybe just because you can't build it now?
Have you noticed any errors?