Xbox Game Pass, February 2022: The second wave of games of the month for subscribers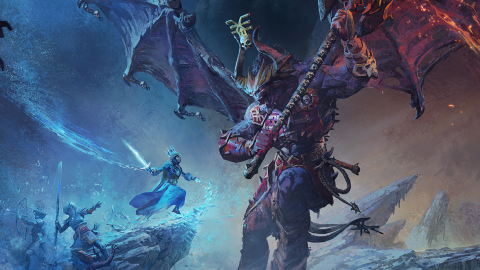 Xbox Game Pass, February 2022
The February 2022 of
Xbox Game Pass
continues with the second wave of games arriving in the catalog, with a batch to be honest rather contained compared to the standards to which Microsoft's subscription service has accustomed us, but also understandable considering the density of the latest updates. On the other hand, this is a month in which several high-caliber releases are also concentrated outside the channel in question, so if nothing else, the Game Pass titles do not risk overloading the offer too much at this point.
After having seen the games of the first wave of the month, let's therefore make an overview of the new arrivals scheduled for the second half of February, from which we also note an unprecedented situation: most of them are exclusively for PC.
Xbox Game Pass, February 2022: the second wave of game in the catalog Of 7 new titles introduced in the catalog, 4 are exclusively on PC, which clearly overturns the classic trend of the service usually more characterized by offer console games. So let's set out to discover the new arrivals, also remembering the games that will leave the subscription on February 28, 2022.
Mass Effect Legendary Edition - Cloud (EA Play), February 15th
Mass Effect: Legendary Edition, an image of the game One of the highest caliber titles released by recently on EA Play and Game Pass or Mass Effect Legendary Edition, a complete, revised and corrected version of the original sci-fi RPG trilogy by BioWare and EA. The sci-fi epic of BioWare, which has captivated millions of gamers since the original's launch on Xbox 360 and PC, building one of the most successful brands of the last generation of consoles, remains a symbol of an era in which productions of this type, that is large-caliber RPG but with a structure structured according to the classic stylistic features, were still able to capture the attention of a huge audience.
With the series destined to return to the scene with a new chapter in development, the Mass Effect Legendary Edition collection allows you to relive the trilogy in its best form, including all the additional content released for the various chapters. If you've played the originals before, returning to the Normandy as Shepard is still a great experience, despite the years gone by, and it may be worth brushing up on the trilogy with the improved graphics and perhaps recovering those DLCs that were lost. If you have never had the opportunity to play it before, the download is mandatory.
Lawn Mowing Simulator - Xbox, February 17
Lawn Mowing Simulator, a perspective from the game One would think that the "Simulator" craze is perhaps getting out of hand, however as long as you are faced with actually well-made games there is very little to complain about. Above all, it seems to continue to be able to garner widespread support in the public, especially on PC, so it is clear that the experiments are destined to continue, becoming progressively more bizarre. Lawn Mowing Simulator is certainly part of this experimental avant-garde of simulations, being a lawnmower simulator: if your dream has always been to mow lush gardens aboard one of the most advanced specialized vehicles on the square but - fundamental thing - without having to get up from your chair at home, this is the game for you.
Inside we find a maniacal reproduction of the machines used to carry out the task in question, as well as a series of different settings that pose various obstacles and specific difficulties to be faced in order to get the job done in the best way. If only a real salary were foreseen it would be the perfect simulation, but these are trifles compared to the joys provided by the art of mowing. To find out more, we also refer you to our review of Lawn Mowing Simulator.
Madden NFL 22 - Xbox and PC (EA Play), February 17
Madden NFL 22 in a scene from game It
will not be
the most popular sport in these parts, but by now American football is beginning to be followed also in Italy and the introduction of Madden NFL 22 in the catalog of EA Play
and Xbox Game Pass
Ultimate therefore becomes an element of considerable importance . On the other hand, there are practically no other videogame simulations dedicated to the sport in question, now, so the choice necessarily falls on the EA title, which, moreover, has shown itself in excellent shape at the annual appointment in this case. Given the extinction of the various arcade interpretations that once crowded the videogame market, this remains the only digital variant of American football and luckily it defends itself very well.
Featuring some interesting innovations relating to the Franchise mode , to artificial intelligence and physics of players and ball, Madden NFL 22 looks like a good evolution of the series, obviously bringing with it the official license of the NFL for the 2021/2022 season and a series of technical improvements as far as it concerns graphics, animations and reproduction of the spectacular stadiums. Direct access to the subscription catalog can be the perfect opportunity to try and immerse yourself in this historic
EA Sports
simulation.
Total War: Warhammer III - PC, February 17th
Undoubtedly the most important introduction of this mandate, Total War: Warhammer III arrives at day one directly within the PC Game Pass, significantly enriching the catalog of the service.
As our review of Total War: Warhammer 3 also demonstrates, the final chapter of the Creative Assemby trilogy based on the famous Games Workshop license is a true celebration of the series. Based on the ancient tradition of Total War, from which it takes up the general mixed setting between shifts and real time and the foundation on the fighting and the management component, the new strategic evolves the structure seen in the first two chapters with considerable continuity but also improving several of them aspects.
The result is a game with a powerful Campaign and many elements to take into consideration, also in terms of factions, different units and various facets that require total immersion in the game world to learn about them every single aspect and knowing how to manage it better. Obviously if you've played the first two you will feel totally comfortable in Total War: Warhammer 3, but even if you have never touched the series before, downloading from the Game Pass is highly recommended, as it is one of the best exponents of the game. genre released recently.
Roboquest - PC (Game Preview), February 22
Roboquest, a screenshot from the game We have seen how in recent years the roguelike, in its various meanings, has become a fundamental ingredient to create rather original gameplay recipes, always giving a certain freshness to game structures that are perhaps a little trite, while becoming almost intrusive at this point. Roboquest once again demonstrates the excellent adaptability of that concept by putting it at the service of a sort of robot-based first-person shooter, with a clean and almost cartoonish graphic style capable of giving everything a really interesting characterization.
Within iridescent and procedurally generated settings, ranging from futuristic cities to canyons and mixed scenarios between nature and technology, we find ourselves facing hordes of mechanical enemies in the role of various combat robots, which they vary from game to game but still maintaining a certain base of constant progression. This element makes us talk about "roguelite", since the traditional reset of the game at game over is replaced by a progressive mechanism that also in this case manages to capture the attention for a long time.
Galactic Civilizations III - PC, February 24
Galactic Civilization III, a scene with a space fleet Not really a first, but still a perfectly valid game, in case you haven't already played since 2015: Galactic Civilizations III is a sci-fi strategy game in classic 4X style by Stardock, considered something of a spiritual successor to Master of Orion. The third chapter in the series does not particularly innovate the structure now consolidated by the first two, but limits itself to making it evolve and perfect it in different aspects, streamlining some more cumbersome elements and enriching other aspects, among which the presence of multiplayer stands out in particular, although remains a rather marginal element compared to the central core of the game.
It is about building and leading your civilization by choosing from eight races and bringing it to compete with the others for domination of the universe. This is achieved through a Campaign made up of scenarios or in the free system sandbox mode, in addition to the new multiplayer mode. It is obviously a very large and complex game, suitable for those who are already quite expert in strategists of this type, however its presence within the Game Pass can allow all subscribers to be able to experience this genre starting immediately from an excellent exponent. , which you can learn more about in our review of Galactic Civilizations III.
Super Mega Baseball 3 - Xbox (EA Play), February 24
Super Mega Baseball 3, a screenshot during a game Let's continue with typically American sports, in this case moving on to a particular interpretation of baseball in Super Mega Baseball 3, which despite its appearance presents a rather complete simulation of the sport in question. We are not facing an official license, of course, and the cartoon characterization makes it rather far from similar titles like MLB The Show 22, but the game elements are all there and it is a title
not to be
taken lightly. Between online multiplayer game and offline single player, within Super Mega Baseball 3 we also find a Franchise mode that features a long campaign and the new Inline Leagues mode.
With significantly improved graphics compared to previous chapters, Super Mega Baseball 3 is a substantial evolution of the series in every direction, both in technical and content terms. In addition to the technical aspects of playing on the actual pitch, there are also several management elements to check, for a well-rounded baseball simulation that doesn't take itself very seriously but isn't a joke at all.
Alice: Madness Returns - PC (EA Play), February 28
Alice: Madness Returns, a particularly dark scene taken from the EA Play game allows us to finally recover Alice: Madness Returns, the particular dark fairy tale created by American McGee based on the famous short stories by Lewis Carroll. The starting subject, on the other hand, offers itself very well to a reinterpretation of the genre, given the rather enigmatic and twisted sides that also emerge from the original work. In this case we find ourselves following the events of Alice Liddell, a girl with a dramatic past who finds herself having to face incredible threats halfway between an inner journey into her fears, the madness and cruelty of the Victorian society of her time that marginalized her. , considering her crazy.
All this takes place in a third person action adventure with an evocative and powerful characterization, which obviously recalls Alice in Wonderland and Through the Looking Glass but in a decidedly distorted and dark perspective. The gameplay combines elements of 3D platforming with other action and an almost survival horror cut, in a truly unique mix that is still capable of striking with remarkable force, despite more than 10 years have passed since its original release. >
Have you noticed any errors?