Spider-Man: clarequinnn's Gwen-Venom cosplay is of high quality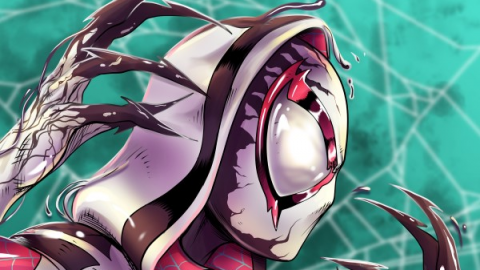 Spider-Man
The Spider-Man narrative universe
is full of
heroes, villains, and characters on the border. Often what pushes heroes to the limit is the fusion with Venom, the black symbiote who loves to take possession of Spider-Man and other neighborhood wall climbers. One example is clarequinnn cosplay, showing us her own Gwen-Venom.
Gwen-Venom cosplay is very simple, with a costume in the form of a simple jumpsuit, but t
here are some
nice details, such as Venom's claws and a purple-black setting that helps get you in the right mood.
If you're a fan of Spider-Man cosplay, then you can't miss shaharuka's Spider-Gwen cosplay: comes from the Philippines! How not to mention also the Spider-Gwen cosplay by grusha_cos. Instead, let's
move on to
another type of character, with the Spider-Carnage cosplay of candylion.cos in a female version. We close our list of suggestions with missbricosplay's Gwen Stacy cosplay.
Tell us, what do you think of clarequinnn's Venom-Gwen cosplay? Has the Spider-Man narrative universe character been recreated in the best way, or do you think you've seen higher quality versions?
Have you noticed any errors?
---
SPIDER-MAN: NO WAY HOME Tops $1.77 Billion Worldwide; Will Swing Past AVATAR's U.S. Record Imminently
Spider-Man: No Way Home ended up being beaten by Moonfall at the North American box office this weekend, but third place during its eighth weekend of release is still a spectacular feat. At this stage, its days of breaking records are nearly at an end, but the wall-crawler will take down one final foe before wrapping up its domestic run. 
The Hollywood Reporter has confirmed that an additional $9.6 million haul this weekend means Spider-Man: No Way Home currently has $749 million in ticket sales. Now, it's less than $1 million shy of topping the $749.8 million grossed by James Cameron's Avatar during its original run in 2009 (a feat it should achieve within the next day or two). 
In third place, Spider-Man: No Way Home would sit behind Avengers: Endgame ($858.3 million) and Star Wars: The Force Awakens ($936.6 million), two films it can't/won't beat. 
Considering the pandemic is still hurting box office takings, this is an amazing achievement and it should finish up with around $760 million. Globally, Avatar doesn't need to sweat the Marvel Comics superhero as it's earned a massive $2.84 billion since first being released. Still, with $1.02 billion overseas, Spider-Man: No Way Home is the #6 movie of all time with a $1.77 billion haul worldwide. Remember, it managed to do all of this without ever being released in Chinese theaters.
Sony Pictures has yet to announce a Digital or Blu-ray release date for the threequel, though we know it is coming to those formats at some point. The studio has doubled down on the theatrical experience during the pandemic, forgoing shortened release windows.
If Spider-Man: No Way Home's success is any indication, that's working pretty well for them! 
DISCLAIMER: Comic Book Movie is protected under the DMCA (Digital Millenium Copyright Act) and... [MORE]DISCLAIMER: Comic Book Movie is protected from liability under the DMCA (Digital Millenium Copyright Act) and 'Safe Harbor' provisions. This post was submitted by a user who has agreed to our Terms of Service and Community Guidelines. Comic Book Movie will disable users who knowingly commit plagiarism, piracy, trademark or copyright infringement. Please contact us for expeditious removal of copyrighted/trademarked content. Learn more about our copyright and trademark policies HERE. [LESS]
Reflecting on his experience working with Andrew Garfield in Spider-Man: No Way Home, Tom Holland admits to regretting not reaching out to the former Peter Parker when he replaced him as the wall-crawler.
It's been another interesting weekend at the domestic box office as Jackass Forever dethrones Spider-Man: No Way Home, a movie now locked in battle with Moonfall for second place. Read on for details...
Spider-Man: No Way Home star Tom Holland has reflected on working with Charlie Cox on that memorable scene featuring Matt Murdock, while also sharing his hopes for the characters to cross paths again...
The Spider-Man franchise is expected to eventually swing on to Disney+, but it sounds like we'll be waiting a while for Spider-Man: No Way Home to hit a mainstream streaming service. Read on for details...
Spider-Man: No Way Home star Tom Holland has clarified comments about not playing Peter Parker in his 30s, explaining that he hopes to pass the mantle on to heroes like Miles Morales or Spider-Woman...