Genshin Impact: spooky.foxx cosplay of Mona is magic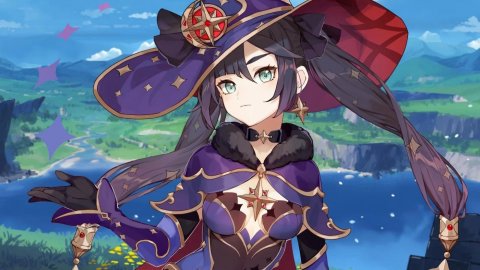 Genshin Impact
Genshin Impact continues to provide inspiration for cosplayers around the world, thanks in part to its structure based on an ever-expanding roster of heroes, and that is demonstrated once again by this new cosplay of Mona from spooky.foxx.
Mona is probably one of the favorite and most popular subjects of cosplayers, as evidenced by the amount of reinterpretations we have seen in recent months, probably because the complex dress and the charm of the character makes her naturally inclined to representation according to different declinations and interpretations.
Spooky.foxx, in particular, certainly focuses on a rather sensual interpretation, giving life to an interpretation faithful to the original of the MiHoYo game as regards different elements of the complex costume, but also a bit 'personal for some details, in a shot that still seems to contain a lot of work. This is not only in regards to the construction of the dress but also in the effects, since Mona seems to be in the process of casting a spell for real.
The girl in question is a young astrologer who has taken refuge in Mondstadt to escape the wrath of his master, after having peeked at his secret diary making him furious. In Genshin Impact she is a somewhat erudite and skilled fighter in her field of study, who nevertheless seems to have a constant problem with money management.
If you are looking for other cosplay, we remind you here some of the most recent published on these pages such as that of Kokomi by likeassassin always by Genshin Impact, the cosplay of Tsunade of christa.cos in Naruto , that of Yamato of Boahammock from One Piece, the cosplay of Diane of xerora from
The Seven Deadly Sins
and the cosplay of Mirko signed aka_purin from
My Hero Academia
.
Have you noticed any errors?
---
Genshin Impact 2.6 Update: Xiao Artifact Stats Leaked
Genshin Impact 2.6 Update is set to be released in March 2022, and new leaks have indicated that Xiao may be getting a bespoke artifact in the new update.
Whilst none of the leaks for the new update have yet been verified, there has been a ton already revealed to the player base with regards to the March iteration of the game.
These new leaks surrounding Xiao seem pretty exciting for players who use the character as their main.
Here's everything you need to know about the Xiao artifact that will be part of the Genshin Impact 2.6 Update:
Read More: Genshin Impact 2.6 Update: Release Date, Banners, Patch Notes, Characters, Leaks and Everything You Need To Know
There are a ton of leaks that have not as of yet been verified for the game, including the one that covers a brand new tailor-made artifact set for Xiao.
The two-piece effect for the new artifact set is nothing out of the ordinary, according to leaks. The two-piece will give players a +18% ATK for their character, which is the same as the 2-piece effect of Gladiator's Finale and Shimenawa's Reminiscence.
When we look at the 4-piece effect for the artifact, however, that tells a whole different story. The 4-piece set for the artifact can give the user a 66% ATK boost, making it incredibly powerful: 
18% comes from the 2-piece effect
8% comes from when the user performs their Elemental Burst
10 to 40% comes from whenever they lose HP after performing their Elemental Burst (it goes up to four stacks)
If this currently unverified leak does end up being legitimate, then Xiao users will be over the moon to know that there's a tailor-made artifact set for him in the 2.6 Update.
Xiao's current Elemental Burst continuously drains him HP in-game, which will make him get to achieve the 66% ATK boost on a more consistent level.
A user on the r/Genshin_Impact_Leaks subreddit recently revealed how players can test out the damage of the new set now before the 2.6 Update itself is released.
They said: "You can test out the damage right now. Give Xiao 2PC Glad/Shim with no set bonus on the other three pieces, put him in a team with a TTDS user, have them transfer the TTDS buff over to him, and then see what the damage winds up being. 
"Compare that to your 2 glad/shim/VV build and see if the damage difference is worth farming a whole new good 4 PC set for him. Of course, he can still get the TTDS buff even with this new set, but diminishing returns and all. This new set has even less value if you run Xiao with Bennett.
"I would have much preferred a dedicated support for Xiao, but it is what it is I guess. I love Xiao, but my inclination is to skip this set unless the other artifact set is useful."
Hopefully, Xiao mains will be happy once the Xiao Artifact set is released as part of Genshin Impact 2.6 Update!
Read More: Genshin Impact 2.6 Beta: Start Date, Potential Leaks and More
You can find all of the latest gaming news right here at GiveMeSport.
previous storyNews Now - Sport News