Valorant: let's discover Neon, the new agent of Riot Games' free-to-play shooter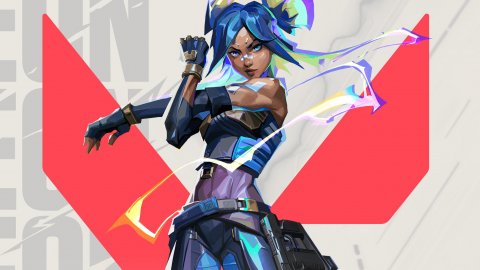 Valorant
Like all free-to-play games, Valorant also needs to update himself to keep the attention of his players high and perhaps to push them to invest a few sweaty euros in the new battle pass or in the new agent.
For this reason, it is not surprising that on January 11th both the fourth episode of Act I and a new agent will debut. In this special we will discover Neon, the new fast agent of Valoran and more about Protocol 781-A.
Neon, the fast agent of Valorant
The presentation screen of Neon Every time that a new agent is added in Valorant is a small event, but this time the reasons are even more than usual. First of all because Neon seems to build a bridge between two of Riot Games' most loved games:
League of Legends
and Valorant, precisely. This is because Neon and Zeri, the new champion of League, are very similar, both in terms of aesthetics and in terms of skills, based in both cases on electricity.
For the moment Riot does not wanted to formalize or deny the theories that arose within the very active gaming community, but given the efforts that the American software house is making to expand its game universe
more and more
(just think of the excellent Arcane, the animated series which debuted a few weeks ago on Netflix) anything could be. Even a simple coincidence. But it is decidedly strange to see two such similar characters arrive almost at the same time in his two games.
What we know for sure is that Neon comes from the Philippines (and not Zaun), something that made Ryan "rycou" Cousart very happy, who was able to create a character rich in connections with his country from. As we said, the new heroine of Valorant will be very different from the other proposals of the game because she focuses two of her abilities on the speed of movement. An element that could upset the excellent balance of the gameplay, but which for the moment seems to be the direction that Riot wants to take to evolve his game.
"For Neon, we decided that he should move fast and that his abilities would have supported this trait, "said Ryan Cousart, Valorant's game designer. "When I saw where it had all gone with Jay Watford (Game Designer) and August Browning (Chief Designer of League of Legends Champions) before I stepped in to finalize the project, I was ecstatic! perfection with its being fast, so much so that the kit has remained practically the same as the initial prototype! "
Neon's abilities
Neon's ability Overtaking lane Let's go, then, to discover Neon's abilities:
Overtaking Lane: Neon's first ability allows her to create an electrical corridor that extends for a short distance. Unlike the Phoenix Wall, Overtaking Lane can only be thrown in front of you and does not regenerate Neon's energy. This corridor, however, thanks to Neon's superior speed, could allow her to move almost undisturbed from one side of an arena to the other, since inside her the agent cannot be seen.
Saette Relé is a grenade capable of generating a large stun area when it hits the ground. The peculiarity of this move is that it must be thrown immediately and cannot be charged, and that it can bounce once against a wall, allowing for rather effective carom to flush out opponents.
Neon's ultimate: Overload Starting in Fourth allows Neon to increase his movement speed. In addition, every two kills or when the electricity bar is at maximum, the agent can perform an electric slide, very useful both to shorten the distance, and to quickly reposition himself in defense.
Overload is the ultimate ability by Neon. With the ultimate Neon not only will it increase its speed, but it will also
be able to
fire an electric beam with a rather long range and a continuous charge. A kind of empowered Emperor Palpatine. In addition, each kill will reload the slide, making the assassin's play style even more aggressive and frenetic.
At first glance, Neon could be the ultimate choice in the hands of the most skilled and fast. Her movement skills, which also recharge with kills, could create a vortex of death in the right hands. Despite this, we have faith in the work of Riot who, for the moment, has never released a new agent capable of breaking the delicate balance of Valorant. Only massive evidence from gamers and pro-players and time, however, will tell if this bet by the developers will be won. In that case, new scenarios could open up for the Riot Games game, capable of giving even more variety and recognition to the various agents.
Protocol 781-A
A weapon of Protocol 781 -A A
new line of
liveries called Protocol 781-A will debut together with Neon. For senior producer Preeti Khanolkar, the goal of the Protocol 781-A "line was to create a very eye-catching sci-fi model line that was different from all the other sci-fi lines we had created so far. In practice, therefore, not clean and futuristic. like Ion, not alien like Singularity nor fun and colorful like Glitchpop. We wanted something dystopian, but that didn't look too crude or dirty. In the end, we figured the models on the set existed in another world where megacities had a huge growth, leading to overpopulation and chaos, and in which a tyrannical government attempts to control the unrest. As a result, a law called Protocol 781-A is enacted, which assigns all government personnel a weapon that provides combat assistance, it monitors performance and ensures cooperation. "
These are, therefore, much cleaner and more functional skins, with a practical and dry appearance. In addition to the skins, however, there will also be a whole new series of dialogue lines that will comment on your performance in the game. Again the idea was to give the impression that there was superior control over this element, rejoicing in the victories and scolding for the clumsy use of the new weapons.
Have you noticed any errors?