Star Wars: announced 3 games in development at Respawn, here are which ones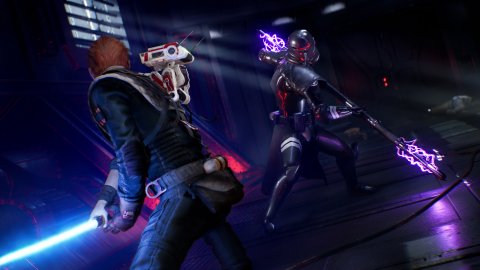 Star Wars
Electronic Arts
and Lucasfilm Games have announced that Respawn Entertainment (Apex Legends, Titanfall, Star Wars Jedi: Fallen Order) is developing three new games based on Star Wars. Vince Zampella, Group GM and founder of Respawn, will oversee this new phase of the relationship between EA and Lucasfilm.
Game Director Stig Asmussen and his team are already working on the next game in the action-adventure series Star Wars Jedi.
He is then working on a brand new Star Wars themed first person shooter game. At the head of the Respawn project is Peter Hirschmann, Game Director.
The third title is a Star Wars strategy game, developed through a collaboration with the new Bit Reactor studio, led by industry veteran Greg Foerstch. Respawn will produce the new Star Wars strategy game while Bit Reactor will take care of the development of the title.
Cal Kestis from Star Wars Jedi Fallen Order "We are thrilled to continue working with Respawn," said Douglas Reilly, VP, Lucasfilm Games. "They've proven they can excel at telling epic Star Wars stories, without putting aside great gameplay, across multiple genres, and we can't wait to create more amazing experiences in the galaxy far, far away."
"Building on the previous successes of our relationship with EA, this new collaboration highlights the mutual trust and respect shared between the world-class teams of EA, Respawn and Lucasfilm Games," said Sean Shoptaw, SVP, Walt Disney Games. "Driven by the experience and passion of each team, we will create exciting original games for a diverse audience across the Star Wars galaxy."
"Working with Lucasfilm Games on a new FPS in the Star Wars galaxy is a dream come true for me, because this is a story I've always wanted to tell," said Peter Hirschmann, game director of Respawn . Peter previously served as a VP at LucasArts, and served as executive producer on the original Star Wars Battlefront games. Hirschmann and the Respawn team have just started work on the title. Work has already begun on all three of these projects, and Respawn is looking for talent to join the teams.
"We are huge Star Wars fans here at Respawn and are thrilled to be working with Lucasfilm Games on new titles that we have wanted to create for years," said Zampella. "If
you want to
make great Star Wars games, you should join us on our journey."
Star Wars Jedi Fallen Order actor recently gave us some clues about the sequel.
Source Did you notice any errors?
---
Respawn is currently working on three new Star Wars games
Electronic Arts and Lucasfilm have just revealed that Respawn Entertainment, the studio behind Star Wars Jedi: Fallen Order, currently has three individual Star Wars projects in active development.
The news comes from the official Star Wars website, where a recent blog post unveils new details about various Respawn projects that are in the works right now.
The first of these projects is perhaps the most predictable — Star Wars Jedi: Fallen Order 2, which will serve as a follow-up to Respawn's 2019 hit. We had already heard rumours that this game could show up prior to E3 2022, so its reveal is definitely the least surprising of the three. The other two games are an FPS and a strategy game.
The blog post includes thoughts from various executives across the three companies, all of whom are excited about tasking such a beloved studio with helming further stories in a galaxy far, far away. Perhaps the most interesting quote, however, Peter Hirschmann, who will serve as game director for the upcoming Star Wars first-person shooter.
"Working with Lucasfilm Games on a new FPS in the Star Wars galaxy is a dream come true for me, as this is a story I have always wanted to tell," Hirschmann said. According to the blog post, Hirschmann has previous credits on the original Star Wars Battlefront games, making him an excellent fit for a new FPS — particularly when you consider his comment about telling a story he has always wanted to tell.
In related news, LEGO Star Wars: The Skywalker Saga recently got a release date. If you're not sure what to play while you wait, be sure to check out our list of the best space games.
Written by Cian Maher on behalf of GLHF.