UFL: everything we know about the FIFA killer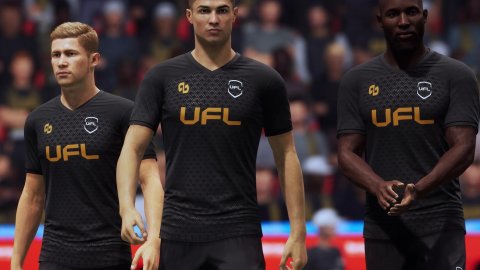 UFL
We honestly don't know where Strikerz Inc. got all this security and especially all these funds. However, it is clear that the UFL project is much more ambitious than one could imagine. The team, born in 2016, in just over 5 years has gone from the 4 original founders to employ over 100 "veterans" from all sectors involved in the development of a similar project.
As Konami knows very well In fact, having a solid video game is not enough to go to challenge FIFA.
Football
, by now, is as much sport as spectacle and image and even its videogame counterpart must reflect this assumption. For this reason it is important that UFL is developed on Unreal Engine, it is interesting to know that it
will not have
annual releases, but the focus of the first presentation was the licenses and who I will be the new global ambassador: Cristiano Ronaldo.
And so let's go back to the starting point: where will Strikerz Inc. have found the funds to convince CR7 to lend its face to an unrecognized project and even to participate (not with much enthusiasm ..) in a fake video call during the presentation?
Everyone is asking this, but no one has a certain answer yet. For this reason we have decided to collect everything we know about UFL, also known as the FIFA killer.
Ultimate Team
Hello, it's me, CR7! The Strikerz Inc. team never mentions the competitor directly, but, especially after the sensational own goal of eFootball (the former PES), that of EA Sports is the only football game with a certain depth on the market. Instead of looking for an alternative approach in order not to challenge this real giant of the video game world (FIFA 22 is the best-selling game in almost all of Europe), UFL will go head to head with the opponent, trying to keep a hit on the technological front and of licenses to challenge him in what have apparently been identified as his weaknesses: the gameplay and the economic model.
From the little that has been seen, in fact, UFL will replicate almost all the most famous online modes of FIFA 22, such as online friendlies, 2v2 and 3v3 matches, non-league matches, special challenges and missions. Obviously, however, the fulcrum of the whole project will be the Leagues, an online mode structured in a similar way to the FUT Divisions in which you can compete with your team against opponents from all over the world.
The UFL teams they will be customizable Your own formation will be buildable from scratch apparently without constraints both from the point of view of the squad and from that of the tactics to be applied. It seems that it is even possible to train and develop your players, in order to better adapt them to your needs. With your team you will go online and face chosen opponents "in an equitable manner, based on a matchmaking structured around the divisions".
And here comes the first jab at FIFA: "UFL gameplay is designed to be fun, competitive, realistic and responsive, "Strikerz Inc. CEO Eugene Nashilov said during the presentation. Hinting that EA's game isn't exactly like that.
Another dig comes on the economic model: UFL will not cancel your team after each season forcing you to start from scratch, on the contrary, over the years a club will continue to accumulate trophies and show them off with pride showing its history.
The very expensive UFL ambassadors
What will happen to
the players and their statistics, however, is not clear: once we have Ronaldo in attack, what is the point of buying another less strong striker? Will there ever be better ones? The only solution, unless you aim like FIFA 22 at a "Dragon Ball model" in which super-super-super Saiyan versions of active players will appear every few weeks, is that the values ​​of the "cards" will vary in concert. with the performance of real counterparties. It would be a solution to having an always active market (there might be a month in which even CR7 is out of shape or injured, something that would force us to field a substitute) and much less standardized formations.
L 'impression is that if FIFA 22 tries to incorporate within it the world of football at 360 °, from fields to women's football, and an economic model that pushes you to always buy the latest version of an Ultimate Team card, UFL could more aiming at the competitive side of sport, with the players much more similar to the heroes of
Overwatch
or League, that is, with unique characteristics and a much more defined role.
Lukaku, in full RPG style, is a sort of Tank, while CR7 is an Assassin, Firmino an Artist and De Bruyne an Architect. To change strategy effectively you need to put new pieces on the chessboard, since not all of them are suitable for all tasks. As is the case with FIFA's special cards.
Ambassadors
Lukaku, one of the first UFL ambassadors Even if those just written are pure speculation, such a structure would also explain the choice of rely more on ambassadors than on leagues, cups and teams as FIFA does. Not that these are missing, for the moment West Ham United, Sporting CP, Shakhtar Donetsk, Borussia Mönchengladbach, AS Monaco, Beşiktaş JK, Celtic FC, Rangers and Hashtag United FC have been announced, with AC Milan and San Siro appearing for a second in the trailer, but they are not top-tier clubs, as are the 5 names presented as ambassadors.
In addition to the aforementioned Cristiano Ronaldo we have Oleksandr Zinchenko, Romelu Lukaku, Roberto Firmino and Kevin De Bruyne. All stars of the Premier League, undoubtedly the richest and most popular league in the world.
Bringing these names into a rookie game must not have been easy, but the Strikerz Inc. team is made up of a large number of marketing, acquisitions and sports rights experts. Indeed, absurdly, these roles have been given more space than the various technicians and designers who should be involved in the creation of the actual video game.
This, on the one hand, makes it clear that ads are not finished here, on the other hand, however, it worries a bit considering that, at the end of the day, we are not talking about a sticker album, but a football simulation.
On the playing field
All good, but the UFL gameplay? It seems absurd, but in the 20 minutes of UFL presentation we didn't see much of UFL, just a few remnants of the game, some menus very similar to those of FUT and a focus on motion capture set up to give depth to the celebrations after the goals. br>
What we do know is that UFL will be released in the course of 2022 and is at an advanced stage of development. It will take advantage of the Unreal Engine and will be officially released on PlayStation 4, PlayStation 5, Xbox One,
Xbox Series X
and S. For now, no mention of the PC, although this is very strange.
The game footage shown, at the time, they didn't look particularly promising, with animations not entirely smooth or complex or a level of detail that was not shocking. Even the artificial intelligence, with some rather pronounced holes left in defense, did not seem to scream a miracle. Furthermore, the release on
PS4
and One must inevitably set limits: the old consoles will require, at least initially, the payment of a pledge, at least from a technological point of view.
The hope is that this will be very basic is used by developers to create a very clear, recognizable and solid backbone, on which to build a progressively more complex and ambitious game.
What will UFL animations be like? Having said that, without a field test you cannot express yourself that much and even this, unfortunately, is not always indicative of the final quality of the published game. Yes, we are talking about the disaster that Konami has combined with eFootball.
UFL, however, as a traveling project should grow and develop over time, gradually smoothing out any corners that may appear.
UFL is undoubtedly a very interesting project, even just because it tries to go to undermine the monopoly of FIFA 22. The premises are good, the budget of StrikerZ Inc. is more substantial than expected and the game seems ready to be published. What doesn't convince us? Having focused the presentation on the ambassadors and on uninteresting elements like the celebrations and little on the gameplay and its "honest" mechanics. Whether it's an empty shell or the real FIFA killer, we'll be talking more about UFL in the coming weeks.
CERTAINTY
Impressive budget Focus on gameplay quality Traveling project DOUBT Too little gameplay What will artificial intelligence be like? Have you noticed any errors?