Xbox Game Pass: 4 games already confirmed in February 2022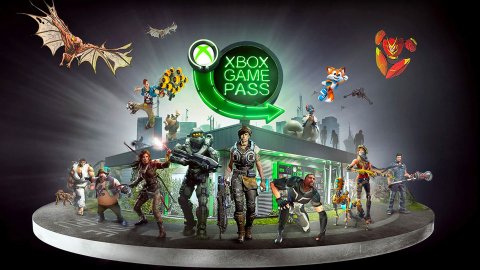 Xbox Game Pass
January is now over and
Microsoft
will soon announce the first batch of
Xbox Series X
| S, One and PC games coming to
Xbox Game Pass
next month. In the meantime we can already get an idea of ​​next month's line-up, as 4 titles have already been confirmed for February 2022.
For the month of February, based on previous announcements from Microsoft and third parties, four games have already been officially confirmed, namely:
Dreamscaper - Xbox Series X | S and Xbox One - February 3 Besiege: Console Edition - Xbox Series X | S and Xbox One - February 10 Edge of Eternity - Xbox Series X | S, Xbox One and PC - February 10 Total War: Warhammer 3 - PC - February 17
Xbox Game Pass Dreamscaper is an action roguelike developed by Afeterburner Games that it is based on a dream / wake cycle. At night, immersed in the protagonist's subconscious, we will face nightmares in an ever-changing world, full of unique objects, skills and challenges. By day, however, we will explore the city of Redhaven, with the ability to interact with other characters and unlock permanent upgrades so you can face the next dream stronger than ever.
Besiege: Console Edition is, as the title, the Xbox port of the game already present on PC and includes practically the same content. It is a sieges simulator that allows us to try the typical medieval warfare practice by building various vehicles, vehicles and special equipment to unleash against various castles.
Edge of Eternity is a fantasy and science fiction JRPG centered on the story of Daryon and Selene and their mission based on finding a cure for the mysterious Corrosion that seems to destroy their universe. On PC it has been available since last year, achieving good success, despite the criticism received. February 4th marks its console debut, with the game set to be available for Game Pass at launch, including for PC.
Total War: Warhammer 3 finally needs no major introduction, as it is the new strategic game of the successful Creative Assembly series, but if you want to know more we refer you to our tried in which we tested two of the new factions. The title will arrive on February 17th, so it will probably be part of the second batch of games for Xbox Game Pass.
For the rest of
the games coming
to Xbox and PC Game Pass arriving in the first half of next month we will have to wait Microsoft's official announcement, which will arrive barring surprises on the afternoon of Tuesday, February 1.
Have you noticed any errors?
---
Xbox Game Pass Will Soon Stop Taking Money From Inactive Accounts
Photo: Christian Petersen (Getty Images)
Thanks to an investigation into online gaming subscriptions by the United Kingdom's Competition and Markets Authority (CMA), Microsoft will soon improve the ways in which its Xbox Game Pass service handles auto-renewal, refunds, and inactive memberships. (h/t PC Gamer)
Perhaps the biggest takeaway is that Microsoft will no longer continue to charge monthly fees if a Game Pass account falls dormant.
"Gamers need to be given clear and timely information to make informed choices when signing up for auto-renewing memberships and subscriptions," CMA executive director of enforcement Michael Grenfell said in a recent press release. "We are therefore pleased that Microsoft has given the CMA these formal undertakings to improve the fairness of their practices and protect consumers, and will be offering refunds to certain customers."
The full list of changes were detailed by the CMA as follows:
Better upfront information: Microsoft will provide more transparent, upfront information to help customers understand their Xbox membership–making clear, for example, that the subscription will auto-renew unless the customer turns off auto-renewal; when the subscription will auto-renew; how much it will cost; and how the customer can receive a refund after an accidental renewal
Refunds: Microsoft will contact existing customers on recurring 12-month contracts and give them the option to end their contract and claim a pro-rata refund
Inactive memberships: Microsoft will also contact existing customers who haven't used their memberships for a long time but are still paying. These customers will be reminded how to stop payments, and if they continue not to use their memberships, Microsoft will ultimately stop taking further payments
Better information about price increases: Microsoft will give clearer notifications of any future price rises, and will ensure people know how to turn off auto-renewal if they don't want to pay the higher price
While these improvements were previously meant only for the United Kingdom, a Microsoft rep told The Verge that Xbox Game Pass subscribers across the world will all benefit from them eventually.
Sony and Nintendo were also included in the CMA's investigation, which initially kicked off in April 2019, but there's currently no word on whether they plan to match Microsoft's commitments.
Xbox Game Pass has been a huge success for Microsoft, attracting over 18 million users to its hundreds-strong library of Xbox and PC games since launching in June 2017. Sony is reportedly developing a similar subscription for its PlayStation brand that could arrive as early as this spring.