2021 European sales rankings: Nintendo Switch and FIFA 22 the most purchased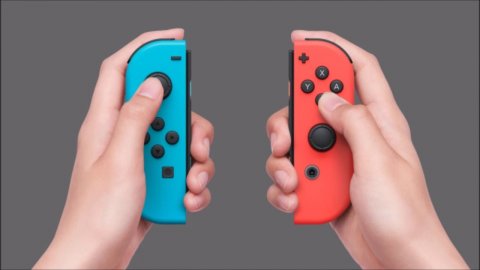 2021 European sales rankings
GSD has unveiled the sales figures of the gaming market in Europe in 2021, from which we learn that over 170 million games, 7 million consoles and 19 million accessories were purchased last year. FIFA 22 was the best-selling title ever, while in the hardware sector,
Nintendo
Switch beat
PS5
and Xbox Series X
| S, partly thanks to the semiconductor crisis.
The 170 million games sold in 2021, both in digital and retail, they represent a decrease of 9.5% compared to 2020, which however,
due to Covid
and lockdowns, had recorded understandably anomalous numbers. Compared to 2019, however, there is an increase of 12.3%.
FIFA 22 was the best-selling game in Europe in 2021, recording sales 17% higher than FIFA 21, which instead ranks in the lowest step of the podium. The success of the
EA Sports
title certainly comes as no surprise, given that football is the most popular sport in most European countries. GTA 5 and Mario Kart 8 Deluxe, on the other hand, are in second and fifth place respectively, proving once again to be timeless evergreens.
The second best-selling game released in 2021 is
Call of Duty
: Vanguard, which nevertheless records a 34% drop compared to the previous installment of the Activision Blizzard series. Pokémon
Shining Diamond and Shining
Pearl are out of the top 10, however considering them as a unique title (since it is basically the same game with very small differences) it would have placed fifth.
In 2021 7.1 million consoles were sold in Europe (however, it does not take into account the UK and Germany), marking an increase of 20% compared to 2020. Nintendo Switch is first in the hardware ranking, however recording a decrease of 6% compared to last year, but with higher sales in Italy, Denmark, Finland and Sweden. PS5 is second while Xbox Series X and S are third, with GSD obviously pointing out that this result is due to the semiconductor crisis.
FIFA 22 Below are the top 20 best-selling games in Europe in 2021 in digital and retail:
FIFA 22 GTA 5 FIFA 21 Call of Duty: Vanguard Mario Kart 8: Deluxe * Red Dead Redemption 2 Super Mario 3D World + Bowser's Fury * Call of Duty: Black Ops Cold War Assassin's Creed Valhalla Spider-Man: Miles Morales Animal Crossing: New Horizons * F1 2021 Far Cry 6 Minecraft: Switch Edition * Pokemon Brilliant Diamond * Rainbow Six Siege
Resident Evil Village
Battlefield 2042 Mario Party Superstars *
Ring Fit Adventure
*
* data of copies sold digitally not received
Have you noticed any errors?
---
Tesla's Model 3 tops Europe EV sales ranking as VW's Golf slows
Tesla Inc.'s Model 3 was Europe's top-selling electric car in 2021 as battery-powered vehicles emerged as a bright spot for an industry besieged by lockdowns and a shortage of semiconductors.
By| Updated on: 26 Jan 2022, 07:27 PM
File photo of a 2018
Tesla Model 3
  (REUTERS)
Tesla Inc.'s Model 3 was Europe's top-selling electric car in 2021 as battery-powered vehicles emerged as a bright spot for an industry besieged by lockdowns and a shortage of semiconductors.
The Model 3, pushing Renault SA's Zoe off the top EV spot, also vaulted past some of the region's most beloved models like Volkswagen AG's Tiguan and Peugeot 3008 SUVs for 17th place in the overall ranking, up from 41st in 2020, according to analytics firm Jato Dynamics.
Tesla's rise stood in contrast to a decline of traditional favorites like the best-selling VW Golf, which posted the biggest market share drop.
VW's electric ID.3, launched in 2020, failed to replicate Tesla's success, coming in 53rd in the ranking, Jato said. The overall market declined to 11.8 million vehicles, the lowest level since 1985.
"Crisis after crisis had a negative impact on demand and registrations in the market,' said Felipe Munoz, an analyst at Jato. "The ongoing uncertainty of the Covid-19 pandemic, alongside the prolonged semiconductor shortage created a perfect storm.'
Carmakers like VW and Stellantis NV are spending billions on rolling out a range of plug-in hybrid and battery-powered models, with consumers responding to generous subsidies to help cut emissions from the transport sector. Jato expects electrified cars to outsell diesel vehicles in 2022.
New challengers are emerging in the changing market. In 2021, Hyundai Motor Co. and affiliate Kia Corp. increased their market share in Europe by almost two percentage points to 8.6% due to their line up of SUVs and electric models, Jato said.
First Published Date: 26 Jan 2022, 07:27 PM IST