PlayStation Studios working on open world action stealth, for an insider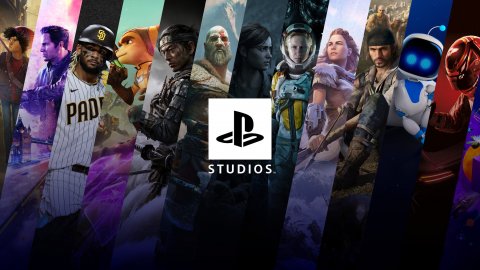 PlayStation Studios working on open world action stealth
One of the
PlayStation
Studios teams has gotten the green light from
Sony
and is working on an open world stealth action presumably for
PS5
. Or at least this is what the well-known insider Tidux says.
The deep throat, who seems to know several details about the project but who prefers not to unbutton too much "so as not to ruin the reveal", states that we can imagine this I play as "a mix between
Metal Gear Solid
5 and Splinter Cell and
allows you to
face missions as you like, with weapons drawn or without ever being seen".
Tidux, which recently also stated that in February there will be a new Sony
State of Play
entirely dedicated to
Horizon Forbidden West
, is unfortunately not one of the most reliable sources, with some of its tip-offs than in the past turned out to be wrong. To understand if the leak is concrete or not we will have to wait, probably for a long time.
In any case, from the description of Tidux it is not clear whether the alleged PlayStation Studios project is a new IP or whether it is a hypothetical reboot of the Siphon Filter or Socom series. Surely something new is booming at Sony, with Guerrilla Games also working on other projects besides Horizon Forbidden West and Bend Studio, authors of Days Gone, who are hiring for a triple A game, just to name a couple of the many teams. from PlayStation Studios stable.
Have you noticed any errors?
---
SYSTEM UPDATE: The 10 best video games of 2021
This was always destined to be a good year of video games, for so many reasons. Start with the fact that we're in the second year of the new generation of consoles, meaning developers could make games with even more confidence and comprehension of the hardware. Add in several major franchises getting new iterations. And finish with greater freedom across consoles; more Xbox, PlayStation and PC games than ever permitted Crossplay, opening the multiplayer and cooperative action to more people across more machines than ever.
It was all a perfect storm for standout games to thrive, and that's exactly what happened. This year's titles kept me up late at night and had me running on next to no sleep over the weekend, as I played through badass experience after badass experience. Here are my top 10 titles from the year, and 10 titles you'll want to make sure to have on your console.
1. 'Halo Infinite'
I've never ever played a bad 'Halo.' Seriously. Earlier this year, my brother and I started working through the entire franchise, starting with the original 'Halo,' and every single game, without fail, still holds up today. But even in this storied franchise, Infinite manages to be something special. It pushes the franchise into a brand new era, offering character progression and an open world, and it tells the most compelling story of any 'Halo' title. Despite this strong focus on storytelling, it still stays true to 'Halo,' consistently driving forward the action and letting you kill grunts and brutes with magical precision. Well done.
2. 'Deathloop'
Leave it to Arkane Studios to give us the most creatively bold game of 2021. 'Deathloop' reimagines storytelling and game progression, tasking you with taking down a series of targets in a single loop and adding to the action each time. It also reimagines how multiplayer can look; as you're chasing your targets down, an outside gamer can enter your game and try to take you down (assuming you decide you're open to that). The game does it all while also telling an engaging story and delivering on many of the gameplay conventions we've come to expect from Arkane, things like stealth and shooting and just enough puzzling to keep things going.
Story continues
3. 'Far Cry 6'
I've been in love with Ubisoft's flagship wildlands open-world title every since 'Far Cry 4.' And the latest game just may be my favorite. 'Far Cry 6' returns us to a tropical island (Yara, a take on Haiti), and has us facing another dictator in Anton Castillo, voiced by the great Giancarlo Esposito. And this time, the game dares to take things a bit more over the top in terms of firepower, giving you a backpack loaded with explosives and some other new goodies. The franchise skillfully toes the line between realistic action and 'Just Cause'-type wildness, but it never ceases to be fun, even in the moments when tale and game mechanics don't fully jive.
4. 'Hitman 3 '
The coda to IO Interactive's stealth series manages to reinvent an already-great game, delivering a series of levels that are full of surprises. We'd already had the first two chapters of 'Hitman' the last few years, and both were excellent, delivering open-ended gameplay in massive, varied environments. 'Hitman 3' changes things up by forcing you into new situations, letting you solve a 'Knives Out'-style mystery before one kill, having you take a winery tour with your prey as you find a moment to end her life the next. All the while, it wraps up a compelling story for Agent 47, one that'll leave you wanting more gameplay when it's all over.
Capcom's 'Resident Evil' franchise has been on a roll the last few years, shifting from chaotic action to more atmospheric experiences. Never is that more true than with Village, which leaves you to explore a desolate city and mansion, and forces you to be ready for battle. You feel more armed and licensed to shoot than ever, and yet, you never feel in control, always overwhelmed by elements that you don't understand. Wrapped in all this gameplay is a fantastic story, and it's told in splendid fashion.
6. 'Metroid Dread'
Samus Aran returns in a Nintendo title that decisively reminds us that classic action exploration games aren't dead. This is a 2D title in the vein of classic 'Metroids,' except the story is stronger, and, despite the exploratory elements you think of with 'Metroid,' there's a sense of, well, dread, thanks to the evil EMMI robots that stalk you and change the pace of gameplay at the most perfect (read: awful) times.
7. 'Returnal'
Time-looping gameplay was a thing in 2021, and both 'Deathloop' and 'Returnal' did it splendidly. 'Returnal' stars Selene, who crashlands on a hostile, unknown planet and must escape while uncovering unique story points. It's a game that changes how you view video game death in satisfying fashion, and it delivers some tremendous firefights, too. This isn't for the faint of heart, but it's well worth the challenges it presents.
8. 'Back 4 Blood'
One of the best cooperative experiences I've played in the last few years. The minds behind 'Left 4 Dead' craft an experience that has just enough story to keep you going, and fantastic gunplay, as well as an exciting, challenging card-based progression system that makes every single playthrough fresh and fun. This is a game that encourages coop play and can be as easy or challenging as you want to make it.
9. 'Guardians of the Galaxy'
Square Enix's first go-round with the Marvel license (2020′s 'Marvel's Avengers') has been a disappointment. But it's second turn, 'Guardians of the Galaxy,' is splendid. Star-Lord, Gamora, Drax, Groot, and Rocket Racoon all come to life, both in the aggressive action and in a fantastic, galaxy-hopping story that introduces you to various parts of Marvel's space world and never ceases to entertain. This game works hard to capture the dynamic of its superhero team, and it works to spectacular effect.
10. 'Shin Megami Tensei V'
Truth be told, I guess I've never really gotten over Persona 5 and how excellent that title was. 'Shin Megami Tensei V' brings over similar characteristics while returning to the franchise's darker, more foreboding tone, and casting you into a more solitary world. It also feels like a tougher journey, thanks to scarce resources and a need to always balance. Every battle is tense, even the ones you'd consider gimmes in other RPGs. But survival feels satisfying — if you can survive.