Activision Blizzard: the games that could become Xbox exclusive, after the acquisition of Microsoft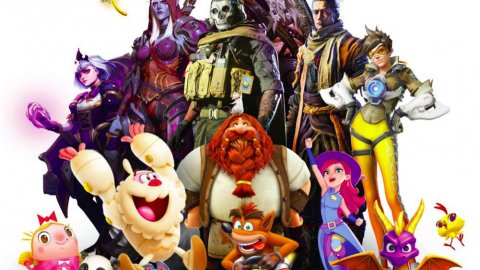 Activision Blizzard
The news of the acquisition of Activision Blizzard was a real bolt from the blue. The American giant, in fact, despite the difficult period it is experiencing, has never been placed with conviction within rumors of possible acquisitions. There has been talk of Take Two, sometimes of EA, sometimes even of Ubisoft. But of Activision really never. On the other hand we are talking about one of the biggest names in the industry, it seemed impossible he could marry somewhere.
It is a leading company, present since the dawn of the industry, a giant that for years it has managed the most important licenses on the market and that indeed was used to incorporating other studios: just think of King or the collaboration with Bungie.
We are facing one of the major players in the traditional sector, a conglomerate from over 10 thousand employees who have talent, experience and pedigree in their portfolio. With 70 billion dollars, Microsoft has brought home a leading publisher, perhaps no longer at the peak of its parable, but still in possession of some of the most powerful and influential series in the entire sector.
The catalog Activision Blizzard, in fact, is made up of multimillion-dollar series, famous games, loved and known by all. They range from the harp to the competitive title, from the hardcore MMO to the frenetic shooter, through platform, racing and strategy games. So here are the Activision Blizzard and King games that could become Xbox exclusive, after the acquisition of Microsoft.
Activision games
Activision logo Let's start with the parent company. Born in 1979 in Santa Monica by some former Atari employees, in its long history Activision has changed its skin several times to remain at the top of the sector. In 1991, for example, one step away from bankruptcy it was bought for about 500 thousand dollars by a group of investors headed by Bobby Kotick who restructured the company and expanded it through several series that over the years have become true icons such as:
Call of Duty is arguably the most important series in Activision's catalog. Developed in 2003 by Infinity Ward (the studio founded by Vince Zampella, Grant Collier and Jason West), CoD was a cinematic first-person shooter set during World War II. Over the years, however, the series has been able to evolve in order to embrace all the main trends of the moment such as online multiplayer (the real flagship of Modern Warfare), cooperative play (the zombies of Call of Duty: World at War) , the mobile game (Call of Duty Mobile) or the battle royale (Call of Duty: Warzone). One thing that has allowed it to consistently be among the most profitable brands in the entire industry.
Wherever the Call of Duty series has landed it has reaped success, so much so that it has focused Activision's energies on the production of new content, whether it's from the main series, for the mobile spin-off or Warzone. The latter, for example, can count on over 100 million players to which must be added the millions of copies sold annually by the main chapter of the series.
Tony Hawk's Pro Skater
Tony Hawk's Pro Skater is a niche series, but it is one of the cult names in Activision's catalog, so much so that it has recently released a remaster of the first two chapters. Tony Hawk's Pro Skater invented skateboarding games and evolved them to such an extent that the first two chapters are still extremely popular and original, with their evolutions, soundtrack and many champions present. Despite being a remaster, Tony Hawk's Pro Skater 1 + 2 was the game in the series that quickly reached one million copies.
Guitar Hero's guitars were a true cult object
Guitar Hero
Nowadays the Guitar Hero series might say little, but at the time of its 2005 release, Harmonix's rhythm game was one of the biggest names in the business, capable of moving millions of copies and sell as many plastic guitars. The merciless war with EA and its Rock Band brought the market to saturation and the still good Guitar Hero Live of 2015 failed to revive a genre that, we are sure, could still recall some of the millions of nostalgic rockers captured by the series and spin-offs, DJ Hero and Band Hero.
Pitfall!
Speaking of nostalgia, Activision's first big hit is a certain Pitfall! , one of the games that helped create the two-dimensional platforming genre. Developed by David Crane in 1982, Pitfall called for over 255 schemes crammed with lianas, crocodiles and obstacles in order to collect as many treasures as possible. Despite the 5 million copies sold, Pitfall! has never been able to reinvent itself over the years, but it is still one of the most historic licenses in Activision's catalog.
Crash Bandicoot
Crash Bandicoot is one of the most iconic characters in Activision's catalog. . Originally developed in 1996 by
Naughty Dog
(those of Uncharted and The
Last of Us
) for PlayStation, the series over the years has landed on almost all platforms on the market, maintaining, however, a particular connection with the audience of Sony consoles. It is a series of 3D platformers with a good narrative development that has created a collection of characters with an absolute depth as they have subsequently given view to spin-offs of various kinds, such as an endless runner and a very popular kart game: Crash Tag Team Racing.
Crash Bandocoot has been one of the best known PlayStation mascots for years
Spyro the Dragon
Spyro the Dragon is another series that has a strong connection with the PlayStation audience. Born at Insomniac Games (now an integral part of PlayStation Studios) in 1998, the Activision series was a Sony console exclusive for years, before going cross-platform with the lucrative spin-off: Skylanders: Spyro's Adventure. Thanks to it, Activision has also produced toys directly for some years (over 30 million puppets have been sold), as well as having come into contact with Netflix which has released three seasons of the homonymous television series.
Techu / Sekiro: Shadows Die Twice
Both developed by FromSoftware (the ones from Dark Souls and Elden Ring) and published by Activision, the Techu and Sekiro: Shadows Die Twice series have a lot in common. It is action-adventure with stealth elements set in feudal Japan and in the third person. The original Tenchu ​​(1998) is a series that is estimated to have sold around 10 million copies, but its complex publishing history (brand rights are expected to be returned to From Software, while those of the games remain with Activision) pushed the two companies to develop a sort of spiritual sequel in concert, Sekiro: Shadows Die Twice, a game that blends some of the elements that made the Dark Souls series so popular. The success was resounding, as Sekiro: Shadows Die Twice has sold over 5 million copies since its March 2019 release, as well as winning countless Game of the Year awards.
The series forget
There are dozens of Activision series that have fallen into oblivion, but all with enormous potential: True Crime, Space Quest, King's Quest, Cabela's and Geometry Wars. Also in its catalog there are excellent Spider-Man and Transformers games.
Blizzard games
The Blizzard logo Until a few years ago Blizzard was one of the purest and most loved pearls of the sector, able to have legions of fans willing to do anything, who were pampered through an infinite series of games of absolute quality. Founded in 1991 as Silicon & Synapse by Michael Morhaime, Frank Pearce and Allen Adham, the company was famous for a long time for its long development times, but which gave birth to real masterpieces. Blizzard was bought in 1998 by Vivendi who in turn merged with Activision in 2008 giving life to the giant we know today. Despite the many scandals that have involved it in recent years (Blitzchung, WarCraft III: Reforged, the allegations of employee harassment), Blizzard's catalog remains one of the strongest and most loved in the industry.
Warcraft
How not to start with Warcraft?
World of Warcraft
is, despite many years of service (it is a game released in 2004), still one of the most played and popular MMOs in the industry with an average of over 1 million active players. Warcraft III: Reign of Chaos (2002) is one of the best-loved and best-selling (an estimated 5 million copies sold) real-time strategy game ever and even the film of the same name, despite its limitations, was a hit with over $ 439 million at the box office.
The created lore is one of the most loved in the sector, with many characters who have become true icons, it will be enough to simply exploit all this potential in the best possible way. On the other hand we are talking about a series that already in 2018 had produced over 11 billion in revenues and generated countless successful spin-offs, including video games (HearthStone), but also in other media such as comics or novels.
All without forgetting Blizzcon, the annual fair where thousands of Blizzard fans gather to show off their love of company and hear all the latest company news.
Diablo
Diablo is undoubtedly one of the most recognized and loved brands in the industry, although it has always been the series that has created the most friction between Blizzard and its fans, just think of the Diablo 3 auction houses or the controversies related to Diablo Immortal. A game that has not yet officially come out and which, together with the fourth official chapter, could represent the redemption of Blizzard in the eyes of its many fans. Its dark atmospheres, magnetic yet challenging gameplay, and near-infinite replay value make Diablo one of the shining examples of how Blizzard develops games.
With over 100 million copies sold and a loyal and loyal community of players. passionate, the Diablo series is one of the greatest treasures Microsoft has obtained by buying Activision Blizzard.
Reynor is one of the greatest Starcraft champions on the
Starcraft
esports circuit. Starcraft is no longer what it used to be, Blizzard's real-time strategy has helped forge esports as we know them today. All thanks to a perfectly balanced strategy, able to combine an exciting and well-written campaign with intelligent and highly competitive multiplayer. Without considering the commercial value, also in this case we are talking about a series that has generated more than a billion dollars from 1998 to today.
Speaking of esports, for a a good number of years the Overwatch League has been referred to by many as
the future of
electronic sports. Blizzard's team-based hero shooter combined spectacular and fun gameplay with captivating character design that, in Activision's plans, were to serve as the basis for a superior professional esports league, based on the rules and organization of American sports. like the NBA or the NFL. The Covid pandemic, some controversial choices and the very high management costs have put a stop to this pharaonic project. The 2016 game and its sequel, Overwatch 2,
are still very
much in play and ready to resume the discussion.
We are talking, even in this case, of a series that has generated over a billion dollars during its first year, involving over 50 million players.
A Hearthstone card
Hearthstone: Heroes of Warcraft
Similar to all other Blizzard games, including Hearthstone: Heroes of Warcraft ( 2014) is not experiencing its heyday. For years, however, the Warcraft universe-based trading card game has attracted millions of users who have competed in a friendly and competitive way to find out who was the strongest player in the world. Also giving life to countless clones, which have gradually eroded its appeal.
Despite this, it is a series capable of earning over 40 million dollars a month in 2017, as well as attracting more than 100 million of players already in 2018.
The forgotten classics
Despite the polarization of recent years, Blizzard has in its catalog experiences of different nature and all beloved as the beat'em up The Death and Return of Superman, the racing game Rock n 'Roll Racing, the platformer The Lost Vikings and the two-dimensional adventure Blackthorne.
King's games
King's logo Despite not having the pedigree of the other two parts of the company (despite the name), King is undoubtedly an important element of the Activision Blizzard chessboard which spent 5.9 billion dollars in 2016 to buy the publisher founded by Riccardo Zacconi in Stockholm.
King has quickly become a d leading companies in the growing mobile sector, one of those players able to understand on the one hand the playful potential of smartphones, on the other hand able to create magnetic experiences, easy to start, but able to capture the player who is willing to spend your money to proceed faster.
Candy Crush Saga
Candy Crush Saga is a simple "match three" game that already had almost 50 million players in 2013. A simple game mechanism, able to adapt to the user's time and an economic model based more on large numbers than on large expenses have made Candy Crush Saga a real money machine, as well as one of the essential apps on mobile phones. many people, also thanks to the connection with Facebook.
Have you noticed any errors?