Top 5 games on Huawei AppGallery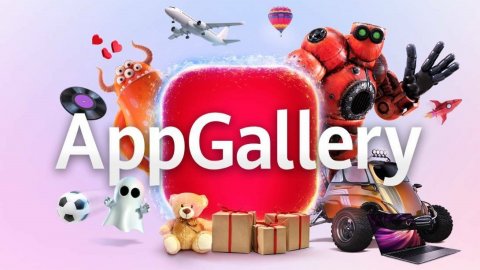 Following the infamous American ban of 2019, Huawei has created its own proprietary ecosystem based on the home operating system, HarmonyOS, completely independent from Google Android. Among the various consequences of this forced choice, the most evident was the need on the part of the Chinese company to provide its users with a virtual space from which to download applications: we are talking about AppGallery, inaugurated in 2018 and quickly become the third largest app store in the world, available in 170 countries with over 120,000 apps and more than 530
million monthly active
users. Among other things, it can be freely installed on any device equipped with Android and therefore perfectly independent from Huawei devices.
Among the 18 categories of apps available on the AppGallery, a relevant part is obviously played by that relating to video games, among the contents most downloaded ever in the mobile field and consequently also on Huawei devices. In light of all this we have decided to draw up a list of the
best games on
Huawei AppGallery, trying as much as possible to include different genres in order to meet everyone's tastes!
All these
video games are
also available on Android through the Play Store, but by redeeming and installing them through the Huawei digital store, you will have access to a whole series of additional bonuses and privileges in case you decide to proceed with in-app purchases: discount coupons, cashback in Huawei Point and even gift codes. Paradoxically, it even becomes more convenient to play through the Huawei AppGallery rather than the usual Android Play Store.
1. Asphalt 9: Legends
Asphalt 9: Legends is definitely the best racing game on the AppGallery It will be an obvious choice, but in fact Asphalt 9: Legends continues to be the racing game of reference for the mobile landscape, and being able to find it also on the AppGallery can only make Huawei users happy. Released in 2018, acclaimed by critics and also by our review, the Gameloft title in recent years has certainly not rested on its laurels, arriving substantially on every known platform and continuing to update itself with new content to be fed to its vast audience.
Downloading it now means being faced with a mammoth offer, which counts on a large catalog of dream cars, a Career mode full of events and a multiplayer component suitable for both the most competitive souls and casual players. This ability to address both experts and beginners is also reflected in the choice of providing two distinct control systems, the first more classic and the second highly automated to make literally anyone experience the thrill of speed.
In all this, it doesn't hurt that Asphalt 9: Legends is embellished with a still excellent graphics, not surprisingly used frequently as a benchmark to evaluate the performance of a smartphone in the gaming field. In short, even if it were only to test the GPU of your Huawei device, there is really no valid reason not to download Asphalt 9: Legends from the AppGallery.
As if all these arguments were not enough, the The application is also available as a free download and uses free to play dynamics that are permissive enough to allow a peaceful coexistence even with those who do not intend to spend a cent on it.
2. State of Survival
State of Survival is on the AppGallery with its mix of strategy and tower defense In a very crowded genre like that of management, State of Survival stands out as one of the most complete and varied experiences, thanks to forays into the territories of strategic and tower defense that help keep the pace of the game lively. Developed by KingsGroup and available for free for download on the AppGallery, the title pays the price of a setting to say the least obvious like that of the zombie apocalypse, but otherwise it performs very well in all its components.
Much of the experience is focused on building and growing your own survivor camp, with mechanics that take off from the classic Farmville setting but carefully avoid the overly simplistic and automated drift of similar products. But there is just as much to do beyond the gates of the outpost, between missions against enemy factions in a real-time strategy style and challenges that stage battles in tower defense sauce. In the latter case you have to command your team to repel enemy attacks, moving units where necessary and using special skills with the right timing.
Nothing particularly complex or profound, it must be said, but a mix that
it works and
that makes State of Survival more enjoyable than many similar products that are based on more banal mechanics or that rely excessively on microtransactions, obviously present here considered the free download of the game, but in such a way as not to affect too much the progression of those who do not
want to make
in-app purchases.
Although the technical implementation does not represent the state of the art of mobile gaming, State of Survival remains an excellent title that thanks to its versatility could also meet the tastes of those which usually bypass productions of this genre.
3. Top Eleven 2022
Top Eleven 2022, one of the most popular
football
managers, is available available on the AppGallery Italy, a country of saints, poets, navigators and coaches, therefore it is impossible for us not to include Top Eleven 2022 in this list, the most recent version of football managerial by Nordeus that you can find on the AppGallery for free download. For those unfamiliar with it, it is a well-established series with over 11 years of activity behind it, millions of players around the world and an exceptional testimonial such as Josè Mourinho, current Roma coach. The title
allows you to
manage your team in the round, starting it from the lowest leagues with the aim of getting to win the most prestigious cups and trophies.
Preparation for matches - between training sessions, choice of formations, tactical indications and so on - thus becomes only the tip of the iceberg of a truly stratified system which includes transfer of players, development of the youth sectors, relationships with dressing room, press and management and even the construction and customization of their own stadium. In all this there is obviously the multiplayer part that opens the way to challenges against the formations of managers from all over the world, for a rich and profound playful offer.
The downside, however, is there and it is represented by a free to play mechanism that is not exactly crystalline, which constantly pushes the purchase of content in order to improve and which can take an unpleasant pay to win drift especially at the highest levels.
If you are
willing to turn a blind eye to this aspect, or if more trivially you do not exclude a priori the possibility of spending a few euros in the store inside the application, in Top Eleven 2022 you will find a product that has few rivals in the managerial field. mobile.
4. Garena Free Fire
If you want some battle royale action, Garena Free Fire is the game to download on the AppGallery An exponent of the battle royale genre; like it or not, one of the most sensational phenomena in recent videogame history. Without going to touch the well-known Fortnite or PUBG, here we are talking about Garena Free Fire, available for download on the AppGallery for free. Born in Singapore and on the scene for some time, the game does not hide its clear inspiration from the two aforementioned titles and indeed, in certain areas it struggles to go beyond the definition of a simple clone: ​​however, there is no lack of distinctive aspects that can make it preferable to more established games.
To begin with, matches are structured to last no more than ten minutes, with the typical danger zone shrinking very quickly and thus paving the way for more dynamic and faster battles. Secondly, the controls have been simplified as much as possible to meet even the less experienced players, thanks to an automated targeting system that makes kills easier, breaking down that barrier to entry that is always a significant obstacle to overcome in products. of the genre.
Garena Free Fire therefore adopts a more arcade approach, but without sacrificing variety, with maps and modes that are constantly updated and modified and events and collaborations with other brands that always stimulate launching the application to see what happens. The freemium system is then based on the aesthetic elements that can be purchased to embellish your character, without therefore benefiting the users who put their hand to the wallet. In short, it may be true that originality and style live elsewhere, but if
you want to
launch into a battle royale with your Huawei device, Garena Free Fire is undoubtedly the app to download.
5. Lords Mobile
Lords Mobile is a classic of mobile strategy also available on the AppGallery Strategy in the smartphone field often rhymes with Lords Mobile, a real authority in this field that has been crunching numbers since 2016 impressive in terms of active users in the world. Available on the AppGallery as a free download, the IGG product involves the user in various activities, with the aim of increasing one's power and expanding to the detriment of the opponents.
First of all there is the fundamental component of city building , where resources must be collected and spent to build new structures or expand existing ones. It is then necessary to field your armies to attack enemy outposts or defend against a siege, using real-time strategy mechanics that require you to place and give orders to troops. Finally, there are the battles of the heroes, where special characters line up in battles that draw from the world of tower defense, with skills and powers to be activated at the right moment.
A winning mix that has made school and that not surprisingly has been replicated countless times, but Lords Mobile still manages to behave as a leader, thanks above all to a clear and functional interface as needed and to a right balance between immediacy and depth. Moreover, it is one of those potentially eternal games thanks to a multiplayer substrate that permeates the entire play experience: not only for the possibility of setting up conflicts against the armies of other human players around the world, but also and above all for the presence of guilds that allow users to join forces to achieve common goals. Although technically it appears a bit dated and is not exactly crystal clear in the application of its free to play dynamics, Lords Mobile remains an experience absolutely to try.
Have you noticed any errors?