Creative SXFI Carrier is the first soundbar with Super X-Fi holography and Dolby Atmos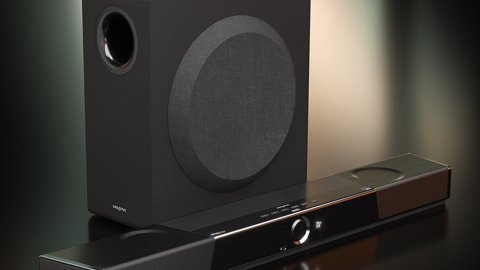 Creative SXFI Carrier is the world's first soundbar with X-Fi holography and Dolby Atmos speakers: a mix of technologies that aims to bring this type of compact device to new quality standards, and it does so in light of a close collaboration with Dolby Laboratories .
The result is a high-end audio system, also available in Italy at the not exactly accessible price of € 999.99, but with an extra to keep in mind: free with every purchase we find the Creative headphones SXFI Theater, which alone cost € 199.99 and allow you to take advantage of all the product features right away.
Features
Creative SXFI Carrier, the set consisting of soundbar and subwoofer Awarded at CES 2020 as the best product of the show by three different international newspapers, Creative SXFI Carrier redefines the concept of audio quality in the field of compact soundbars thanks to sophisticated and innovative solutions. in terms of design and engineering.
We are
talking about
a device equipped with a wireless subwoofer, which despite a length of just 88 centimeters is able to guarantee amazing sound performance. Thanks to SuperWide technology, which literally "opens up" the acoustic landscape thanks to a set of seven speakers, each equipped with a DSP amplifier.
"We are thrilled to have worked with Creative to bring this unique soundbar to the of its kind to consumers around the world, "said Pankaj Kedia, managing director of the Emerging Markets division of Dolby Laboratories. "Consumers will be able to enjoy the breathtaking Dolby Atmos experience through an innovative acoustic design developed by Dolby, unprecedented for such a compact product."
The starting idea for SXFI Carrier is to reproduce the performance and yield of the Creative X-Fi Sonic Carrier, with its fifteen drivers, using less than half of the speakers and substantially priced accordingly. inferior. The aforementioned ten-inch wireless subwoofer contributes to this effect, which is responsible for transmitting the lowest frequencies with depth and detail.
X-Fi holography
Creative SXFI Carrier, the arrangement speakers in the soundbar. As mentioned at the beginning, Creative SXFI Carrier is the first soundbar in the world with X-Fi holography, an award-winning technology that conveys the audio of an entire sound stage into a pair of headphones and personalizes it using
artificial intelligence
. An extremely effective solution, able to offer us incredible audio even when using a headset.
"With going to the cinema as a" forbidden dream ", SXFI Carrier offers users an all-round cinematic experience in complete safety and in the comfort of your own homes, "said Sim Wong Hoo, CEO of Creative. "In addition, with Super X-Fi holography, users can enjoy the Dolby Atmos experience through headphones, both day and night."
Super X-Fi technology
In 2018, Creative launched an all-new, revolutionary and award-winning headphone technology called Super X-Fi. This technology uses computational audio to recreate the output of a multi-speaker system like in a professional recording studio and offers the same experience of depth, detail, realism and immersion in headphones. Super X-Fi also uses Artificial Intelligence to calculate a customized audio profile based on a person's specific needs.
Connectivity
Creative SXFI Carrier, here are some of the ports
available on
the back of the soundbar In terms of connectivity, Creative SXFI is surprisingly versatile. The soundbar is in fact equipped with Bluetooth 5.0 technology, 3.5 mm audio jack, optical input, USB-C and USB-A ports, an HDMI eARC for uncompressed HD audio, two HDMI 2.1 inputs for the passage of sound from an 8K video source and full compatibility with
Dolby Vision
.
"SXFI Carrier is the result of an important collaboration between Dolby and us, has crossed so many boundaries and realized so many possibilities of what a compact soundbar can achieve, a result that can only be achieved with the dedication and commitment of both teams, "added Sim Wong Hoo, CEO of Creative.
Data sheet
Creative SXFI Carrier, front view
Type: soundbar Subwoofer: yes, wireless Total power: 450W RMS Remote control: yes Frequency response: 25 Hz - 20 KHz Bluetooth: yes, 5.0 Codecs supported: SBC Ports: 1 x HDMI output 2.1, 2 x HDMI 2.1 input, 1 x optical input, stereo auxiliary analog input, subwoofer output, ingre sso DC, USB-C audio in, SXFI USB-A out, front panel headphone out Soundbar dimensions: 880 x 128 x 76mm Subwoofer dimensions: 225 x 430 x 450mm Soundbar weight: 3.6 Kg Subwoofer weight: 12.8 Kg Price: 999 €
Have you noticed any mistakes?