Sony's summer without E3 2021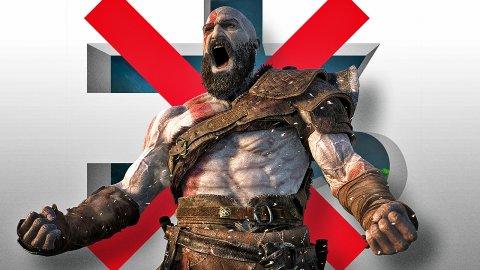 Sony is currently the most indecipherable of the big console makers, in the sense that it's really hard
to figure out
what its strategy for
PS5
might be in the coming months. After announcing the postponement of God of War: Ragnarok to 2022 and the possibility that the same happens with
Horizon Forbidden West
, to which, however, it has already dedicated an entire State of Play, it is not clear how it could move from here to the next year and if has some surprises to pull out of the hat to try to close, or at least plug up, the big gap of exits that has arisen.
The choice not to participate in the Los Angeles fair also made his movements are even more unpredictable. So let's try to analyze how Sony's summer could be without E3 2021.
Xbox Game Studios to the rescue
Will Xbox Game Studios save PS5? The paradox of this whole situation is that PS5's second half of 2021 could be saved by Xbox Game Studios. On September 14, in fact, Deathloop by Arkane Studios will be released as an exclusive time for PS5 and PC, and
there is talk of
a launch in 2021 also for Ghostwire: Tokyo by Tango Gameworks, another exclusive PS5 and PC temporal exclusive, which presumably will arrive in October or November .
Currently, they are the two most important titles to be released on PlayStation consoles by the end of the year, if we do not consider Ratchet & Clank: Rift Apart, which will however be available starting from 11 June and therefore belongs to the first half of 2021. On August 24th Kena: Bridge of Spirits will be released, a smaller but still very interesting production. Sure, we don't believe it's capable of galvanizing the masses, but some will definitely like it.
Will there be a full spectrum State of Play?
Will Horizon Forbidden West make it out in 2021? So, in hindsight, owners of PlayStation consoles, in particular PS5, will not be completely dry for the rest of 2021, even if all the big Sony first party exclusives are missing. The question is whether these titles are enough to justify some event - a broad-spectrum State of Play with multiple announcements - that looks like a conference like
Microsoft
's E3 or the upcoming
Nintendo
Direct.
In case Sony intends to do something by surprise, since it hasn't announced anything at all for now, the solution could be to include third-party cross-platform games on the show, most of which, however. it will certainly be on the stages of its publishers. In this way it would give the idea that there will still be play on PS4 and PS5 throughout 2021, regardless of Horizon
Forbidden West and
God of War. Another solution could be to also show the games that will be released in 2022, such as those already mentioned several times, with the addition of Gran Turismo 7 and some other exclusive exclusives such as Final Fantasy XVI (provided that both really come out in 2022. ). We imagine many players would be happy to see Kratos and Aloy in action, despite the postponements.
Sony may also decide to announce some titles that we will see later in the years, just to give players a broader perspective. After all, there are at least twenty-five games, between first party and second party, which will certainly be PlayStation exclusives, so something could be pulled out to make up numbers. Or it could finally show PSVR 2, with some of the new games certainly in development. Sony's next-generation VR headset has been announced, but has not yet been unveiled. What better time to do it?
A question of communication?
God of War: Ragnarok: the graphic logo is still all that has been seen of the game The question, as you may have understood, is that at Sony everything is very nebulous for now, in the sense that, as already stated, it is not really easy to understand how the Japanese multinational wants to move in the coming weeks, let alone in the coming months! The fact that it has already entrusted the news of the postponements (in a probable, but not sure case) of its two mid-term flagship games to an interview gives the impression that the company is going a bit off the cuff in the decisions and in the management of their disclosure.
In this sense we would like to see a little more clarity from what is still the hardware manufacturer with two of the best-selling consoles on the market and constantly boasting incredible numbers. Organizing a conference at E3 is not an obligation and in recent years Sony has shown that it can live very well even by keeping a safe distance from the fair, but something has to do, especially after having given the news taken so badly by the vast PlayStation community. br>
Which PlayStation Studio games might be announced?
Ratchet & Clank: Rift Apart is on the way It's hard to say which PlayStation Studios games might be announced or shown in the coming weeks. Let's study the situation studio by studio and see what the prospects are.
Naughty Dog launched
The Last of Us
Part II on PS4 last year and recently released an update of the same for PS5. Surely Druckmann's studio is working on something big, but for a real presentation we would look more to 2022 than the current year, given the development times of his other games. Maybe it could show some teaser in computer graphics, but nothing more. The Last of Us 3 is out of the question, as Druckmann himself talked about having just sketched the story on paper, so we don't think there's anything to show yet.
Guerrilla Games has Horizon Forbidden West launching and let's imagine that she is too focused on this to think about announcing anything else. Ditto for Polyphony with Gran Turismo 7 and for Sony Santa Monica with God of War: Ragnarok. Of the latter so far only the logo has been shown, so the gameplay could finally be revealed, perhaps played on PS5.
Insomniac Games is about to launch Ratchet & Clank: Rift Apart and at Christmas 2020 it has launched Marvel's Spider-Man: Miles Morales, including a remastered edition of the base game. It is a concrete and hyper productive study, but we imagine that it is really too early to announce the next game, which could still be a new Marvel's Spider-Man. Sure, these often work wonders, so we're ready to be proven wrong.
Sucker Punch launched Ghost of Tsushima last year and, given the development time of the studio's games, usually quite complex open worlds, it is really difficult that he already has something concrete to show. Maybe a teaser without even the year of release, but nothing more.
Gran Turismo 7 is busy Polyphony SCE London could instead come up with some surprises. Rumors have it that he is working on a new open world in the style of The Getaway series, which he may even have resurrected for a launch on PS5, but so far there have been no announcements on the matter. Frankly it's not even clear how long they've been working on it, so it could really be one of the PlayStation announcements of the short / medium term as far as we know.
Media Molecule launched Dreams in 2020, after a gestation that lasted several times. years. Many expect some update to arrive soon, but the poor success of the game may have hijacked the study on the development of some other title, perhaps more canonical (also given the ousting of the founder). Also in this case the times to have something ready already seem very tight, unless it is a minor project, so we would exclude being able to see the gameplay. At most one teaser.
Sony Japan is in the process of reducing its staff and recently launched Astro's Playroom, given free together with PS5, and the remake of Demon's Souls, made in collaboration with Bluepoint Games. He will hardly announce anything anytime soon. Bluepoint Games itself certainly has a new project in the works, but it has just launched its biggest effort, so it will definitely have nothing to show.
MLB The Show 21, a very successful title, but little known by the our parts SIE Bend, the studio of Days Gone, launched its latest game in 2019, if we do not consider the PC version of the same release in the past few weeks. It is said that he is working on a new intellectual property, but perhaps it is too early to show it, given the turbulence it has experienced in recent months. However, it is one of those studios that may have something new to show before others.
SCE San Diego has so far worked on smaller projects such as Kill Strain and StarBlood Arena. For the rest, the studio is completely dedicated to the MLB series: The Show, little known to us but much loved in the United States (it's baseball, after all). The latest episode sold very well, so the sequel, MLB The Show 22, is likely already in the works.
SCE Foster City is a notorious backing studio, helping other studios finish their games . He will hardly announce anything of his own.
For the rest there are some games from third-party studios, funded by Sony, but of which we do not know the development status. Firewalk Studios, founded by former Bungie Harold Ryan, has announced that it is working on a multiplayer game for PS5, of which, however, it has not shown anything.
The Getaway: new chapter coming? It should be in the works from 2018, so something could be presented soon anyway. Haven, the new studio of Jade Raymond, is also working on a game for PS5, but it is impossible for it to show anything in the short term, since it has been in existence for a few months (unless it has collected the pieces of some game in development for Stadia, already in an advanced state of development). There is also talk of a new agreement between Sony and Kojima Productions, but in reality nothing is known for sure about it, so it is difficult to consider it a marriage already made.
And the services?
Another possibility, but extremely theoretical, is that Sony points to announcements related to its subscription services, in particular PlayStation Now, to really start chasing Microsoft and its Xbox Game Pass. Maybe it could announce an upgrade of the service or the fact that in the future the PlayStation first party games will come out at launch directly on Now, as happens at Microsoft. Mind you that ours are only speculations, because for now nothing is known about it, so take them as such.
Other speculation could concern the launch of playable demos to download from the PlayStation Store, to follow in the wake of the success of Play at Home, similar to what Valve did with the Steam Game Festival. We repeat: it is just our idea and there are not even rumors about it, so don't take it for granted and just consider it a fascinating possibility for the immediate future.
Have you noticed any mistakes?