Psychonauts, a pending retrospective of Psychonauts 2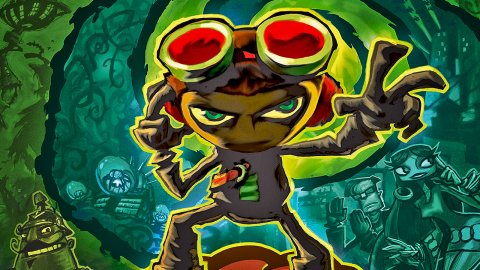 Psychonauts
Psychonauts is an emblematic case of how a very active community of players, however small, can succeed in the miracle of keeping a game alive for many years, eventually producing a sequel, Psychonauts 2. To realize how much he is loved, just take a look at his Steam page and see the percentage of positive reviews, which between old and new stands at 95-96%. Released in 2005 under the Majesco label, it was Tim Schafer's attempt to tackle a genre other than those that had made him famous, while launching the newly formed Double Fine Productions. Schafer was known for graphic adventures such as
The Secret of
Monkey Island (made under the direction of Ron Gilbert), Full Throttle and, above all, Grim Fandango. His ability to write entertaining and profound videogame comedies, tackling themes that are often not easy, was put to the test by a genre usually very light in content, that of 3D platformers, dominated by Italian plumbers, sentient eggplants and other anthropomorphic creatures. What could poor Razputin "Raz" Aquato say in the midst of this bestiary? Let's try to find out in this short retrospective.
Psychonauts
Raz at Psychonaut Training Camp Psychonauts is set at the Whispering Rock Psychic Summer Camp, a government facility with an unusually complex history, where individuals with psychic powers are trained to transform them into Psychonaut, ie agents capable of penetrating into the psyche of people. The place was hit by a meteorite in ancient times, and since then anyone who lives there tends to develop special powers, which however often lead to madness. A certain Houston Thorny even tried to found a city there, but
almost all of
its inhabitants ended up in a local asylum and he himself committed suicide by jumping from the highest tower of the same. The meteorite crater was then turned into a lake and the government decided to cover up the whole thing, but only to pursue its secret purposes.
Psychonauts, one of the levels set in the psyche Raz is one of the little boys who aims to become a Psychonaut. Son of two circus performers, who taught him many tricks of the trade (hence his agility), he voluntarily embarked on this particular career, in contrast to his father's wishes. Not officially admitted, he attempts to stealthily infiltrate training camp, but is discovered. While he waits for his parents to come and get him, he is allowed to take the Psychonaut basic course for wannabes, in which he achieves excellent results. Together with him there are many other kids with psychic powers, including Lili Zanotto, daughter of the head of the Psychonaut, with whom he will fall madly in love, and, of course, the managers of the field, four adult Psychonauts: the coach Morceau Oleander, the scientist Sasha Nein, the likeable Milla Vodello, and the brilliant Ford Cruller, who suffers from dissociative identity disorder and who will be of great help during his adventure. Given Raz's abilities, Nein asks him to participate in an experiment in which he has a vision, but which nobody believes. He will then decide to continue his investigation alone, discovering a dark plot involving some of the other characters and which will lead him to penetrate the disturbed minds of unsuspected enemies.
Birth
A canceled sequence Full Throttle Inspired Schafer for the Psychonauts Story Tim Schafer said he conceived the Psychonauts story during the development of the point and click adventure Full Throttle, in which the protagonist Ben was supposed to have a psychedelic experience induced by consuming peyote. The sequence was cut, but Schafer processed it and turned it into the basis from which
the story of
his first 3D platformer came to life. We are in the Lucasarts era and Schafer had not yet founded Double Fine. Raz was named after the animator Razmig "Raz" Mavlian, with whom Schafer had collaborated on several projects and who will also follow him in his new software house. From the point of view of gestation we are faced with a strongly authorial title, with Schafer who dedicates himself to writing almost all the dialogues and conceiving in psychic worlds visited by Raz.
Despite Schafer having very clear ideas about what he wanted from Psychonauts, development was not easy. The development team knew how to make a 3D platformer, but they didn't
know how to
deal with certain organization issues and there were therefore major slowdowns. For example, Double Fine's first office was established in a warehouse that turned out to be an unsafe place, forcing a change of location that was not exactly painless in terms of cost and time. Schafer himself was a problem: initially he wanted to manage everything, from programming to the creative side, but in 2004 he had to give up and delegate the technical side, to focus on the other, so as to accelerate development and be able to launch Psychonauts in 2005.
Troubled development
Psychonauts had to be an Xbox exclusive The biggest problem, however, was purely financial. Psychonauts was originally supposed to be released by
Microsoft
as an Xbox exclusive. Ed Fries, the then vice president of the publishing side of Xbox, was enthusiastic about the game and wanted it in the console's portfolio. The problem is that he also wanted to impose major changes to the plot and gameplay, so much so that he was at odds with Schafer. The development team then found themselves struggling with crazy deadlines and endless discussions, which ended when Fries left Microsoft in 2004. Too bad that his departure also corresponded to the cancellation of the publication agreement. By now the Redmond house regarded Psychonauts as too expensive and overdue, that is, almost irrecoverable, despite Schafer having set a release date. With Microsoft's faucet turned off, Double Fine seriously risked bankruptcy, but was saved by the intervention of Will Wright, a great friend of Schafer's, who granted him a loan from the funds obtained by selling his Maxis to
Electronic Arts
.
It was Will Wright who saved Double Fine after the breakup with Microsoft The publication agreement with Majesco only came in the second half of 2004, but it led the development team to start a period of crazy crunch, to respect the deadline set for the release, also aggravated by the addition of the PS2 port, which reduced the funds available to the studio.
Psychonauts was developed in about four and a half years for a total cost of 11.5 million dollars, but the actual development time was about two years. The rest were problems. The game was well received by critics, but didn't sell much. Launched in March 2005, it had sold fewer than 100,000 copies by the end of the year. By March 2012, copies sold had risen to 400,000, as revealed by Schafer himself. In 2011 Double Fine bought the rights to the game and launched it on several digital stores, including Steam, selling more than 1.2 million additional copies, for a total of 1.7 million copies (as of 2015). Most of the new sales were made in a Humble Bunde (more than 700,000), the rest via Steam (more than 430,000), GOG (32,000) and the Humble Store (more than 23,000).
Psychonauts in the Rhombus of Ruin and Psychonauts 2
Psychonauts in the Rhombus of Ruin The renewed interest of players in the first Psychonauts as a long-term sleeper hit revived the franchise. Double Fine therefore decided to create a real following, as requested by the fans, financing it in part through FIG, its crowd funding platform. Meanwhile, he made Psychonauts in the Rhombus of Ruin, a game for VR headsets, released on
PS4
with PSVR and PC (compatible with all major headsets). It is a puzzle platform game that takes place immediately after the events told in Psychonauts, with Raz, Lili, agent Nein, agent Vodello and agent Oleander who must investigate the disappearance of Truman Zanotto, Lili's father. as well as head of the agency. The gameplay itself focuses on solving puzzles using psychic powers, such as clairvoyance, telekinesis and pyrokinesis. The duration of the experience itself is very short: you can get to the end in about two hours. Many have regarded it as a simple pending appetizer for Psychonauts 2, the release of which may be closer than many believe. Rumor has it that it could even be launched from the Microsoft stage during the E3 2021 unveiling event. The game sees a Raz. now Psychonaut, who has to deal with the internal problems of the organization, caused by the changes that occurred during Zanotto's disappearance, and with the curse that weighs on his family. Will it be a new masterpiece? We'll see, really hoping it won't be long to play.
Have you noticed any errors?