Nintendo at E3 2021: rumors and predictions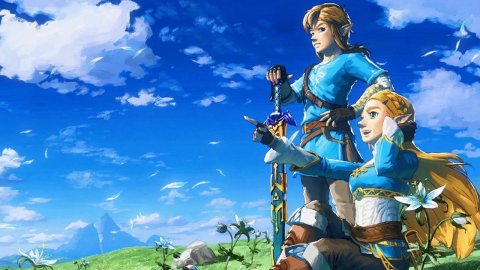 Nintendo at E3 2021
Nintendo
will be among the absolute protagonists of E3 2021 and is certainly one of the companies able to bring novelties of greatest interest to a large number of users, so let's try to take stock of rumors and forecasts focused on Nintendo Switch and its games, with an overview of what we could see during the summer event. The Nintendo Direct of
E3 2021 is
set for Tuesday 15 June at 18:00 (Italian time).
Nintendo's relationship with E3 has been fluctuating over time: the Kyoto house was a pillar of the American fair for a long time, then it moved away from it when it decided to experiment alternative communication channels, which have led to a real new trend with Nintendo Direct (also taken up by
Sony
with its State of Play) finally officially returned to be part of the schedule through its particular appointments with TreeHouse and similar events live. We do not yet know exactly what the contents of Nintendo are at E3 2021 but the major news will be concentrated during the 40-minute Direct, to then be further deepened and expanded during the Live by the TreeHouse, which
will take place
immediately afterwards for about 3 hours, with tests and gameplay.
According to the short communication from Nintendo, it seems that a good part of the presentation is dedicated to the games
coming out in
2021, which could already exclude a good amount of titles included in the rumors, but waiting for further information let's try to make an overview of the possible news to come.
Let's find out all the rumors and forecasts of Nintendo at E3 2021.
Certainties and probabilities
Mario Golf: Super Rush leads the new Nintendo Switch releases of this period Beyond the games coming out in June, such as Mario Golf: Super Rush, Tony Hawk's
Pro Skater 1
+ 2 and Disgaea 6: Defiance of Destiny, it is likely an overview of the titles with a release already set in the course of 2021, which are not few on Nintendo Switch. Among these we could have a more complete view on Monster Hunter Stories 2: Wings of Ruin, Ys IX: Monstrum Nox, The Legend of Zelda: Skyward Sword HD, Neo: The
World Ends With You
, No More Heroes 3 and others between porting and absolute novelties.
Probable a focus on the next Pokémon, namely Pokémon Shining Diamond and Shining Pearl, perhaps with a slightly more extensive presentation on Pokémon Legends: Arceus, although it is likely that a Nintendo Direct will be dedicated to these titles. starts as already done by the company on previous occasions, given the importance they hold and their particular management often independent from the rest of the
Nintendo Switch pro
ductions.
Pokémon Legends: Arceus is one of the most anticipated Nintendo Switch games of the next months As for the probable games, we can try to mention something between those that have at least been announced but that still seem quite distant and those that are likely also on the basis of several reports that have emerged in recent months. It must be remembered that Nintendo Direct should focus on games "largely planned for 2021", so it is difficult for it to include titles that are still very far away. For this reason, it is difficult to see Splatoon 3, which may still be too far away to be shown in gameplay form, however it is a title of great importance and its appearance in some form is not excluded.
Another one announced for a long time and that could return to show itself is Shin Megami Tensei 5: Atlus released a new trailer last year with release scheduled for 2021 simultaneously worldwide. The plans could easily be changed due to Covid-19, but the game could now be ready to be seen again. Finally, you can never rule out some news on Super Smash Bros. Ultimate, of which new content could emerge between additional fighters on the way or even a new Fighters Pass.
Nintendo Switch Pro
Nintendo Switch Pro: rumors agree on a new larger OLED display Let's start with the most pounding rumor of recent months, or the new console model that could be called Nintendo Switch Pro, Super Nintendo Switch or who knows how, but it should still be a rather major overhaul of the machine's hardware, a new intermediate model similar to a "mid-gen". The rumors in this sense have been going on for quite some time now and have thickened in particular in recent weeks, suggesting a possible presentation also by E3 2021. The common element to all the various leaks is the presence of a new OLED display, perhaps slightly larger than the current one, but many also report an update to the SoC which could be a successor to the Tegra X1 able to guarantee the achieving 4K resolution with console attached to TV, perhaps also through the use of Nvidia's DLSS technology.
There may be variations in the design as well, perhaps with a change in the arrangement of the Joy-Con controls and some displacement of sockets and slots, but the element of greatest interest would clearly be the superior power released by the hardware and how this can be exploited by developers. The most logical idea is to think of a management of the console in the style of the mid-gen that we have seen, that is
PS4
Pro and Xbox One X, with total compatibility with the standard Nintendo Switch and Nintendo Switch Lite, but with specific improvements that can be activated on the Pro version, perhaps in terms of resolution and frame-rate.
According to some reports, the mass production of the alleged Nintendo Switch Pro could start in July, with the launch of the console on the market as early as September or October. If the presentation were to take place before E3 2021, there would be space in the latter to show the possible applications of the most powerful hardware on new and old games.
The Legend of Zelda: Breath of the Wild 2
The other persistent rumor on Nintendo concerns The Legend of Zelda: Breath of the Wild 2, a game that has already been announced for some time but of which nothing has been heard after the first teaser trailer shown by now two years ago. This year marks the 35th anniversary of the series, which Nintendo has decided to officially celebrate with only The Legend of Zelda: Skyward Sword HD, but it's easy to think that the company has some other surprises in store to celebrate the event in the best possible way. .
During the last Direct, Eiji Aonuma apologized for not yet having materials to show on the new chapter, but also reported that The Legend of Zelda: Breath of the Wild 2 would be shown "soon" , and E3 2021 at this point is a great candidate to frame a new presentation of the game. It would obviously be an event of enormous importance for the entire gaming landscape, given the impact that the first chapter had for everyone.
The Legend of Zelda: Breath of the Wild 2 seems to be a direct follow-up to the previous According to some rumors, the game would be almost complete, but its arrival in 2021 would be practically impossible, also considering the well-known organizational problems resulting from Covid-19. The eventual presentation at E3, however, could reveal at least a period of release, which could be the spring of 2022, according to some insiders, as well as showing many details about the game that could be a good point with respect to completion.
For the rest, there is no official information beyond the famous trailer, analyzed and dissected in search of possible clues: what has emerged is the possibility of a chapter with a darker tone than usual, probably focused on the same engine and with similar but enriched and expanded game systems, having been born from an overabundance of ideas for possible expansions. In a way, it could be the next generation Majora's Mask, and the prospect is definitely tempting.
Metroid Prime 4, Bayonetta 3 and the usual suspects
For a few years now, there are at least a couple of games that recur constantly in the rumors and expectations on the various presentations and events organized by Nintendo, among which the pillars are Metroid Prime 4 and Bayonetta 3. We cannot help but put them on the list of possibilities also for E3 2021, even if we know by now how they should be taken with pliers, after years of burns: the two games share a common history, having both been presented in the distant 2017 but without having shown themselves in any form in the following years.
Also, with Direct being largely based on games coming out in 2021, it's pretty hard to think there would be room for the titles in question, barring incredible twists. As for Metroid Prime 4, we at least know that this absence is justified by some problems that occurred during development that forced Nintendo to restart everything from scratch entrusting the project to the support of Retro Studios, which has been actively working on it for years and could perhaps be at a good point to show something.
We've only seen the strange logo of Bayonetta 3 In the meantime, another interesting rumor has emerged on the series in question: according to Emily Rogers and other well-known insiders there would be a 2D game from the series in development for the Nintendo Switch. This elusive new Metroid could even come out in the course of 2021, being a smaller project but still of great interest, possibly, being in the case closest to the classic tradition of the series.
As for Bayonetta 3, however, we don't really know what to expect: Platinum Games and Hideki Kamiya are extremely talented developers, but their development times are never very clear and also considering the amount of projects they are bringing ahead could be amidst significant organizational chaos that could lead to further delays. In any case, we continue to hope for a presentation again this year, as has become tradition.
Donkey Kong and other rumors
Donkey Kong is 40 years old and a new game is likely to celebrate Nintendo's oldest videogame icon We finally arrive at the corner of wild rumors, but which could still make some sense for this E3 2021 from Nintendo. We are obviously talking about speculations without particularly solid foundations, but some of this have very fascinating prospects, which we therefore take into consideration as a possibility for the upcoming Direct.
Among the various historical recurrences, this year also celebrates Donkey Kong's 40th anniversary and it is easy to think that Nintendo has something in store to remember its most ancient icon. According to a very interesting rumor, there would be a new Donkey Kong with a 2D platform-like structure in the works at Nintendo EPD, which is one of the main internal teams and responsible for Super Mario Odyssey. If it were true, it would be a relevant project given the importance of the team, which, moreover, would have the intention of following its own idea detached from the Country series, which increases the curiosity for this possible project.
Super Mario Party 2 is one of the most likely rumors that emerged recently Another insistent rumor concerns the possibility of a Super Mario Party 2 coming to Nintendo Switch, also quite likely even if at the moment without any confirmation or supporting evidence. If a Mario Kart 9 is almost impossible to see in a short time, considering the numbers that
Mario Kart 8
Deluxe continues to grind regularly, we do not stop dreaming of a possible expansion of the latter with a new package of additional circuits, of which the users historians would be in great need at this point.
To stay on the historical series, according to some it is possible that there is a new Fire Emblem in development at Intelligent Systems, and it could be a remake of the classic chapter Fire Emblem: Genealogy of the Holy War originally released on SNES. However, other news on Zelda are not excluded, especially if Breath of the Wild 2 was further away than expected: some rumors speak of re-editions of minor chapters such as The Legend of Zelda: Oracle of Seasons and Oracle of Ages, originally released on Game Boy Color. Finally, possible updates on the Nintendo Switch Online service are not excluded, perhaps with the extension of classic games to other consoles in addition to NES and SNES (perhaps including Nintendo 64), in addition to the release of other initiatives similar to Tetris 99, Pac- Man 99 and
Super Mario Bros
. 35, maybe with something focused on Donkey Kong.
Have you noticed any errors?