Intellivision Amico, the special to discover this family console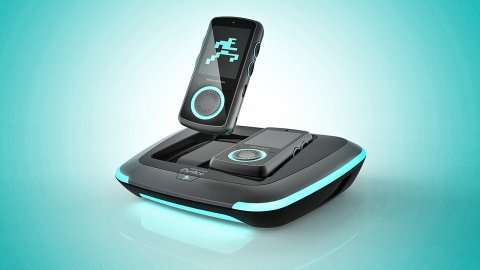 Intellivision Amico
In the late 1970s, Mattel founded Mattel Electronics, a wing of the company completely dedicated to the production of electronic games. The company was back from some huge commercial successes, in particular from that of the Barbies and the Hot Wheels series cars, and aimed to become the largest toy manufacturer in the world. From the first portable games to the creation of a real console, designed to compete with the Atari VCS, which was then depopulated, the step was short. In reality, Mattel even risked to arrive before Atari, but the project for a console with interchangeable games was frozen for a few years, because the executives were afraid of not being able to return the investment, as there is still no reference market with which to do. The bills. However, when the Bushnell company began to grind billions selling hardware and games, the situation was unlocked and the Intellivision was born, whose name derives from the merger of the words "intelligent" and "television". The intellivision went very well, boasting a resolution of 159x96 pixels (very high, for the time), which made the games graphically better than those for VCS.
Be that as it may, the success came mostly when Mattel decided to shift its focus from educational games to the genres of the hottest era, particularly arcade conversions.
Thanks to this console, Mattel managed to take 20% of the home video game market of the early 80s, a substantial slice for the time, but it all ended with the collapse of the US market in 1983, which dragged towards the chasm Atari and all its direct competitors. In reality, the Intellivision brand survived for a few more years and Mattel launched other products related to the running man console (the historic logo was designed by the artist Dave James), but never managed
to return to
being a prominent player in the market. videogames, crushed as it was by the distrust of the old sales channels, scorched by the crisis, and by
Nintendo
with its new philosophy and its NES.
The definitive closure, however, came only in 1990, after years of constant decline. Despite this, as often happens with nostalgia-related businesses, a small community of fans was formed that continued to survive the memory of Intellivision and its games, so much so that over time compilations with the essential titles of the platform. This is where Tommy Tallarico comes into play and his dream of bringing the Intellivision brand back to the market with a new family console: let's discover, the Intellivision Amico in our special.
Tallarico enters the scene
Tommy Tallarico presents Intellivision Amico Tommy Tallarico is an industry veteran who boasts more than three hundred games launched since his debut in 1990 to date, most of which he has taken care of the soundtrack. He is also a well-known television personality, at least in
the United States
, where he hosted The Electric Playground and Reviews On The Run (between 1997 and 2006), which dealt with video game reviewers. He was also responsible for the Video Games Live concert series, which has attracted hundreds of thousands of people over the years. He of course he is also a huge fan of Intellivision, with which he became a gamer.
Given his contacts in the industry, it was inevitable that he would end up meeting Keith Robinson, one of the original designers of the console, as well as historian of the brand, to whom he dedicated a very rich site with exclusive material, of which he immediately accepted the proposal of collaborate with the Intellivision brand.
It was then that Tallarico brought out his dream in the drawer and decided to make it come true: to create a new console linked to the historic Mattel brand. Robinson was initially hesitant, but then he got involved in the enthusiasm of good Tommy. It was there that the idea of ​​the Amico Intellivision was born. Unfortunately there were many problems to be faced and the work was slow due to the activities of both. It was only when Robinson died, in 2017, that Tallarico transformed Intellivision Amico into a real mission to celebrate what was now a great friend of him. At the end of the same year, the project for the new console went through. We just had to sell it ...
Intellivision Amico
The Intellivision Amico Intellivision Amico, whose name mixes the original brand with an Italian word whose meaning we do not believe we need to explain , was announced in October 2018 at the Portland Gaming Expo. Tallarico then spoke clearly of a product for families and groups of friends, which aims to eliminate the entry barriers typical of hardcore gaming systems. Despite this, the technologies inside Amico are very interesting, at least those of the two wireless controllers bundled with the console, for which we talk about Bluetooth and Wi-Fi connectivity, RFID (Radio Frequency Identification), integrated speakers, a microphone, accelerometer, force feedback, an internal gyroscope, a color touch screen with four large back buttons, a home button and an ultra-sensitive pressure disc. In total, the controllers that can be connected to Amico will be eight and the possibility of using smartphones as replacement controllers will be included, thanks to a free companion app.
The little running man is about to return The price of the console, which will be available from 10 October 2021, is 249 dollars (279 € with us), high, but justified by the functions of the two controllers, which they did rise slightly. Speaking of features, Amico is not surprising: the official data sheet speaks of an 8 core CPU at 1.8Ghz, 2GB of RAM, 32GB of mass memory, expandable via SD card, connectivity via HDMI and resolution support at 1080p. He's definitely not a monster of power, but given his goals, he doesn't even need to be.
Moving on to design, Amico is definitely interesting. Basically, the console is a kind of futuristic tray, which also acts as a charging base, where the two controllers are placed. The appearance is quite toy, but not unpleasant, between curved lines and LED lighting that can also be used by games to give directions. Amico's standard color is white (more precisely Glacier White), but the Graphite Black variant has already been announced, as well as three special editions: Vintage Woodgrain, Galaxy Purple and GTO Red.
I games
Intellivision Amico will have six pre-installed premium games and others can be purchased from the integrated digital store, or in select stores. In total, the launch titles will be thirty. The price of the individual products will be very low, as it will range from $ 2.99 to $ 9.99 ($ ​​19.99 in physical format). On the official website it is specified that in the games there will be no swear words, there will be no graphic violence seasoned with rivers of blood and there will be no sexual content. The maximum rating granted by the hardware manufacturer will be E10 +, so they must necessarily be suitable for everyone. Furthermore, there will be no advertisements within the gameplay, no additional content to jeopardize your credit card, no reward boxes and, more generally, no in-game purchases. Amico's library will consist of
sports
and recreational titles, party games, titles with a strong retro flavor and board games.
The most awaited game of the console line up is definitely the new Earthworm Jim, to tell the truth not really appreciated by fans, but it is still a name that will make the hearts of more than a few old gamers beat faster .
Rigid Force does not scream a miracle graphically, but it looks interesting Unfortunately it will not be among the launch titles, which however will offer some variety. Leaving aside aquariums and dice rolls, the most interesting games seemed to us: Biplanes, a competitive arcade for up to eight players in which you fly historical planes in 2D level; Dynablaster, basically a Bomberman clone; Evel Knievel, a 2D stunt racing game with a simple but captivating graphic style; Finnigan Fox, a platformer with cartoon graphics; Missile Command and Moon Patrol, two remakes of two timeless classics, and Rigid Force, a side scrolling shooter that could be a lot of fun. However, there
will also be
more, such as a competitive clone of Snake, the remakes of Night Stalker and Break Out, baseball and billiard simulators and many other classic games. Don't expect to find us port games for other consoles, because here we are in another universe.
Who is it for Friend?
Missile Command is always Missile Combat Intellivision Friend is a console that smells like Thanksgiving baked turkey, peanut butter and honey spread on the meat of a big barbecue, designed as it is for those families in which at least one of the adult, or even elderly members, has lived the era of the original Intellivision and can't wait to pass on the wisdom of his times to his children and grandchildren, or he simply wants to go in search of the thrills of the time in the company of someone he loves. It is not a console designed to compete with
PS5
or
Xbox Series X
and S and does not necessarily aim to become a phenomenon on Twitch and YouTube, but seeks an audience capable of enjoying simple and affordable games, accessible by adults and children. It is a product for the living room, but in the most reassuring sense of the term. Tommy Tallarico, the head of the company, with his reassuring appearance as a neighbor to whom you would have the car moved in the driveway, or would entrust the offspring for an afternoon, seems to want to wink at those parents who want to have the security of giving in feeding the youngest children a controlled, clean and free of excessive content product. We don't believe Intellivision Amico's ambition is to sell millions of units, although we imagine they wouldn't mind. The idea that we have made is that he can be satisfied with a specific market niche, pleasing it in the deepest desires of him. Relive your times, but do it with those you love.
Have you noticed any mistakes?