Bethesda at E3 2021: rumors and prospects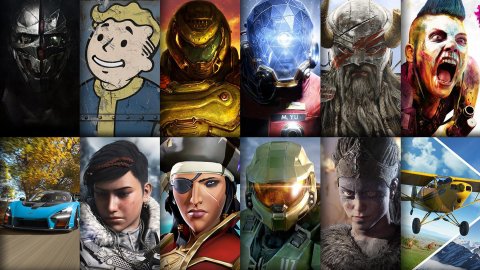 Bethesda at E3 2021
The presence of Bethesda, and all the studies connected to it,
at E3 2021
deserves a separate study, for its now central role in the
Xbox
communication strategy and for its rich history. But let's start right from the software house of Todd Howard and associates and try to be crystal clear: it is not a studio like many others, but an established reality for years, moreover with a scary pedigree.
Now that the company has been bought into billions by
Microsoft
, it will be interesting to
find out how
its publishing policy and communication strategies will change. That's why it's interesting to go and retrace Bethesda's rumors and perspectives at E3 2021.
Hugely grown since its remote beginnings, Bethesda has made some of the most loved and played Western RPGs ever on
PC and console
s, which have produced multimillion-dollar sales. The five main The Elder Scrolls and Fallout 3 and Fallout 4 alone are enough to make it a bowing resume, despite the natural ups and downs. Having a Bethesda game on their E3 stage was coveted by all hardware manufacturers even before Microsoft's takeover of the group, because it was clear to anyone that a new Elder Scrolls, or a new Fallout, alongside their own. console would have contributed to its diffusion.
Starfield
Starfield: for now only rumors and stolen images That Microsoft points a lot on Bethesda is shown by the very artwork with which it announced its event, which sees on the one hand the inevitable Halo Infinite and on the other the confirmation of the presence of Starfield, not explicit but heavily suggested. A few magical words will be enough to conquer the spectators: Xbox / PC exclusive Starfield (which if followed by the words The Elder Scrolls VI exclusive Xbox / PC would create an effect that not even Armageddon).
Little or nothing is known about Bethesda's new intellectual property in terms of content, apart from some unconfirmed leaks, but it is assumed that we will be faced with a sumptuous triple A, probably very large, given the space setting, and with enormous play potential. Attention: ours is not intended to be a prejudice, but only a prediction linked to the knowledge of the traditions of the company, which has always invested heavily in its flagship games. Microsoft knows it has something big on its hands, with a huge appeal, especially for the Western public, and will exploit it with every means at its disposal (as indeed it should be, given how much Bethesda has paid).
The Elder Scrolls VI: little information would be enough to bring down the conference stage You also know that it is not a game desired only by Xbox owners, but by all gamers, also because until a few months ago it was expected as a luxury multi-platform. It is what we could define as a "system seller", an outdated expression to be updated in "brand seller" or "ecosystem seller", more suitable for an era of cloud gaming and various services. It should be emphasized that Starfield is one of the few certainties of the conference so far, in particular on the Bethesda side.
And an appearance of The Elder Scrolls VI? Probably the work on the game is still on the high seas, but it is not excluded that Microsoft will not play this card, perhaps giving only some news related to the development, accompanied by a new teaser. The full title of the game, the platforms on which it will be released (Xbox exclusive?) And the setting would be enough to galvanize the fans. Unlikely, but not to be underestimated.
Arkane and Tango Gameworks, how to snatch them from PlayStation?
Deathloop is a time exclusive for
PS5
Microsoft's acquisition of Bethesda did not lead to only benefits, but also some cats to peel, at least in the short term. For example, the time-exclusive contracts for PS5 of Deathloop by Arkane Studios and Ghostwire: Tokyo by Tango Gameworks are not problematic so much from an economic point of view (in the end Microsoft earns it anyway), as from that of communication. Incidentally: Bethesda cannot fail to bring two of its flagship games of the current year to the stage, from what is known its only two major launches, because it would be counterproductive (it will have invested millions of dollars in both), but how to do it in a joint conference with Microsoft, given that these are two exclusives for the rival Xbox platform? In fact, two Xbox Game Studios are currently connected to the PlayStation world, like it or not.
To stop the situation, different strategies could be adopted. One would be to try to prove themselves superior and still talk about the two games, presenting them as an effort by two Xbox Game Studios. This would do some publicity for the competition, but would not harm the developers' work.
Ghostwire: Tokyo, another PlayStation thunderstorm exclusive Another solution could be to leave both titles to other events. Let's say that it is less practicable and that it would put them a little in the background (unless they were taken by Sony itself), perhaps creating some internal disagreement, but it would avoid potential embarrassments.
A third solution could be to present them together with other projects of the two studios. For example, Arkane is known to have at least a second game in the works, which if presented as an Xbox exclusive could join Deathloop and weaken the link between the studio and PS5. Unfortunately it is not clear if Tango Gameworks has anything in development besides Ghostwire: Tokyo, so it could be an impractical solution, or at least very limited and partial.
MachineGames
We will see something of the new Indiana Jones? Many think MachineGames could present a new Wolfenstein at Microsoft and Bethesda's
E3 2021 conference
. Of course these are just unconfirmed rumors, but we think there are good hopes that something will actually appear on that stage, not least because Machine Games hasn't been launching something for a while. His latest major title, Wolfenstein II: The New Colossus, dates back to 2017, followed by 2019's Wolfenstein: Youngblood, however a minor title. The developers have therefore had plenty of time to prepare their new projects and advance them in development, whatever they may be. It must be said that the title of at least one game in the works at MachineGames is already known: the new Indiana Jones, of which we saw a teaser at the beginning of the year and nothing more.
May Indy pay a visit to E3 2021? Another small clue about the activity of this talented software house can be found on the official website, where there are sixteen open job positions. From none of them there is any indication on the games in gestation, but it is certainly a good number of people, such as to suggest a strong investment in the team by Microsoft. Many people will have to work on something ...
Id Software and Zenimax Online
Doom Eternal is a success, but id Software does not stop Many underestimate the possibility that id Software presents a game to all 'E3 2021, given the recent launch of Doom Eternal, with related DLCs. The truth is that we are talking about a development studio that has already shown in the past that it can manage multiple projects at the same time, launching Quake Champions the year after the Doom reboot. So it wouldn't be so strange or incredible if it happened again and maybe a new Quake or the remake of the never released Dangerous Dave in Copyright Infringement came out of the hat (joking). We wouldn't get our hands on the fire, but we see it as a good possibility, so not as pleasant as it might seem.
Zenimax Online is instead very busy developing the expansions of The Elder Scrolls Online, but at the same time in the in recent years it has expanded its staff to devote itself to other projects, which have been rumored for some time. Which we are not given to know, but precisely for this reason we believe that it is not unlikely to see one at E3 2021. Given the know-how of the studio, we imagine that it would be another online title, perhaps a new MMO, but you can never say .
Conclusions
If you have
followed us up to here and have done the math, you have already deduced that at least two or three new games could come out of the Bethesda studios at the conference, quantity moreover in line with that of the company's old conferences, where surprises were never lacking. It would be a coup for Microsoft, which could immediately boast a line-up enriched by exclusive top-level names for the Xbox ecosystem, especially if released at the end of 2021 or 2022. However, for now the only certainty is that something will be shown. Not sure what, but Bethesda and her studies will be there.
Have you noticed any errors?