Digimon Survive: International press ratings are positive, but not excellent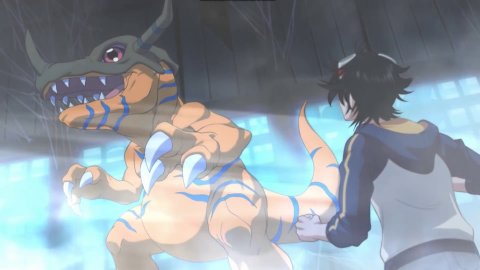 Digimon Survive
Digimon Survive arrived in stores last week, but only in the last few days have the first reviews of the international press appeared on the net, which welcomed the new game from Bandai Namco with positive votes, albeit far from excellence.
Below are the votes of foreign critics for Digimon Survive:
CGMagazine - 90 (Switch)
PlayStation
Universe - 90 (PS4) GameByte - 90 (PC) Pocket Tactics - 80 (Switch )
Nintendo
Life - 80 (Switch) Dexerto - 80 (PS4) NintendoWorldReport - 80 (Switch) Gamingbolt - 80 (
Xbox
) Atomix - 78 (Switch) Inven - 78 (PS4) Meristation - 76 (Xbox) We Got This Covered - 70 (Switch) PlayStation LifeStyle - 70 (PS4) Push Square - 70 (PS4)
Digimon Survive, a shot taken from the game It was necessary to wait a few days for the first reviews of Digimon Survive, as apparently Bandai Namco distributed review codes later than expected. Usually when a publisher sends copies for print late, there is a fear of the quality of the game, however this would not seem to be the case.
Currently Digimon Survive has in fact an average of 80 on Nintendo Switch and 78 on PS4 , with average positive marks. User ratings, who are usually more critical of the press, are also good, averaging 79 and 75 on Switch and PS4, respectively.
The Dexerto portal gave the game an 80, stating that "
it is not
a flawless experience at all, but it is an exciting and unique Digimon game. With more endings to see, different evolutions to discover and over 100 Digimon. to recruit, the replay value and value of the content is excellent ... Due to its text-rich nature, this game won't be for everyone and those hoping for more action may leave you disappointed. Fans of visual novels, however, they will appreciate many aspects and,
if you are
looking for a darker story set in the Digimon universe, Digimon Survive might be the perfect choice. "
Less enthusiastic PlayStation LyfeStyle editors who awarded a 70 stating that" the story, despite some insufferable characters, explores a darker reinterpretation of the original series, and the combat system is moderately well executed albeit simple in mechanics. Art style and column too. sound created by composer Tomoki Miyoshi and artist Uichi Ukumo stand out. However, many plot points drag on longer than necessary, the Karma system is forced, and the UI is lackluster. Developer Hyde had a good idea with Digimon Survive, but maybe not enough to deserve a sequel. "
Digimon Survive is available on PS4, Xbox One, Nintendo Switch and PC from July 29. And you, there Are you playing? What are your impressions? Please let us know in the comments.
Have you noticed any errors?
---
How to get Guilmon in Digimon Survive
There are tons of Digimon in Digimon Survive that you can find, fight, and make friends with to join your team during your adventure. For the most part, each of these creatures are accessible through natural play, though with a bit of random chance dictating which ones you encounter at any time. Unlike the mainline Pokemon games, there are no special forms or creatures locked behind different versions of the game. That being said, there is one slight exception you will want to know about sooner rather than later.
Guilmon is one of the most iconic Digimon in the franchise, and he is present in Digimon Survive, but with a catch. This fire and virus type Digimon is a special bonus for people who purchase the game and redeem it, before or by August 29. You don't have to have pre-ordered or gotten any special editions to get him, so long as you know how to add him to your team before the deadline. To make sure you don't miss out on this powerful ally, here's how to get Guilmon in Digimon Survive.
You can't get Guilmon the moment you boot up Digimon Survive, and instead need to do a few basic things before you can claim him for your own. Here's how to get him as quickly as possible.
Step 1: Play through the game's full tutorial. Specifically, finish the Equipment Tutorial.
Step 2: Open the pause menu and press the Receive Bonus button.
Step 3: Guilmon, as well as the Beloved Crystal-D item, will be given to you.
Guilmon, as you would expect, starts out at level 1 so it won't give you an unfair advantage early on in the game. For now, this appears to be the only possible way to get this Digimon; however, another way may be added to let those who miss out on this first-month window get their own Guilmon as well.
Editors' Recommendations