One Piece, the games from the ugliest to the most beautiful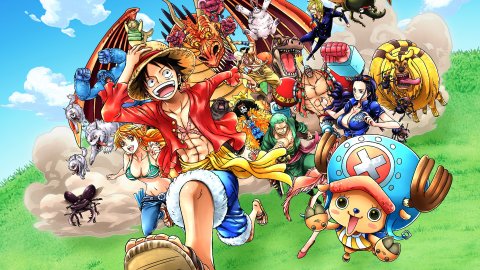 One Piece
One Piece is about to turn twenty-five: Eiichiro Oda's manga, published in Japan starting from July 1997 and still not finished, has over time become a real phenomenon of costume at home, as well as an extraordinary success overseas.
In addition to the famous animated series, the adventure of Monkey D. Luffy boasts many videogame transpositions, perhaps not always exceptional. Well, pending the arrival of the next tie-in here is our (partial!) List of One Piece games, from the ugliest to the most beautiful.
One Piece: Grand Cruise (PSVR)
One Piece: Grand Cruise, Nami in virtual reality One Piece: Grand Cruise is the only experience in virtual reality taken so far from the Oda series, and the reason is soon said: like many VR productions, the game is be particularly short and in this case also decidedly simple in its mechanics, which are reduced to two banal minigames lasting just ten minutes each.
Without a soundtrack, Grand Cruise can certainly count on quality of the characters in cel shading and there is no doubt that a virtual Nami can offer all the fanservice in the world due to his great skills, however it is not enough for an accessible title (it costs just € 9.99 on PlayStation Store) but able to give back very little.
One Piece: Romance Da wn (3DS)
One Piece: Romance Dawn, a fighting sequence Reissue of a jRPG originally published on PSP, One Piece: Romance Dawn (review) is practically already old, severely limited from a technical point of view and incapable of do justice to the story that is being told due to extremely static and poorly presented dialogues. Same problem for the exploratory phases, rendered on the screen by corridors all the same and devoid of interactive elements.
In practice, the only positive aspect of the game lies in the possibility of engaging in turn-based fights without having to interrupt the action with a load, taking advantage of a fairly rich repertoire of moves for Luffy and his companions but at the at the same time facing enemies that are almost always the same and anything but splendid to see.
One Piece: Pirates 'Carnival (PS2)
One Piece: Pirates' Carnival, one of the minigames of the One package Piece: Pirates' Carnival
takes us back to
the days of PlayStation 2, when at Bandai Namco there was still so much uncertainty about the direction to be given to the transpositions of the series and the power of the hardware of the time did not make things easier. In this way, we ended up having ideas on paper that might be interesting, but which proved to be mediocre when tested by the facts.
In this case we are faced with a compilation of minigames with the characters of One Piece, a variation on the Mario Party theme which, however, cannot boast the same ideas, style and quality guaranteed by
Nintendo
first parties. Thus the treble is reduced to a minimum and the challenges appear poor, inconsistent and certainly not exciting.
One Piece: Unlimited Cruise SP (3DS)
One Piece: Unlimited Cruise SP, Luffy and the his friends in front of their ship Another ride, another tie-in for Nintendo 3DS: the portable console of the Japanese house has always been held in high regard for this kind of projects, but One Piece: Unlimited Cruise SP (review) turns out to be a game below expectations and also arrives in Europe practically halved compared to the original edition, therefore with half the contents and a weak technical sector.
The positive aspects of this re-edition reside in the fidelity to the work of Eiichiro Oda and in the representation of the characters and their spectacular moves, which however are used in the context of very repetitive fights, in which you have to defeat the same opponents hundreds of times in order to make the grind ing necessary to level up and proceed further.
One Piece: World Seeker (PC, PS4, XOne)
One Piece: World Seeker, Luffy prepares to fight It's a very disappointment recent, but still a disappointment that of One Piece: World Seeker (review), the first open world action RPG based on the work of Oda and perhaps precisely for this reason a little inspired product, with a repetitive structure, a wide setting but really too empty and a decidedly lackluster combat system.
As Luffy alone, inexplicably, we will find ourselves facing a non-canonical adventure on an island controlled by the Navy and used in practice as prison for the worst criminals in the world. However, a part of the population wants to rebel and it will be up to us to help them, involved in an enjoyable story.
One Piece: Burning Blood (PC, PS4, PSV, XOne)
One Piece : Burning Blood, Luffy takes charge Brawler or arena fighter? Whatever your personal definition of the genre, One Piece: Burning Blood (review) tries to follow this path by focusing on the great spectacularity of the powers and moves available to the characters, no less than forty-two, to give life to frenetic and engaging but spoiled fights. from obvious balance problems.
Unfortunately there is not only the frustration of facing opponents who run away, preventing us from hitting them and taking advantage of the distance to attack us, but also a campaign that is too short, which brings a single arc to the screen narrative: too little for a One Piece tie-in, but at the same time a good starting point if you want to develop this concept in the future.
One Piece: Unlimited World Red (PS3, PSV, WiiU, 3DS)
One Piece: Unlimited World Red, Chopper has fun on the beach Able to finally interpret the adventurous atmospheres of the series in the context of an unprecedented story, which thanks to the expedient of and illusions, however, manages to involve scenarios and enemies from the past of Luffy's crew, One Piece: Unlimited World Red (review) unfortunately suffers from repetitive mechanics this time too, but can count on important strengths.
The cutscenes are in fact very exciting, there is a lot of fanservice and action-style fights are enjoyable, thanks to the discreet repertoire of moves that we can rely on to face low-league enemies as well as dangerous and powerful bosses. Too bad that the exploratory component is sacrificed, with scenarios without interaction and with a lot of invisible walls to hinder us.
One Piece: Pirate Warriors (PS3)
One Piece: Pirate Warriors, Luffy prepares to hit
First episode of
the Musou series produced by Koei Tecmo and developed by the usual Omega Force, One Piece: Pirate Warriors (review) had the merit of reiterating that the spin-offs of the various Dynasty Warriors often boast a formula more successful than the main franchise, either by the presence of different protagonists, or by the representation of their powers.
The basic system, however, is always the same: under the command of Luffy and his adventure companions we will have to confront hundreds if not thousands of enemies at the same time, literally sweeping them away thanks to our strength and cleaning the scenarios of their presence, up to the inevitable clash with bosses, retracing only a few storylines but bringing very convincing cel-shaded graphics to the screen.
One Piece: Treasure Cruise (iOS, Android)
One Piece: Treasure Cruise, a combat sequence The only mobile game of this list also stands as one of the most successful transpositions, while remaining confined to the portable dimension of games for iOS and Android. One Piece: Treasure Cruise (review) retraces the events of the first part of Eiichiro Oda's manga, but it does so through a structure focused exclusively on fighting, along the lines of Brave Frontier: The Last Summoner.
In the context of a turn-based system, we will
be able to
chain the attacks of our characters to multiply the damage inflicted on opponents, witness spectacular cutscenes and obtain points and rewards necessary to level up, which will also aesthetically transform the members of the party. Of course, we will have to take into account some forced breaks due to the stamina system and rather frequent uploads, but it will be worth it.
One Piece: Pirate Warriors 4 (PC, PS4, XOne, NSW)
One Piece: Pirate Warriors 4, Luffy uses his powers to take down enemies According to Musou-style spin-off of this particular ranking, One Piece: Pirate Warriors 4 (review) is currently the best transposition of the adventures by Monkey D. Luffy and his companions. The Omega Force developers have therefore managed to refine the one-on-a-thousand action mechanics typical of this sub-genre and to shape the experience so that it is as faithful as possible to the original work.
The end result is a game systematically repetitive, there is no doubt about this, but immediate and very nice to see, rich in content, with a great roster of characters divided into four different classes and some interesting gameplay news, sufficient to justify the about twenty hours of the main campaign.
Have you noticed any errors?