Games out in March 2022 on PlayStation, Xbox, PC and Switch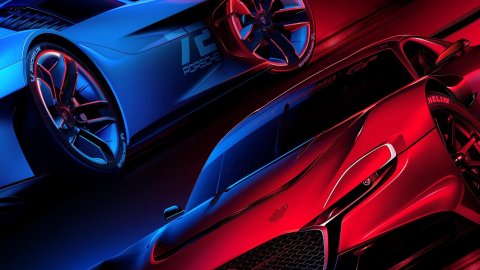 Games out in March 2022 on PlayStation
There are many and really interesting games to be released in March 2022 on PlayStation, Xbox, PC and Switch, between particularly awaited productions and potential surprises. Certainly the highlight of the month is
Gran Turismo 7
: the new episode of the Polyphony Digital series promises to take the driving experience on
PS5
and
PS4
to a new level.
As mentioned, however, the there is no shortage of releases: from the medieval atmospheres of Triangle Strategy to the mythological ones of Assassin's Creed Valhalla: Dawn of Ragnarok, from the shooter action of Shadow Warrior 3 to that of Tiny Tina's Wonderlands, from the merciless battles of Babylon's Fall to those choreographed by WWE 2K22, we will have so much to play on all platforms.
Shadow Warrior 3
Shadow Warrior 3, the protagonist Lo Wang in the company of Orochi Zilla Out on PC, PS4 and XOne on March 1
Lo Wang returns in Shadow Warrior 3, and he does it in a completely new guise: the protagonist of the shooting series signed by Flying Wild Hog is more and more like a videogame version of Deadpool and wants to put his skills of modern ninja at the service I of the world, freeing it from the grave threat of a huge flying dragon that emerged at the end of the second chapter.
To complete his mission, the character will be able to rely on the trusty katana, on a large arsenal of firearms and on a comfortable grappling hook with which to move more quickly from one side of the scenarios to the other, while the enemies continue to appear giving life to frenetic and spectacular combat sequences: we talked about it in the review of Shadow Warrior 3.
Babylon's Fall
Babylon's Fall, a combat sequence Coming out on PC, PS5 and PS4 March 3
The latest work from PlatinumGames, Babylon's Fall focuses on a cooperative action experience for four players in which we will be able to take on the role of powerful warriors and face the secrets and pitfalls of the legendary Tower of Babel, Ziggurat: a place that hides precious treasures, but which is defended by extremely powerful creatures.
To face them we can rely on Gideon Coffin, special relics that give the wearer devastating powers, to be combined with an arsenal that includes weapons and different abilities, as well as the ability to equip up to four tools to build a particularly varied and multifaceted repertoire of moves: other details in the Babylon's Fall game.
Gran Turismo 7
Gran Turismo 7, a car on the track Released on PS5 and PS4 on March 4
Polyphony Digital's Real Driving Simulator debuts on PS5 and PS4 with Gran Turismo 7, setting itself the goal of bringing Sony is the ultimate driving experience, at least as far as simcade racers are concerned. Projected into the traditional career that starts from the bottom, we will be able to buy new or used cars and make our way into the world of racing, gradually improving our skills at the wheel.
Embellished on PlayStation 5 by graphics that offer two different modes , one focused on performance and one that even allows itself the luxury of ray tracing, GT7 does not miss anything on the front of the car park, with hundreds of cars at our disposal and a huge amount of events with which to try in the context of different weather conditions. The preview of Gran Turismo 7.
Triangle Strategy
Triangle Strategy, the combat phase Out on Nintendo Switch March 4th
Square's new strategic RPG Enix
for Nintendo Switch
, Triangle Strategy catapults us into a medieval fantasy setting, a world devastated by war that in some ways refers to the dynamics of Game of Thrones. The protagonist of the adventure, Serenoa Wolfhort, is in fact a young warrior who finds himself having to defend his kingdom both on the diplomatic front and on the battlefields.
The game focuses on a narrative and artistic of great depth, which presents a graphic style close to that of Octopath Traveler, and involves us in challenging strategic combat in which to move your units and attack enemies based on a variety of factors: the final result is an experience that promises to be immediate but absolutely not trivial, as written in the Triangle Strategy trial.
Assassin's Creed Valhalla: Dawn of Ragnarok
Assassin's Creed Valhalla: Dawn of Ragnarok, Odin admires the new scenario Out on PC, PS5, PS4, XSX and XOne March 10
Assassin's Creed Valhalla's new expansion, Dawn of Ragnarok, marks an unprecedented event for the
Ubisoft
series, which is being supported for the first time with a "year two" which in this case explores the most fascinating themes of the game, those related to Norse mythology and the relationship between Eivor and Odin. In this adventure we will have to control the father of the gods, determined to save his son Baldr from the clutches of the fire giant Surtr.
Projected into a completely new open world scenario, Svartalfheim, we will have to face the troops in the service of our enemy and members of his mighty family as we work with the dwarves to rid their world of invaders. At our disposal several new divine abilities that aim to elevate the gameplay of Assassin's Creed Valhalla, as described in our preview of Ragnarok's Rise.
WWE 2K22
WWE 2K22, The Rock and John Cena Out on PC, PS5, PS4, XSX and XOne March 11
The new edition of the wrestling game produced by 2K Games, WWE 2K22, marks the return of the brand after the forced hiatus and the many controversies that accompanied
the launch of
the last episode, leading to the departure of the original development team and a rethinking of the entire experience thanks to the contribution of new managers and coordinators.
The motto of the game, not surprisingly, it says "it hits different" and promises a different formula, more immediate and fun, with a revolutionized control system and improved interactions, but also the usual attention to the numbers of an experience that will see us control Rey Mysterio in the MyShowcase mode, also scoring the return of MyGM mode, as featured in our WWE 2K22 preview.
Grand Theft Auto V
Grand Theft Auto V, Trevor armed in a gunfight Outing on PS5 and XSX March 15th
160 million copies sold were evidently not enough for Rockstar Games, which has seen fit to bring Grand Theft Auto V also to PS5 and
Xbox Series X
| S, for a total of three different hardware generations. So if there is still someone who has not played the famous blockbuster originally published in 2013, almost ten years ago, now is the time to fix it.
Net of the experience of GTA Online, the GTA campaign 5 offers the now usual mix of action, open world mechanics and mature storytelling, able to mix violence, humor and social criticism as few works can do, and we're not just talking about video games. We will accompany three different protagonists (Michael, Trevor and Franklin) as they face a difficult past between robberies, gunfights and frantic chases. The review of Grand Theft Auto V.
Stranger of Paradise: Final Fantasy Origin
Stranger of Paradise: Final Fantasy Origin, a fighting sequence Coming out on PC, PS5, PS4, XSX and XOne on March 18th
The curious spin-off of the famous Square Enix series is preparing to debut on PC and console with Stranger of Paradise: Final Fantasy Origin. The setting is that of the kingdom of Cornelia, plunged into darkness after its crystals were stolen: in the role of a warrior named Jack, our task will be precisely to recover them and restore the ancient splendor to this place. br>
The threat seems to have a name, Chaos, and Jack spells it very frequently, obsessed with the idea of ​​eliminating this elusive enemy along with his fellow adventurers Ash, Ned and Neon. Are they the legendary Warriors of Light? To find out we will have to face a campaign full of pitfalls and increasingly stronger opponents, to be fought using a wide range of weapons and skills. The
tried and tested of
Stranger of Paradise: Final Fantasy Origin.
The Ascent
The Ascent, the city of Veles with its neon Outlets on PS5 and PS4 March 24
After the exclusive on Microsoft platforms, The Ascent arrives in March also on PS5 and PS4, thanks to the updates and improvements made to the experience compared to the debut. The scenario is that of Veles, a cyberpunk metropolis dominated by corporations which, however, one day sinks into chaos: under the command of a simple worker, we will have to do our best to defend the neighborhood we live in.
The gameplay of the The game combines traditional twin stick shooter mechanics with a rather rich and multifaceted RPG soul, made up of many missions to complete to obtain rewards and different characters to interact with, but also a hub that is a bit too chaotic to navigate and of an action that often becomes sketchy, as explained in The Ascent review.
Ghostwire: Tokyo
Ghostwire: Tokyo, a threatening spirit approaches Out on PC and PS5 on 25 March
The new title of Tango Gameworks finally sees the light on PC and PS5, offering a story of action and ghosts. The incipit of Ghostwire: Tokyo sees the protagonist of the adventure involved in a mysterious event that determines the disappearance of thousands of people in the center of the Japanese capital, the Shibuya district, and the sudden arrival of hordes of evil spirits. br>
Having acquired the mystical powers of an entity that decides to enter our body to protect us, we will have to make our way through the enemies by performing powerful spells and giving life to spectacular battles with magic blows while we explore a scenario as fascinating as it is insidious , where mortal danger can lurk around every corner. The preview of Ghostwire: Tokyo.
Kirby and the Lost Land
Kirby and the Lost Land, the character's new powers in action Coming to NSW March 25
The latest adventure of the famous Nintendo character catapults us into a sort of unknown and abandoned world, where nature and concrete have merged. Our task in Kirby and the Lost Land will be to explore the scenery in search of the kidnapped Waddle Dee and defeat the army of beasts using the well-known abilities of the pink wad, capable of swallowing opponents and acquiring their powers.
Not only that: this time we
will also be
able to resort to Boccomorphosis and mimic the characteristics of various objects where necessary. Accompanied by the friendly Elfilin, we will have the opportunity to face the campaign alone or in cooperative, with a second player at the command of a Waddle Dee Helper, while we gradually free our friends and rebuild their city. The preview of Kirby and the Lost Land.
Tiny Tina's Wonderlands
Tiny Tina's Wonderlands, menacing dragons fly over the protagonists. Released on PC, PS5, PS4, XSX and XOne on March 25
Starting from the events of the Assault on Dragon Rock expansion, Tiny Tina's Wonderlands is the new, interesting spin-off of Borderlands 3 featuring a dark fantasy setting, complete with dragons and spells, as well as a completely new set of characters. Our task? Reach the Dragon Lord's castle and defeat it.
At the command of Tiny Tina or her original travel companions, we will be able to count on a revisited repertoire of moves, on a decidedly over the top humor and charm of a scenario that promises to hold many surprises for us, giving life to absolutely spectacular battles for both Borderlands fans and novices. Tiny Tina's Wonderlands preview.
Crusader Kings 3
Crusader Kings 3, the official artwork Released on PS5, PS4, XSX and XOne on March 29th
After
the success of
the PC version, received with very high marks by the international press, Crusader Kings 3 also arrives on PlayStation and Xbox, bringing with it the solidity of a historic system, which is enriched in the new chapter through the introduction of several important innovations, for an even more multifaceted and engaging experience.
Catapulted into the middle of the medieval period, in Crusader Kings we will have the task of guiding our noble family over the centuries, progressively growing the character we control and managing at better his advisers and his allies both in the diplomatic phases and in the ferocious and violent action of a real war battle for the control of the territory. Crusader Kings 3 review.
Death Stranding: Director's Cut
Death Stranding: Director's Cut, the protagonist during a fight Out on PC March 30
The A more complete and refined version of Hideo Kojima's work is also available on PC this month, thanks to an improved technical sector compared to the original edition and some interesting extra contents. The story of Death Stranding: Director's Cut is however the one we already know and revolves around the story of Sam "Porter" Bridges, a man in the service of the United States government who has the task of recovering the fragments of an apparently doomed world.
Using rich and multifaceted equipment, full of high-tech devices, we will be able to explore a vast open world and carry out our collection and delivery tasks, while paying attention to the threats that lurk in plain sight or hidden in a parallel and dark plane of reality. The review of Death Stranding: Director's Cut.
Other games out in March 2022
Conan Chop Chop, out on PC, PS4, XOne and NSW on March 1 Elex 2, out on PC, PS5, PS4, XSX and XOne on March 1 Far: Changing Tides, out on PC, PS5, PS4, XSX, XOne and NSW on March 1 Little Orpheus, out on PC, PS5, PS4, XSX, XOne and NSW on March 1 Puzzle Quest 3, out on PC on March 1 Have a Nice Death, out on PC on March 8 Ashwalkers, out on NSW on March 10 Chocobo GP, out on NSW on March 10 Distant Worlds 2, out on PC on March 10 Submerged: Hidden Depths, out on PC, PS5, PS4, XSX and XOne on March 10 .hack // GU Last Recode, out on NSW on March 11 Five Nights at Freddy's: Security Breach, out on XSX and XOne on March 15 Phantom Breaker: Omnia, out on PC, PS4, XOne and NSW on March 15 Tunic, out on PC, XSX and XOne on March 16 YEAR: Mutationem, out on PC, PS5 and PS4 on March 17 Monster Energy Supercross - The Official Videogame 5, out on PC, PS5, PS4, XSX and XOne on March 17 Persona 4 Arena Ultimax, out on PC, PS4 and NSW on March 17 The Settlers, out on PC on March 17 WRC 10, out on NSW on March 17 Relayer, out on PS5 and PS4 on March 24 Rune Factory 5, in out on NSW on March 25 Ikai, out on PC, PS4, XOne and NSW on March 29 King Arthur: Knight's Tale, out on PC, PS5 and XSX on March 29 Coromon, out in NSW on March 31 Syberia: The World Before, out on PC on March 31 Tropico 6, out on PS5 and XSX on March 31 Weird West, out on PC, PS4 and XOne on March 31 Grim Fandango Remastered, out on NSW a March
Have you noticed any errors?