Sony Interactive Entertainment celebrates World Network Security Day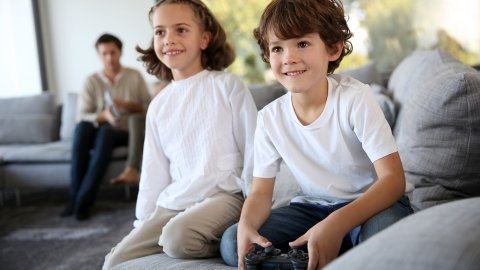 Sony
Interactive Entertainment celebrates Safer Internet Day, which is the World Day of Safety on the Net. The company therefore shows us its efforts to create a safe gaming environment for all types of users and all ages.
Here is the official press release from SIE.
When playing video games, users enter a world of entertainment with virtually limitless possibilities. Keeping the experience fun and welcoming means continually protecting the safety and privacy of players, while creating an environment where everyone can have fun, including the youngest and most vulnerable users. To celebrate today's Safer Internet Day (World Day of Network Security), here are the efforts made by SIE in trying to create a joyful and safe environment for its community.
For SIE it is fundamental the union of the players through the fun in videogames; for this reason, in case of need, the community has various tools available to report cheats, offensive game chats or any other inappropriate behavior. First of all, there are automated solutions whereby players can easily report unwanted interactions on
PS4
or PS5 that violate the
PlayStation
Code of Conduct.
The voice chat reporting feature allows players to access their last five minutes of voice chat by having the option to send a 20 second clip to the PlayStation moderation team for review. This feature obviously does not monitor or actively listen to user conversations and is strictly reserved for reporting abuse or harassment online.
Horizon Forbidden West
played on a TV next to a PS5 In addition to this, players have the ability to control their interactions through tools such as the lock function, which allows players to immediately stop an interaction with someone or to prevent it from the start. Blocked players cannot view their profile, posts or personal information, or send messages or invitations to games. And if a player decides to give someone a second chance, they can easily unlock them.
SIE has established guidelines for anyone wishing to interact on platforms, such as the PlayStation Network Code of Conduct and the Policy of PlayStation Network against hate speech. To further ensure that the community can focus on fun, global filters for insults and hate speech have been implemented; some filters, for example, detect word stuffing and other common tricks used to evade controls. The technology works in real time to limit the display of the language - prohibited by the PlayStation Network Terms of Service and Terms of Use - in places where others could see it on the network. In addition, the tool can be managed by moderators to allow them to react in real time by adding new words and variations to the filter if needed.
One of the most relevant elements for SIE concerns the protection of younger and more vulnerable players. . This desire is reflected in trying to provide the right tools and information to parents and guardians while their children play on the PlayStation platforms.
SIE offers a whole suite of parental control tools that allow parents to make sure that their children can see, play and interact only with elements suitable for their age. For example, they can set game time limits, disable chat and messaging, limit age-rated games and entertainment, set spending limits in their PSN wallets, add password authorization at checkout, and more. Parental control is easily accessible from the console, PC or smartphone. Below is an explanatory video.
SIE is actively working with partners of the caliber of Family Video Game Database, which shares the same mission: to help parents underst
and how to
make the right choices in their children's gaming experience . With the arrival of Safer Internet Day 2022, the company wants to encourage players and the online community to become more aware of the type of tools available to them, and how they can respond to inappropriate behavior: at this link, five tips to improve the gaming experience.
SIE continues its commitment to collaborate with industry, regulators, law enforcement agencies and communities to improve user safety on its platforms. Only with common commitment is it possible to make the Internet a safer place for all.
Have you noticed any errors?